Lakers' Lonzo Ball pulls a disappearing act for his Magic performance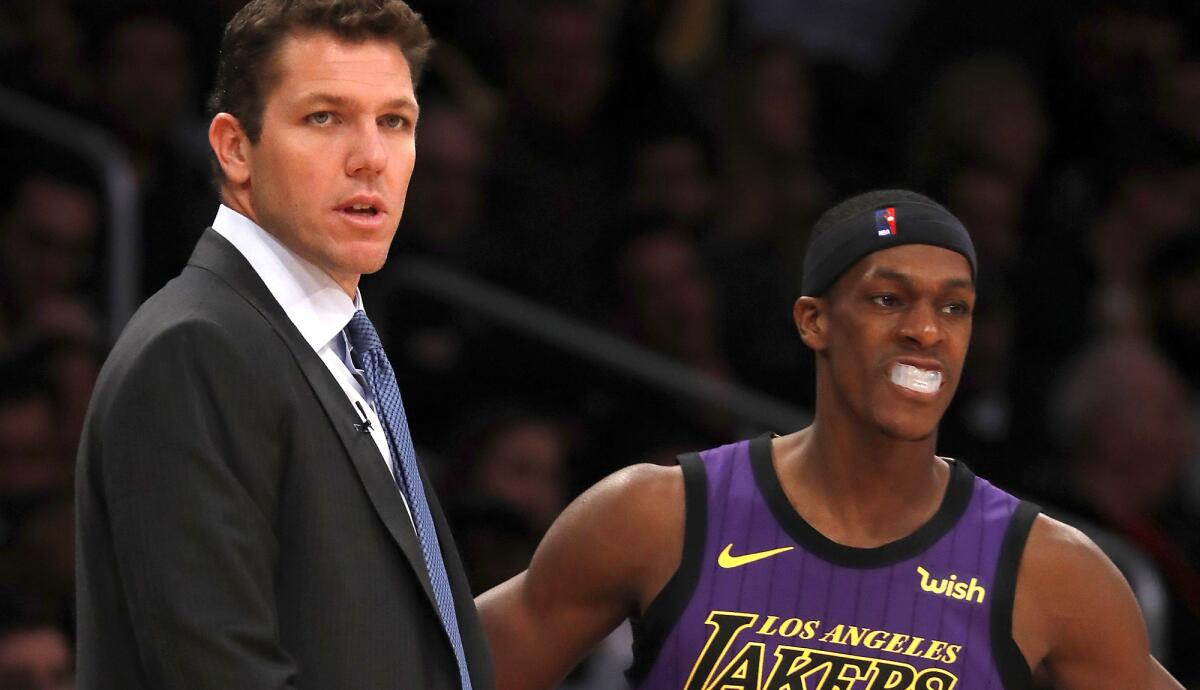 Reporting from Orlando, Fla. —
At a time when the Lakers need Lonzo Ball more than ever to step up with Rajon Rondo out recovering from surgery on his right hand, the second-year point guard instead played a listless game Saturday against the Orlando Magic.
Ball didn't score in more than 28 minutes, missing all five of his shots, including three three-pointers.
He had four assists but turned the ball over three times and was minus-nine in the plus-minus category.
"I didn't play good at all tonight," Ball said. "Didn't score. Think I had four turnovers, so it's not a good game. Bounce back tomorrow."
The Lakers play at Miami on Sunday and they'll need improved play out of Ball, especially since Rondo will be out four to five weeks.
Asked if he was trying to find his rhythm against the Magic, Ball wouldn't use that as an excuse.
"No, I think we've been winning games [and] guys are kind of figuring it out," Ball said. "Today was just a bad game. Shake it off, bounce back tomorrow."
Rondo returning?
When Lakers coach Luke Walton spoke with Rondo on Friday, both before the team left Los Angeles and after the team landed here, the veteran point guard talked about how the pain was subsiding in his surgically repaired right hand and that he hoped to rejoin the team before the trip is over.
"He was feeling some pain and then I talked to him again last night and he said he was already starting to feel much better, as far as just the pain level is concerned," Walton said. "He's dying to get out here and be with the guys. He's meeting with some doctors in L.A., doing some things right now and he possibly will meet us on this trip."
After the Lakers play at Miami, they have two days off before they play at Cleveland on Wednesday night.
Working on defense
The Lakers entered Saturday on a four-game winning streak, during which Walton saw improved defense. They gave up an average of 104.7 points per game during that stretch, before giving up 100 through the first three quarters at Orlando.
"We got to get a lot better at it as the season goes," Walton said before the game. "But the rotations have been better, our individual defense has been better, our rebounding has been better, our transition defense, starting in the Sacramento game, has slowly started to get better.
"So, the things that we preach about and work on a daily basis are slowly starting to get more consistent."
No rest for Lakers
Since the Lakers played only three games this week, Walton said he didn't plan to rest any players in the back-to-back games.
"Everyone is available," Walton said. "It's probably a little early for that still. But as the season goes, we'll always monitor it and work with our training staff on how players are feeling."
Etc.
Rookie Moe Wagner, the Lakers' first-round pick in the June draft, made his season debut with two minutes left in the game and missed his only shot, a three-pointer. He'd been sidelined by a knee injury. ... Michael Beasley made his first appearance since Oct. 25, scoring seven points in nine minutes. He'd left the team to attend to a personal matter. … Alex Caruso, who's on a two-way contract with the South Bay Lakers, the Lakers' development league team, joined the Lakers here as a replacement for Rondo. Caruso, a 6-5 point guard, was not activated for the game, however.
UP NEXT
AT MIAMI
When: 3 p.m. PST, Sunday.
On Air. TV: Spectrum SportsNet; Radio: 710, 1330.
Update: Heat center Hassan Whiteside leads the NBA in blocked shots (3.14 per game), just ahead of Lakers center JaVale McGee (2.93). Whiteside is second in the league in rebounds (14.9). Miami guard Josh Richardson leads the team in scoring at 20.6 points a game.
Twitter: @BA_Turner
All things Lakers, all the time.
Get all the Lakers news you need in Dan Woike's weekly newsletter.
You may occasionally receive promotional content from the Los Angeles Times.