With LeBron James in his corner, Lakers' Lonzo Ball has a great mentor during his development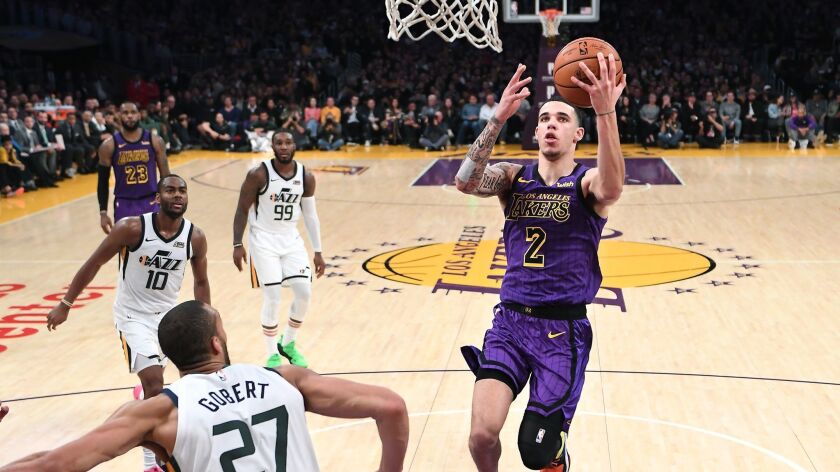 As Lonzo Ball works through learning how to be consistent in the NBA, he's got one important ally.
LeBron James said he believes in Ball's potential for greatness.
"I think Zo, I think he just sometimes, he doesn't realize how great he is, the things that he possesses out on the floor," James said. "When Zo realizes how good he is on the floor, it makes him a very dynamic player and it makes us even better.
"And he's been doing that as of late, his aggressiveness. And even when he's not making, just his attack as you've seen earlier in the game, just him getting to the rim. He missed a couple of 'em, that's absolutely fine. He had a couple charges, that's absolutely fine. When he's aggressive it just changes our dynamic of the team, and he's been doing it of late and we need him to continue to do that because he's very good."
After two passive games last weekend, Ball was more effective in the last two. He scored no points and had four assists against the Orlando Magic and finished with two points and seven assists against the Miami Heat. In the last two games, Ball had plus/minus ratings of 16 and 13. He scored 15 points against the Cavaliers on Wednesday and nine points with 10 defensive rebounds against the Utah Jazz on Friday.
James said he wasn't worried about Ball's progress and pointed to his inexperience. Ball, after all, missed 30 games during his rookie year and has yet to play 82 games, the length of an NBA season.
"So I think every game is another teaching point for him and experience will continue to happen more and more and he's gonna know what he does extremely well to help us but more importantly help him be successful on the floor," James said. "I can see it, but sometimes for you personally, you have to continue to figure it out."
How long did it take James to figure out how great he was, and how his own skills could help his team?
"Yeah, it took me probably until after my sophomore year of high school," James said.
Winning with defense
The Lakers have won nine of their last 11 games on the strength of their defense.
During that span, they've held three opponents to less than 100 points — the Kings and Heat on the road and the Jazz at home. Utah only scored 83 points Friday, the Jazz's second-lowest total of the season.
A team that struggled defensively to start the season, has been the fourth-best defensive team in the NBA in their last 11 games, behind Oklahoma City, Dallas and Memphis.
Hart probable
Josh Hart played for 14 minutes and 29 seconds Friday, and he walked with a pronounced limp after the game. The Lakers did not allow reporters to speak with Hart after the game, which is sometimes an indication of a serious injury.
Hart is listed as probable for the game Sunday against the Orlando Magic because of a strained left ankle tendon. Hart suffered the injury on Wednesday in Cleveland, but played through it.
UP NEXT
VS ORLANDO
When: 12:30 p.m., Sunday
On Air: TV: Spectrum SportsNet; Radio: 710, 1330
Update: The game is the second of six on the road for the Magic. They are 9-10 with losses to Toronto and Denver in their last two games. The Magic beat the Lakers, 130-117, in Orlando last weekend.
Follow Tania Ganguli on Twitter @taniaganguli
---
All things Lakers, all the time.
Get all the Lakers news you need in Tania Ganguli's weekly newsletter.
You may occasionally receive promotional content from the Los Angeles Times.