Lakers have reasons for being patient with Lonzo Ball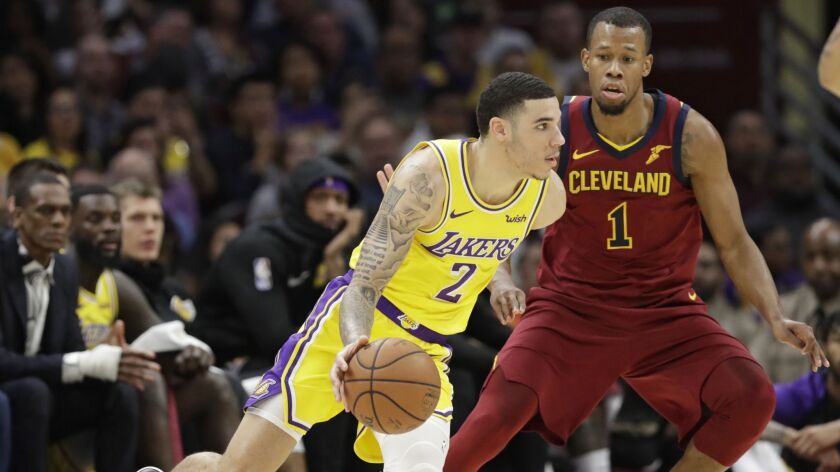 They loved seeing Lonzo Ball being so engaged against the Cleveland Cavaliers on Wednesday night.
They would love to see Ball play to that standard every game, but Lakers coach Luke Walton and his assistant coaches are preaching patience for the second-year point guard.
There will be nights when Ball will play a stellar all-around game, like when he had a season-high 15 points, seven rebounds and six assists against Cleveland.
When Ball went one for 11 from the field in the two previous games at Orlando and Miami, missed all seven of his three-point attempts and scored only two total points, unfortunately he can have nights like that.
"Part of it is being a young player and figuring it out still," Walton said. "Part of it is playing with a new group of guys. Obviously before, he was a primary playmaker for us and we ran a lot of stuff for him to play-make.
"Now we have other guys on the team — LeBron [James] and [Rajon] Rondo, Brandon [Ingram], Lance [Stephenson] — who are really good playmakers as well so there's not as many opportunities. But he's figuring all that out."
There is much to consider when dissecting Ball's play this season.
He's coming off a rookie season in which he played in only 52 games because of injuries to his knee.
He had his summer wiped out because of a platelet-rich plasma injection to his left knee in May and then having arthroscopic surgery on the knee in July.
So instead of working on his game, Ball spent most of his time rehabilitating.
"He's had one season in the NBA and then had to miss the whole offseason," Walton said. "So we'll continue to work with him and he continues to work on his own game and he'll keep getting better and better like the other young guys."
Walton said Ball, at just 21, still has a lot of room to develop his game.
In fact, Walton said "a majority of players don't reach their prime until they're 25, 26 years old, so we're patient [with Ball]."
It's just that the game against the Cavaliers was a sign of what the Lakers think Ball can be consistently.
He was seven for 11 from the field, one for two from three-point range and he didn't defer.
So based on that performance, Walton was asked Friday night before the Lakers played the Utah Jazz at Staples Center whether the 6-foot-6 Ball can replicate his aggressive play every game like he did in Cleveland.
"Yeah, eventually," Walton said. "It's what we want to see and we know what he's capable of with his size and feel for the game. But it's something he's working on.
"Do I expect it to happen every single night? Not yet. But at some point I see that being just the way he plays the game of basketball."
Twitter: @BA_Turner
---
All things Lakers, all the time.
Get all the Lakers news you need in Tania Ganguli's weekly newsletter.
You may occasionally receive promotional content from the Los Angeles Times.