Lonzo Ball's instincts, on offense and defense, often lead to big plays for the Lakers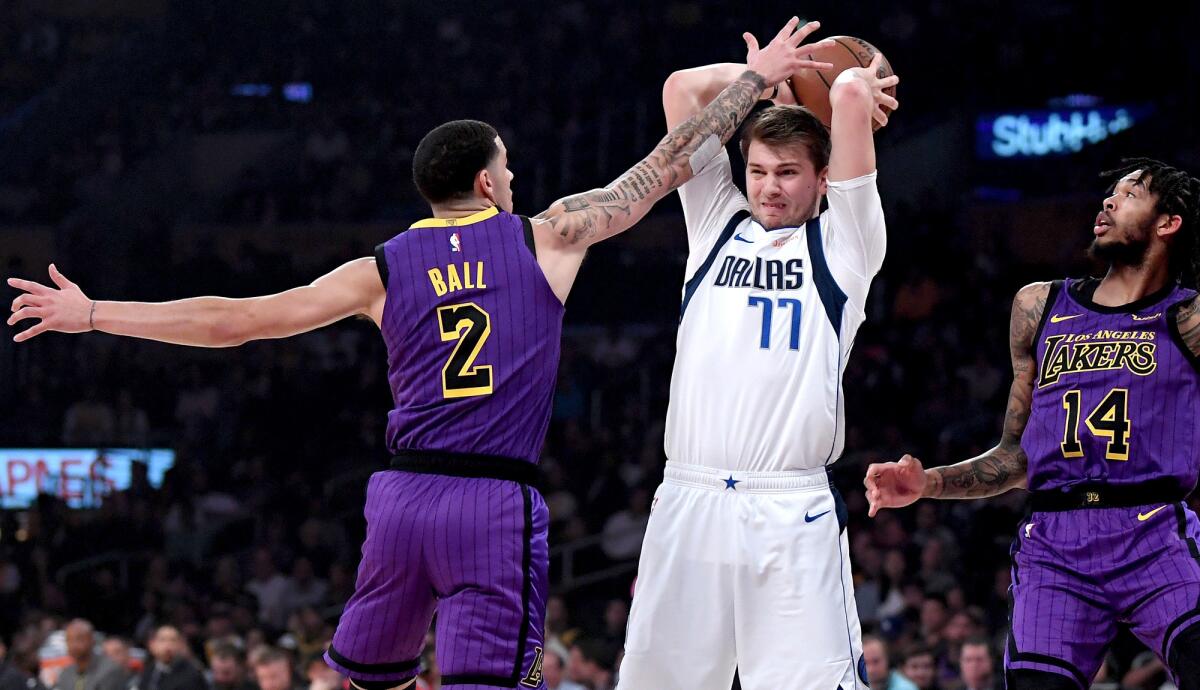 The Lakers had two players with prophetic basketball vision on the court at the time, so what happened might have been incredible, but it was fitting.
LeBron James threw a pass halfway up the court to Lonzo Ball, who jumped to catch the ball and while twisting in midair flipped it over to JaVale McGee for an easy basket.
"He was already ahead of the play," James said. "He seen JaVale streaking before I even threw him the ball. So those are things that you can't teach."
Said Ball: "He was ahead of everybody else, so I knew if [the ball] came up to me, he was gonna be open. He was, JaVale is very good at running the lane, so he got out there in front of everybody and put it in."
Ball had a lot of those types of moments during Friday night's 114-103 victory over the Dallas Mavericks, on both offense and defense. In addition to his 10 points, Ball had five steals and four assists, though he did commit five turnovers. Overall, his instincts impressed his teammates and coaches.
"I just try to play hard," Ball said. "A lot of people label me as not a defender for some reason, I don't know why, but I just try to go out there and do the best I can."
James referred to Ball's defensive skills as "cat-like."
Added Brandon Ingram: "He's done that since he was a rookie. I think he just has a knack for it, wherever the ball is gonna be. He's always in the right position."
When the Lakers get the best of Ball's instincts, they lead to the team being able to keep a fast pace at which the players like playing. On Friday night, for example, the Lakers scored 31 fast-break points while Dallas had only 13.
Chandler faces another former team
Tyson Chandler's double-double against the Mavericks was his first since Oct. 24. Back then he played for the Phoenix Suns and their opponent that day was the Lakers.
Chandler spent three full seasons and the start of this season with the Suns before agreeing to a buyout that allowed him to sign with the Lakers. When Chandler was asked about facing the Suns on Sunday, he deflected the question.
"I'm looking forward to just continuing the win streak," Chandler said. "We've been up and down a little bit this year and I'm looking forward to building on the wins to be quite honest."
Since arriving in Los Angeles, Chandler has put up numbers have been similar to what they were in Phoenix. He has given the Lakers the interior help they needed, adding a 7-footer to a roster that relied heavily on McGee.
Chandler, who is 36, has acted at times as a mentor for his younger teammates.
"Defensively I've always felt like as I've matured, got older, you know I always felt like I was an anchor back there," Chandler said. "You know, felt like I try to keep guys confident, guys settled into what we're trying to accomplish."
Injury update
The Lakers listed only one player on their injury report for Sunday's game — Rajon Rondo, who is still recovering from a broken hand.
Although Rondo was cleared for noncontact practices last week, they are hesitant to change a timetable that was originally listed as four to five weeks. Rondo broke his hand on Nov. 14 during a game against the Portland Trail Blazers.
UP NEXT
VS. PHOENIX
When: 12:30 p.m., Sunday.
On the air: TV: Spectrum SportsNet, Radio: 710, 1330.
Update: Phoenix is 4-18 this season. The Suns have lost their last four games, and seven of their last eight. Guard Devin Booker leads them with 24.5 points and seven assists a game.
Follow Tania Ganguli on Twitter @taniaganguli
All things Lakers, all the time.
Get all the Lakers news you need in Dan Woike's weekly newsletter.
You may occasionally receive promotional content from the Los Angeles Times.