LeBron James and Lonzo Ball generously dish out assists in Lakers' loss to Spurs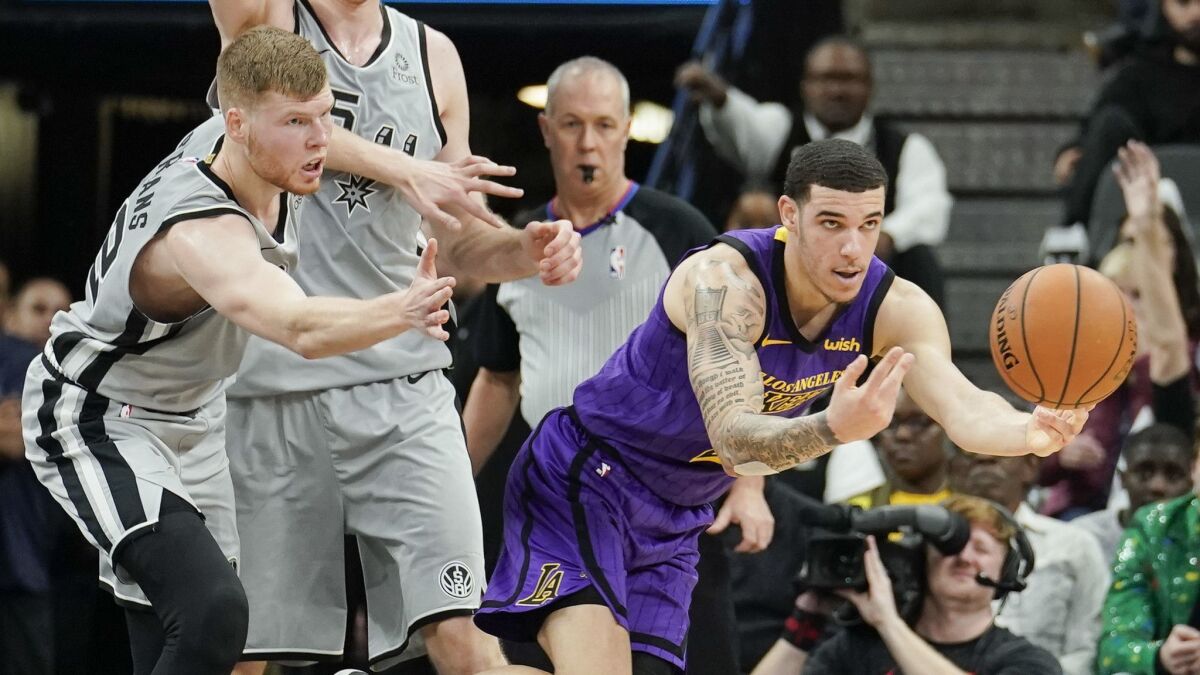 Reporting from San Antonio —
Before Friday night it had been more than five years since the Lakers had two players with double-digit assists in the same game.
On March 30, 2013, Pau Gasol had 10 assists and Kobe Bryant had 14 against the Sacramento Kings.
Friday night in the Lakers' 133-120 loss to the Spurs, Lonzo Ball and LeBron James each had 11.
"It's because we're nice!" James said over Ball's scrum, overhearing a question about that accomplishment.
Said Ball: "It's our teammates. You can pass the ball all you want, but if they don't score you don't get the assist. Guys are running the lanes, hitting shots and that's how we got to those numbers."
James' and Ball's playmaking abilities became that much more important for the Lakers on Friday in Brandon Ingram's absence. Ingram sprained his ankle during the first quarter of Wednesday night's game against the Spurs at Staples Center and did not accompany the Lakers on their trip.
In his absence, four of the Lakers' starters played at least 36 minutes with Kyle Kuzma leading the way with 38 minutes, 42 seconds of playing time. Ball was next with 37:53.
"Those guys always have expanded roles," James said.
"I don't think they had to pick up their roles. Kuz and Zo, that's what they do. They have to be more than what their role is.
"That's just what they are and they're OK with it. The guys just have to step up in their absence — in BI's absence."
Unblocked
Lakers center JaVale McGee takes pride in his ability to block shots. But the Spurs have two players who rely heavily on their midrange game in DeMar DeRozan and LaMarcus Aldridge. That gave the Lakers fewer opportunities to block shots.
"It's definitely frustrating just because, like you said, I'm a shot blocker," McGee said.
"But especially with San Antonio, they know that so they're working more of a midrange game rather than trying to get to the rim every time or keeping me out of the paint, which is limiting my blocked shots."
Tough at home
After the game, the Lakers made their way to Memphis where they will play the Grizzlies on Saturday night.
Memphis is 15-9 overall and has gone 8-3 at home this season.
"I expect them to play the way they've been playing for years," James said. "They added a rookie who's very good in Jaren Jackson Jr. They got a guy in Kyle Anderson from this team here who's very good. And Mike Conley's healthy. We all know when Mike Conley's healthy it changes the dynamic of their team. ... He just does so much for them offensively and defensively. He'll be ready to go."
UP NEXT
AT MEMPHIS
When: 5 PST
On the air: TV: Spectrum SportsNet; Radio: 1330, 710
Update: Memphis will also be on the second night of a back-to-back. The Grizzlies beat the Pelicans in New Orleans on Friday night.
Follow Tania Ganguli on Twitter @taniaganguli
All things Lakers, all the time.
Get all the Lakers news you need in Dan Woike's weekly newsletter.
You may occasionally receive promotional content from the Los Angeles Times.