Lakers forced to play wait and see with Brandon Ingram's injury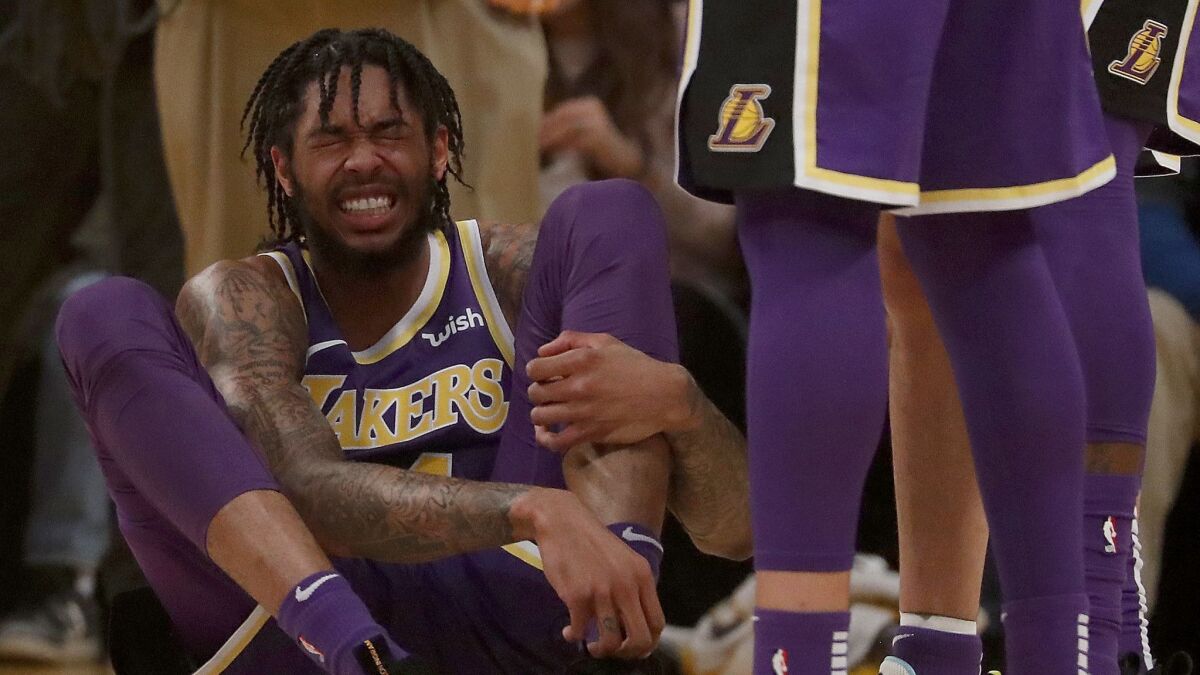 Reporting from Memphis —
Brandon Ingram's MRI exam on Thursday evening confirmed a sprained left ankle and he will be reevaluated in one week, the Lakers said Saturday.
That means Ingram will miss at least two more games after Saturday night's game against the Memphis Grizzlies. The Lakers play the Miami Heat at home on Monday and will start a four-game trip that begins in Houston on Thursday.
They then play the Hornets next Saturday in Charlotte, which is the day the Lakers said Ingram will be reevaluated.
Ingram sprained his ankle Wednesday during the first quarter of the Lakers' home game against the San Antonio Spurs. He had X-rays the same day, which returned negative for fractures.
Although he hadn't missed games because of injury this season before his ankle sprain, he did miss four games because of a suspension after the Lakers played the Houston Rockets in the second game of the season. The Lakers were 2-3 without Ingram this season before Saturday.
The Lakers were also without Michael Beasley on Saturday night. Beasley has been excused to tend to a family health matter for which he has been excused a few times previously.
Correction, coach
Lance Stephenson's minutes have dipped recently. In four of five games heading into Saturday, Stephenson played fewer than 10 minutes. Against the Spurs on Friday, he played only 23 seconds.
"We're just trying some different things," Lakers coach Luke Walton said. "Trying some different groups. Turnovers have been a major emphasis of ours. We have to make sure those numbers stay low. I've told Lance to stay ready, his opportunity will come. He's gonna help us win ballgames. It may be tonight, it might be the next day, but he knows to stay ready."
Down three players on Saturday night, Stephenson's playing time spiked to 15 minutes. Beasley had been taking some of the minutes that had gone to Stephenson.
As for being ready, "Born Ready" is Stephenson's nickname. He even briefly had a reality show of that name. So whenever Walton tells Stephenson to stay ready, the guard corrects him.
"Oh he tells me every day," Walton said. "I call him Lance, he corrects me, and says, 'Born.'"
Guarding LeBron
The Grizzlies entered Saturday's game with the fourth-best defensive rating in the NBA and they've relied on former UCLA forward Kyle Anderson to that end.
Anderson, who left UCLA after his sophomore season, was given the primary job of guarding LeBron James on Saturday.
"That's one of the things that he does well is guard those types of player especially in one-on-one, pick-and-roll type of situations, which we'll see tonight," Grizzlies coach J.B. Bickerstaff said before the game. "He's not as swift afoot as some, but he's extremely intelligent. He has great length and great size where he knows how to play angles and keep people in front of him.
"Obviously when you're guarding a guy like LeBron, to put that on one person is impossible, but you need that first line of defense there. Kyle has proven to us he can be that."
Follow Tania Ganguli on Twitter @taniaganguli
---
UPDATES:
5:45 p.m.: This report has been updated with more details about Ingram's injury and information about the Lakers.
This report was originally published at 12:10 p.m.
All things Lakers, all the time.
Get all the Lakers news you need in Dan Woike's weekly newsletter.
You may occasionally receive promotional content from the Los Angeles Times.