Lakers point guard Rondo experiences swelling in hand, still not ready to return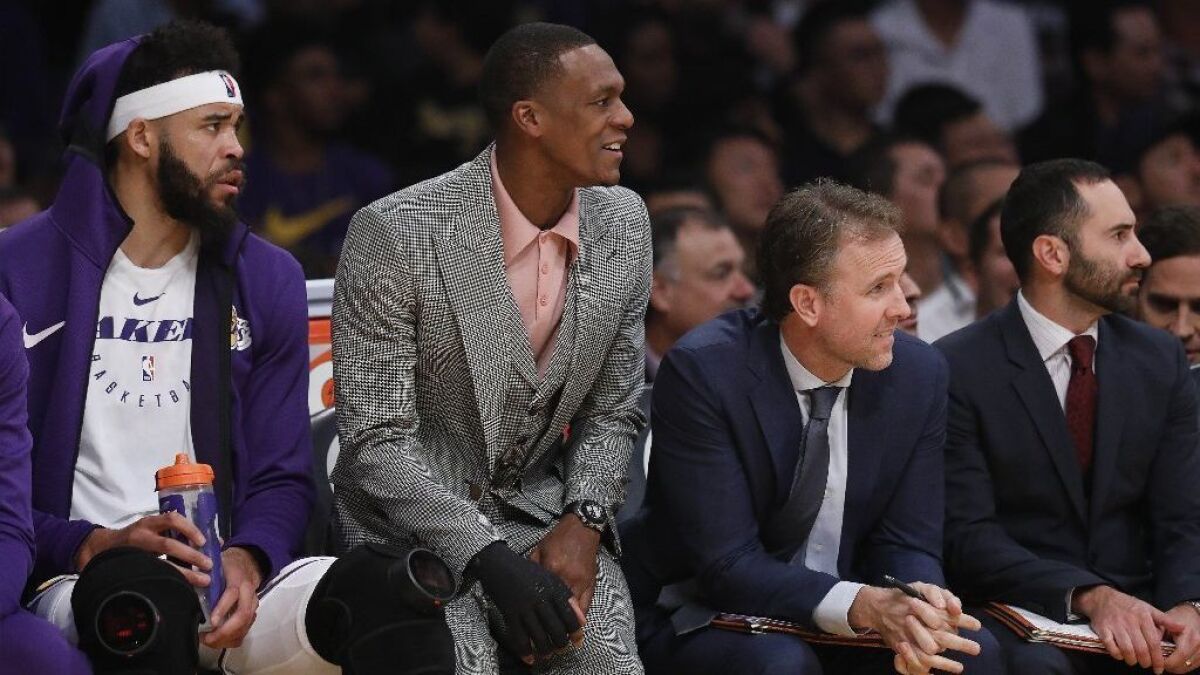 Rajon Rondo experienced swelling in his right hand recently and had it drained Sunday. Because of that, the Lakers decided to limit him for a few days after he had been practicing.
Lakers Coach Luke Walton said that Rondo probably would not be available for the Lakers' Thursday night game against the Houston Rockets. The last time the Lakers played the Rockets, Rondo and Rockets point guard Chris Paul got into a fight that led to a three-game suspension for Rondo. Paul said that Rondo spit on him, which Rondo denied.
Rondo has sat out 13 games since suffering the injury Nov. 14 against the Portland Trail Blazers.
Class of 2003
The 2003 NBA draft was an impressive one, showcased Monday night when two of its marquee members, LeBron James and Dwyane Wade, faced off for the last time.
Walton was the 32nd pick in the 2003 draft. He was asked Monday morning how he felt to be part of it.
"I feel a lot of pride," Walton said. "I feel like I brought a lot to the table as far as being one of the top draft classes of all time. I mean, guys like LeBron and D-Wade and [Chris] Bosh and Walton. … We really did our thing."
Bonga's support system
German forward Isaac Bonga has started in 12 games for the South Bay Lakers this season and before each one his parents set an alarm clock for the middle of the night in Germany to make sure they can watch.
Their daughter taught them how to stream his games with the Lakers' developmental team. Each time he has a game, starting at about 2 a.m. local time, they'll watch from Frankfurt, and sometimes FaceTime with their son afterward. One way or another they FaceTime every day.
It helps that Bonga's parents don't have to get up early. His mother doesn't work and his father works an afternoon shift, so both can nap after watching. But it means a lot to him just the same.
"Just support from my family, it's like a really big thing for me," Bonga said. "It really means a lot for me."
When the Lakers drafted Bonga in the second round last June, they knew he'd need time to develop.
Bonga scored his first NBA point Saturday night at Memphis when the Lakers asked him to take a technical foul shot.
He has gotten most of his playing time with their developmental team, taking advice from the South Bay Lakers coaching staff as well as his NBA teammates.
James let Bonga know the night before one game when he planned to attend. Bonga has regular film sessions with Rondo.
"I feel like my shot really improved since summer league and I've gotten stronger," Bonga said. "I've been lifting every day. About the game, I feel like I learn, every day, something new."
Follow Tania Ganguli on Twitter @taniaganguli
---
All things Lakers, all the time.
Get all the Lakers news you need in Dan Woike's weekly newsletter.
You may occasionally receive promotional content from the Los Angeles Times.