Lakers' Kyle Kuzma has plenty of confidence, and the game to fortify it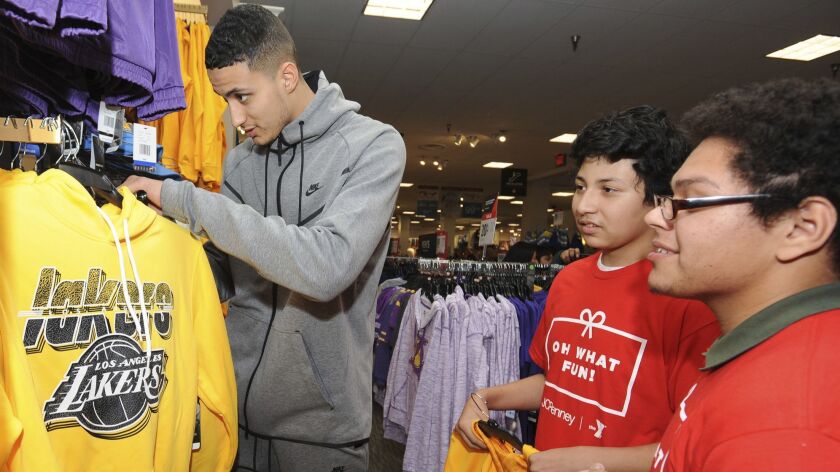 Kyle Kuzma showed a little bit of his trademark confidence when asked Monday night about his recent excellent play.
Has he had a stretch like this before during his short time in the NBA?
"I think so," Kuzma said. "I mean, last year at least half the season I was pretty damn good."
That's also true about how he's been playing lately. In five games in December, Kuzma has averaged 25 points. He has kept his turnovers minimal, contributed 8.2 rebounds a game and shot better than 52%.
It was last season when Kuzma put the rest of the league on notice with a hot start to his rookie campaign before hitting a wall. He had 14 games of 20 points or more between the start of the season and the end of the calendar year but only two such games in January or February.
He recovered during the course of the season, and then spent the summer working to become a more complete player.
It's been showing at various times this season, especially lately.
"Just being more aggressive, having more opportunity to score," Kuzma said. "I'm really looking to facilitate, find my teammates. Got back into a rebounding mind state and just improved defensively."
Mutual admiration
Josh Hart wears the No. 3 because of Dwyane Wade. On Monday night, Hart left Wade's likely last game ever against the Lakers with a gift for his feet.
"He gave me his kicks," Hart said. "That's my role model, that's my favorite player growing up. Still is. Sometimes it's tough when you're playing that 48 minutes to separate those feelings. You want to be competitive, you're a competitor. It was awesome being in this game."
Wade called Hart a "hell of a player" after the game.
On the shoes, Wade wrote: "I love the way you play this game. Reminds me of me."
Fountain of youth
Wade and LeBron James entered the NBA together, but Wade still sees a long career ahead of James.
'He doesn't lack when it comes to his preparation, doesn't lack when it comes to his greatness and his imprint on the game, and it's why he's in his 16th year and if you didn't know basketball you'd think this guy just got in the league," said Wade, 36. "He's a special, special player. I'm going to be retired so long while he's playing, people are going to forget me."
Right now, James, 33, isn't thinking that far into the future.
"At the end of the day, Father Time is undefeated, so we all gonna come to the end of the road at some point," James said. "Just try to make an impact both on and off the floor as much as you can while you in the light. Be kind to people. Be great at what you do. I think everything just falls into place.
"I don't know, I don't really look at it as my peers.It's inevitable we all come to an end at some point as far as our profession, so whatever the time you had when you was in it, I hope you was able to change some lives and affect the game that you played, and that's all you can ask for."
Good start
The Lakers are one of five teams that are 4-1 in December. They've also had the third-highest scoring average during the month, tied with the Golden State Warriors and New Orleans Pelicans at 116 points a game.
Follow Tania Ganguli on Twitter @taniaganguli
---
All things Lakers, all the time.
Get all the Lakers news you need in Dan Woike's weekly newsletter.
You may occasionally receive promotional content from the Los Angeles Times.