Trevor Ariza's departure has taken its toll on the Rockets as Lakers try to pursue him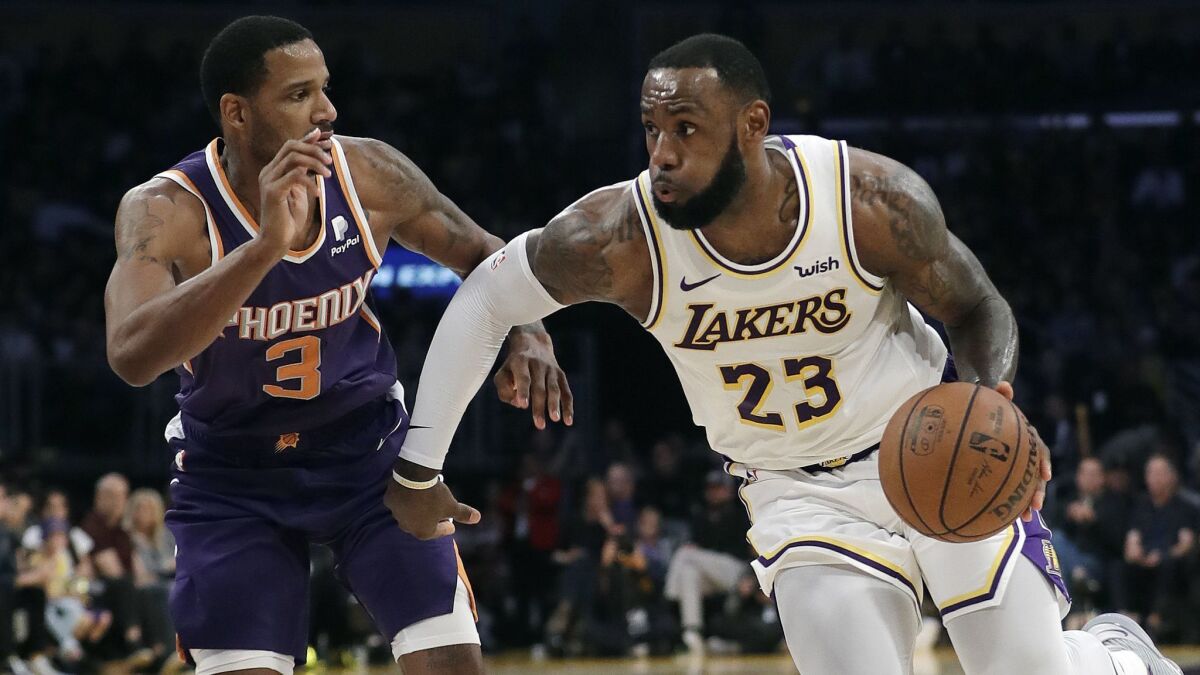 Reporting from Houston —
Neither the team he plays for now nor the team he left behind has a winning record, but Trevor Ariza's departure left a mark on the Houston Rockets.
They miss the boost he provided as a reserve, but they also miss his character.
"I think everybody misses a guy like Trevor in their locker room," Rockets guard Gerald Green said. "He's probably one of my coolest teammates ever."
Ariza has entered the Lakers orbit recently because of his desire to return to the team he played with from 2007-09. The Lakers and Phoenix Suns have discussed a trade for Ariza, but the Lakers have been unwilling to give up any of their young core of Lonzo Ball, Kyle Kuzma, Brandon Ingram and Josh Hart. The teams have worked to find a third team that could help facilitate a deal, but no trade is imminent.
Ariza spent four seasons with the Rockets and offered three-point shooting as well as solid defense. He left in free agency for a one-year deal with the Suns for $15 million.
"He wanted to get paid and it's one of those things in the league," said Rockets guard PJ Tucker, who still talks to Ariza weekly. "When you want to make more money you gotta leave sometimes."
With the move, Ariza went from a team that was in the Western Conference finals last season to a team fighting for lottery positioning.
"Whenever you switch teams it's tough," Tucker said, "but when you switch teams and go to a team that's not in the same type of situation that's trying to play for different things, it's a little tougher. But I think that's something that as a professional you learn how to do and kind of do it."
Both Tucker and Green pointed to Ariza's leadership as something that brightened their locker room.
"Vocal but wasn't too vocal," Green said. "Just vocal when they need it. It seemed like at the right time. I think one time in the playoffs we was doing something. He got on everybody in the locker room and we just snapped out of it."
Phil vs. LeBron
Former Lakers coach Phil Jackson offended LeBron James two years ago when Jackson referred to James' business partners as his "posse."
When Jackson was in the Lakers practice facility this week, James said he didn't have any interaction with him.
Given that Jackson is someone who occasionally stops by, Lakers coach Luke Walton was asked if there had been any consideration given to bringing Jackson and James together to mend their relationship.
Walton said he hadn't given it any consideration.
Learning the West
When James played in the Eastern Conference, he often watched West Coast games after going home from his games.
So even though he hasn't faced Western Conference teams as much as he does now, he feels his knowledge of the teams is strong.
"I just organically let it happen," James said. "It's definitely, it's different travel for me. It's just a different feeling when you go on the road in the Western Conference compared to the East. So I'm just learning all that stuff on the fly."
Follow Tania Ganguli on Twitter @taniaganguli
---
All things Lakers, all the time.
Get all the Lakers news you need in Dan Woike's weekly newsletter.
You may occasionally receive promotional content from the Los Angeles Times.