Lakers' LeBron James cleared for more on-court work but will sit out next three games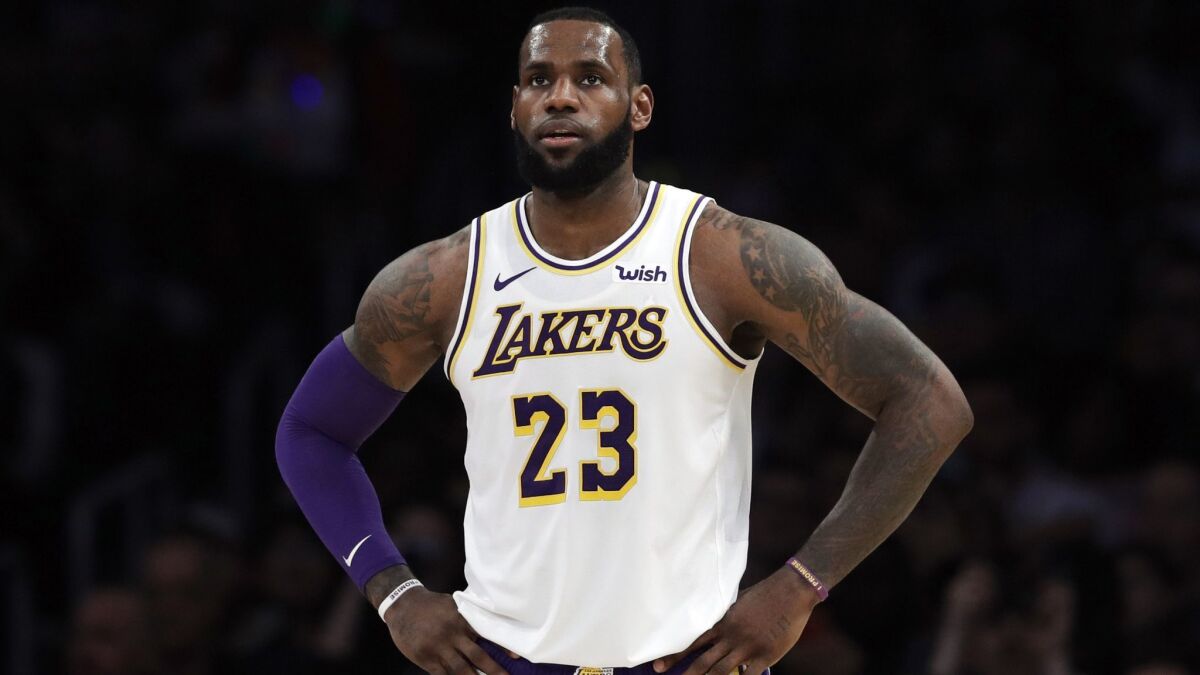 LeBron James has been cleared to increase his on-court basketball-related movements, the Lakers said Thursday after James' left groin strain was evaluated by team doctors.
The Lakers said their next update on James will come Jan. 16, meaning he will sit out at least the next three games.
The Lakers play the Utah Jazz (21-21) on Friday at Salt Lake City. They'll return for home games against the Cleveland Cavaliers (8-34) on Sunday and Chicago Bulls (10-31) on Tuesday. After facing two of the league's bottom dwellers, the Lakers face formidable competition on the road and at home.
They'll play at Oklahoma City (25-15) and Houston (23-17) at the end of next week. They'll then return home to face the Golden State Warriors on Jan. 21.
James suffered his injury during a game against the Warriors on Christmas.
Tests over the next two days, including an MRI exam, confirmed a minor groin strain. But the Lakers and James are being careful not to rush him back.
James, who has rarely been injured during his 16-year career, played in all 82 regular-season games with the Cleveland Cavaliers last season.
"I take a lot of pride in it so that is why it [upset me] not being able to go back into the game," James said on Christmas. "It's more than anything being available to my teammates, to my coaching staff, that is something I take more personal than anything. Hopefully it is not a long thing and I can get back on the floor as soon as possible."
James has sat out eight games. The Lakers won the last two, against the Dallas Mavericks and Detroit Pistons. Overall, they're 3-5 without him.
The Lakers also have been without Rajon Rondo, who has been sidelined since Christmas after surgery to repair a torn ligament in his right ring finger. Also, Kyle Kuzma sat out two recent games because of a lower back bruise.
Kuzma returned to the lineup for the victories against the Mavericks and Pistons. The Lakers' young core of Kuzma, Lonzo Ball, Brandon Ingram and Josh Hart played well in those games.
"I thought our team showed a lot of growth in, the whatever you want to call it, post LeBron injury, LeBron and Rondo injuries," Lakers coach Luke Walton said Wednesday night. "There were times in that game tonight where in previous games we would've just … gone down and taken quick shots. But I thought our guys did a really nice job staying composed, continuing to share the ball, continuing to make plays and, ultimately, winning by competing on the defensive end."
All-star voting
James expanded his lead in Western Conference All-Star fan voting during the last week, the NBA announced.
The top vote-getters in each conference are expected to be the captains for the two teams that will compete against each other in the All-Star game Feb. 17 at Charlotte, N.C. Each captain will draft the players for his team.
James was the leading vote-getter in the Eastern Conference last season and Warriors guard Stephen Curry was tops in the West. The team selections are scheduled to be televised this season.
"I think obviously there are certain personalities that can add to it," James said of televising the All-Star drafts. "But it all depends on how much the captains are going to get into it as far as their draft boards. We'll see. I did it last year, so I'm glad I didn't have to do it again."
James is eligible to repeat as a captain.
UP NEXT
AT UTAH
When: 7 p.m., Friday
On Air: TV: Spectrum SportsNet, ESPN; Radio: 710, 1330
Update: The Jazz are nipping at the Lakers' heels in the standings, currently sitting ninth, two games behind the Lakers.
Follow Tania Ganguli on Twitter @taniaganguli
---
All things Lakers, all the time.
Get all the Lakers news you need in Dan Woike's weekly newsletter.
You may occasionally receive promotional content from the Los Angeles Times.