Lakers GM Rob Pelinka: 'Anything short of a championship is not success'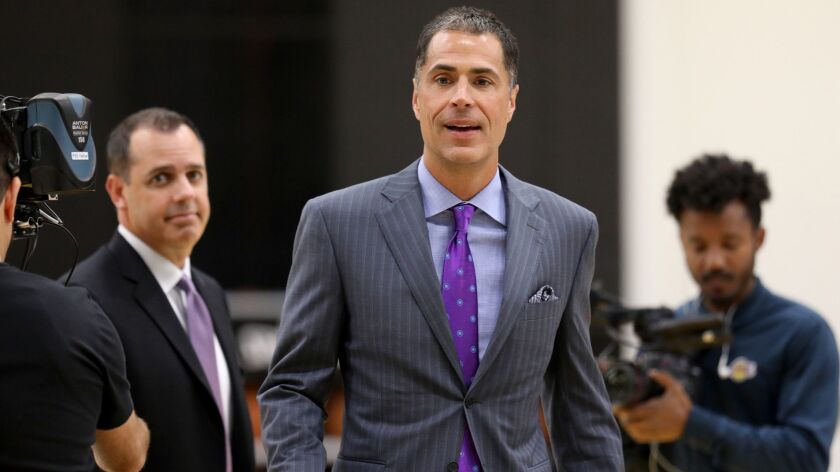 Lakers general manager Rob Pelinka is eager to move on from the Lakers' failed attempt to sign Kawhi Leonard and focus on the team he built around Anthony Davis and LeBron James.
"We have a high level of confidence we did everything we could," Pelinka said in reference to Leonard without mentioning his name. "But now again, you look to the future, you look forward to what we have. And that's where our focus is."
In a 30-minute conference call with reporters Friday, Pelinka never mentioned Leonard but discussed the two paths the Lakers planned for heading into free agency — one of adding a third superstar and one of creating a deep roster with several free agents.
He set an expectation the Lakers haven't publicly committed to in years.
"For us, anything short of a championship is not success," Pelinka said.
He didn't discuss the Lakers' biggest win of the offseason — trading for Davis. The Lakers plan to introduce Davis during a news conference Saturday afternoon that will include Pelinka, coach Frank Vogel and James.
"As we started our planning around July 1, we were incredibly excited that we could start with two of the top five players in the NBA on our roster," Pelinka said. "We felt like there were two strategic pathways [and] that we were confident in either of them."
Sign up for our Lakers newsletter »
While the Lakers chose not to commit to deals with any other players until Leonard made his choice, Pelinka said he stayed in contact with the representatives of the players they wanted to target should Leonard go elsewhere.
Pelinka began reaching out to those players on June 29. When teams were able to begin meeting with players on June 30, the Lakers waited. Leonard was taking his time. He met with the Clippers, with whom he ultimately signed, on July 1 at Doc Rivers' Malibu home. Pelinka and Lakers owner Jeanie Buss met with Leonard on July 2 at the Four Seasons Hotel in Westlake Village.
Leonard didn't make his decision until three days later. By that time, many of the players the Lakers had contacted agreed to terms with other teams.
"It was not a process of waiting, it was a process of doing work and being prepared for whatever the decisions would be," Pelinka said. "Part of that too was knowing that if we went down that path, to make sure we had flexibility going forward, and I think it worked out ideally for us, as you look at our roster construction, to have most of the free agents we signed with a two-year window."
According to Pelinka, James' and Davis' opinions were considered in building the roster.
"We view our relationships here with our star players here as partnerships," Pelinka said. "I know both Anthony and LeBron are excited about the 14 guys and how we are going to come together, and their input; both of their input, Anthony and LeBron, has been incredibly valuable to me."
Pelinka mentioned the future with a team he believes is structured to compete for a championship.
Multiple times during the conference call, Pelinka noted that the Lakers will have only two salaries on the books in the summer of 2021 — those of Davis and James, who has a player option for the 2021-22 season. However, Davis' agent Rich Paul has said his client will opt out of his contract next season and test free agency.
"It gives us the ability to not only contend in the short term with the players we wanted, but also add a superstar or max player in that July of 2021," Pelinka said. "If that's something we want to look to do."
Follow Tania Ganguli on Twitter @taniaganguli
---
All things Lakers, all the time.
Get all the Lakers news you need in Dan Woike's weekly newsletter.
You may occasionally receive promotional content from the Los Angeles Times.