Kobe Bryant has 35 points in Lakers' 130-110 loss to Houston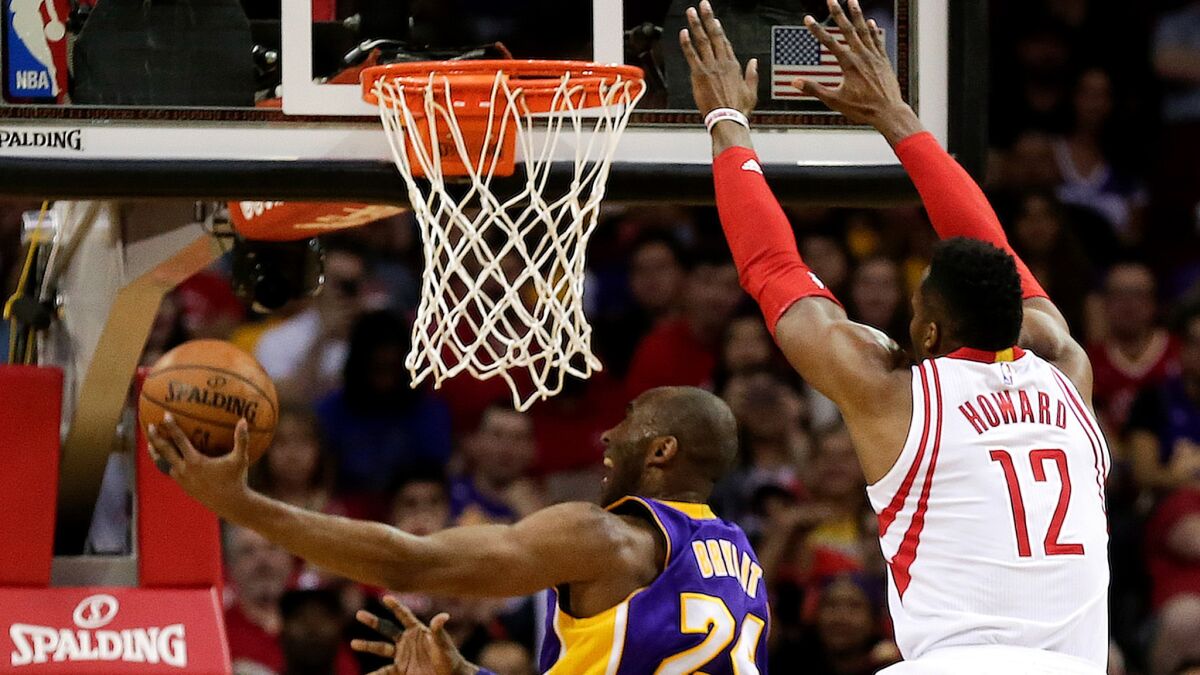 Reporting from Houston —
Lakers fans have long memories. It wasn't surprising to hear Dwight Howard get booed in his home arena.
Nor was it shocking that at least half the crowd wore Lakers colors Sunday. Kobe Bryant's career is that close to ending.
He gave what was wanted, a lively 35 points on 10-for-22 shooting, his second-highest point total this season in his third-to-last game.
Amid ubiquitous chants of his name, the Lakers lost again, 130-110, to the Houston Rockets. It was almost hidden in the fine print.
Bryant will play Monday in Oklahoma City and finish a 20-year run Wednesday against Utah at Staples Center.
He wasn't surprised by Sunday's outburst, saying, "You know me. I'm eternally optimistic."
He met with Hall of Famer Elvin Hayes beforehand and hugged another one, Hakeem Olajuwon, afterward.
Howard did not stick around to talk about old times, representing part of the past Bryant would rather forget — the failed 2012-13 season that failed to produce a single playoff victory with Steve Nash and Pau Gasol also on the roster.
Unsurprisingly, Howard was not in a brief pregame tribute video for Bryant. It featured friend and former Lakers teammate Trevor Ariza.
"I know he's looking forward" to retirement, the Rockets forward said. "He's ready for it."
Ariza met up with Bryant after the game in the Lakers' locker room, joining numerous athletes who have stopped by to see him on the way out this season.
With so little at stake for either team Sunday, the game was ragged at Toyota Center. There was no defense and plenty of turnovers, 21 by the Lakers.
The Rockets (39-41), to clarify, were still alive for the Western Conference's eighth and final playoff spot. They seemed only mildly intrigued by this, never quite shaking the Lakers until midway through the fourth quarter. They get Golden State in the first round if they make playoffs.
Bryant's reverse layup forced Houston to call time out in the third quarter as the Lakers closed within five. He left his hand in the air for a while after his three-pointer gave him 29 points late in the third quarter.
A middle-aged Lakers fan held up a sign that said, "Will u take a pic with my sons, Kobe & Bryant?" Another fan giddily held up a "Kobe, it's my birthday!" sign.
Jordan Clarkson had 21 points for the Lakers, though it was hard to celebrate because of Rockets guards James Harden (40 points, 13 assists) and Patrick Beverley (19 points, six assists).
Howard scored nine points, right around his average from the previous 15 games. He has fallen off Houston's game plan on offense and is expected to opt for free agency this summer.
For what it's worth, Lakers executive Jim Buss was on hand to see the team fall to 16-64 en route to the franchise's worst season ever.
At least there was Bryant. Maybe this was one last dip into an efficient, even electric, individual game. Maybe not.
"Sometimes you just sit there and just go, 'Wow,'" Lakers Coach Byron Scott said. "There's nothing you can say. I think everything's been said over the 20 years of his career."
Twitter: @Mike_Bresnahan
All things Lakers, all the time.
Get all the Lakers news you need in Dan Woike's weekly newsletter.
You may occasionally receive promotional content from the Los Angeles Times.