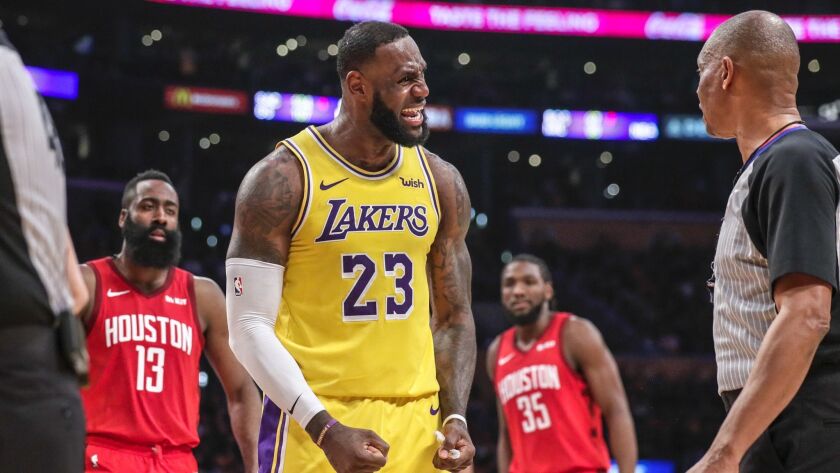 So remember when LeBron James said this week that his playoff intensity has "been activated?"
He wasn't lying.
On Thursday night he was flying, and flinging, and fighting, and displaying a truth that folks around here are seeing for the first time.
Goodness, maybe this guy really can carry the Lakers to the playoffs.
It was only one game, only the first of 25 that will carry the Lakers to the end of this disjointed season in either triumph or failure.
But what a night, the Lakers coming back from a 19-point deficit against the superior Houston Rockets at Staples Center to scratch out a 111-106 victory on the heels of desperation and the back of James.
Activation can be a beautiful thing.
After an ordinary three quarters that ended with the Lakers trailing by seven points, James took over and the crowd howled like it once howled for Kobe Bryant, stood like it once stood for Shaquille O'Neal and celebrated like it rarely celebrated in the last six years.
James finished with 29 points, 11 rebounds and six assists, and pretty much did everything when it counted.
"It wasn't that I needed to reach a different level, it's that I needed to be in that level," James said afterward, and he's there.
Soon after he re-entered the game three minutes into the fourth quarter, James found Kentavious Caldwell-Pope for an open three-pointer. Then he sank a jumper at the shot-clock buzzer. Then he threw a looping pass to Josh Hart for a layup.
He was only getting started. He had a driving dunk. He drove the length of the floor, was fouled and sank both free throws to give the Lakers a lead they never lost, but he still wasn't finished.
James scored on another driving layup, then finished with a pass that Reggie Bullock turned into a three-pointer from the corner, and the final evaluation was even more impressive than the final score.
James had done it all. James truly hauled the Lakers on his back and brought them to the win. Brandon Ingram scored 27 points, Hart played tremendous defense, but this win was about James.
"He's had more of a serious focus on his face over the last two days,'' coach Luke Walton said. "He recognizes where we are and the sense of urgency we need to play with. He was huge for us getting the win tonight."
He also led a Lakers defense that shut down James Harden and Chris Paul in the fourth quarter, holding them to nine total points in the quarter while fouling both of them out of the game.
"We just stuck to our game plan, we didn't change anything, just trying to get tough on them," James said.
After sitting out 18 games this season because of a groin injury, then watching the team go 2-4 since his return, James indeed finally got tough again. In this first game after an All-Star break that was filled with criticism of James' season, he needed this as badly as his teammates.
"Good win for us," said Walton. "We kept scrapping and gave ourselves a chance."
It could have been so ugly. It started so awkwardly.
Earlier Thursday HBO announced that the next edition of James' talk show, "The Shop," would air March 1 and feature a cast including Anthony Davis.
Then, 90 minutes before the game, James' production company announced that "Space Jam II," starring James, was scheduled for release July 16, 2021.
In what was supposed to be their first step toward making up the three games that separate them from the eighth and final playoff spot in the Western Conference, the Lakers initially stumbled and there seemed to be nothing James could do to stop them, and the contrast was clear.
His Hollywood business was thriving while his basketball business was struggling.
His first pass of the game flew untouched into the baseline seats.
His most dramatic play in the first quarter occurred when he threw the ball over his head the length of the floor in frustration.
James took himself out of the game in the second quarter after only three minutes, then struggled throughout the rest of the quarter as the Lakers trailed at halftime by six points.
At one point, when they trailed by 19 midway through the third quarter, it seemed even more unsettling that James' group would publicly celebrate his business successes on another night of basketball failure. You wondered, couldn't these announcements have waited until, I don't know, the Lakers had the night off?
But then James reminded everyone of his eight straight NBA Finals appearances and 13 consecutive playoff appearances. He reminded everyone of his quotes earlier in the week when he was asked about this huge challenge.
''I'm all about being uncomfortable, I love being uncomfortable, I fall in love with being uncomfortable," James told reporters. "This is another uncomfortable thing for me, and I love it."
It turns out, he really does. But, everyone knows, it's going to continue to be uncomfortable.
The bad news for Lakers fans is that they have the fourth-hardest remaining schedule in the NBA.
Just check out their final five games of the season:. They play the Oklahoma City Thunder, Golden State Warriors, the Clippers, Utah Jazz and Portland Trail Blazers.
Though only the Thunder game will be outside of Staples Center, that is still one tough stretch.
The good news for Lakers fans is that they are basically chasing the young Sacramento Kings and the otherwise-occupied Clippers. If the Clippers make the playoffs, their first-round pick goes to the Boston Celtics, and while, they won't ever admit it they would rather have that pick than a first-round knockout.
So the Lakers have a chance, and that chance just got a little better.
"We have to be playing our best basketball of the season," Walton said. "It's more about, are we coming out with the mind-set and effort that it takes, night in, night out?"
On this night, James inspired that effort.
Now, 24 more just like it.
Sign up for our daily sports newsletter »
Get more of Bill Plaschke's work and follow him on Twitter @BillPlaschke
---