Column: The Lakers fired Byron Scott for doing his job, and, strangely, it all makes sense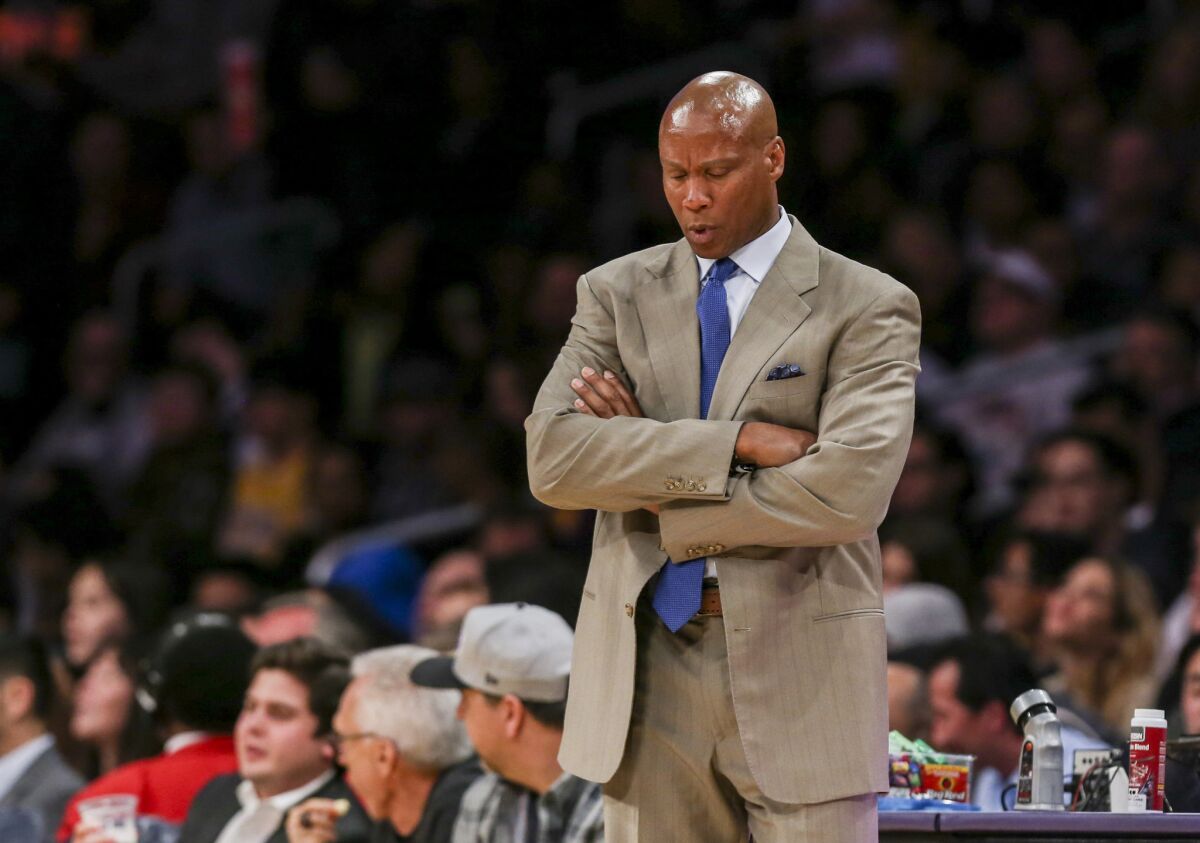 Byron Scott is a good man, a loyal soldier, and in two years he did exactly what his bosses hired him to do.
But the minute Kobe Bryant walked out of Staples Center for the last time, Scott's services were no longer needed, his job essentially ceased to exist, he became an instant antique.
The Lakers really had no choice but to fire him, which they did on Sunday in a move that should come with a thank-you note.
They needed someone to guide the team through the turbulent end of the Bryant era, and Scott did exactly that. Charged with helping Bryant bask in the glory that the Buss family felt he deserved, Scott help facilitate one of the most memorable farewell tours in sports history, ending with arguably the most memorable final game of any NBA legend ever.
They also needed someone to indoctrinate members of the next generation of Laker stars — Jordan Clarkson, Julius Randle and D'Angelo Russell — into the daily grind of NBA life. Bryant wasn't emotionally available for that, there were no other strong veteran presences in the locker room, so Scott needed to play the bad guy, and he did it often and well. He was ripped repeatedly by fans and media for benching and publicly scolding the kids, right up until Russell was busted for videotaping private conversations with Nick Young in a record-setting act of immaturity.
See the most-read stories in Sports this hour >>
Scott was hired to say goodbye to Bryant, and to rudely greet the future, and . . . to win? Seriously? Winning realistically was never part of the deal, and Lakers management even admitted as much earlier this season. It was decided that the team was going to cling to Bryant's fading glow for as long as it lasted, celebrate that glow, bask in that glow, and everything else was shadows.
Scott could never win out of those shadows. He never had a chance. He repeatedly bit the bullet for the organization because he knew he never had a chance. He never admitted it, but he knew. It became easier to fire him because he not only lost, he lost at an astonishing pace, with an amazingly bad 38-126 record during two seasons, including supervising the two worst Lakers seasons in the franchise's 68-year history. But make no mistake, he was losing because he was doing exactly what he was supposed to do.
What did the Lakers expect? If they wanted only to win, two years ago they would have hired someone from outside the Lakers family who would not have flinched at benching Bryant for long stretches while he was statistically the worst player in the NBA. They would have hired someone who would have devised the entire offense around the three kids and played them big minutes and let them run the show without any concern for monitoring growing pains.
That's not what they wanted. The old-school Scott was what they wanted. A buddy to Bryant and an unwavering tough guy with everyone else was what they wanted, and that's what they got.
Now they've fired him for it, and, strangely, it all makes sense.
Join the conversation on Facebook >>
You can't feel too bad for Scott because he knew his role when he was hired and he will surely, and deservedly, have a job for life somewhere else in the organization. And you can't blame the Lakers because they have to forge ahead with what could be one of the most massive reshapings in club history.
If Scott stays, they have zero shot at convincing Luke Walton to bring his 39-4 coaching record back to Southern California from Oakland. If Scott stays, maybe they miss out on a perfect opportunity to finally grab Jeff Van Gundy from behind the TV cameras.
And if Scott stays, the stain of the last two seasons stays, the specter of Kobe Bryant's buddy stays, and what top free agent would be attracted to any of that?
Coach Byron Scott met with the media two days after the Lakers' final game of the 2015-16 season.
For the first time in years, the Lakers finally have the salary cap space to get dramatically better. For the first time in exactly 20 years, they can remodel the team with an entirely different culture.
This new world needs a new leader, and it couldn't be Byron Scott.
He did his job, he lost his job. No apologies, no blame, era ended.
ALSO
It's a wild mile-high ride at Coors Field as Dodgers rally past the Rockies 12-10
As Game 4 looms, Clippers study what went wrong in Saturday's loss to Portland
Golden State defeats Houston, 121-94, but Stephen Curry is hurt and will have MRI exam
---
All things Lakers, all the time.
Get all the Lakers news you need in Dan Woike's weekly newsletter.
You may occasionally receive promotional content from the Los Angeles Times.