Despite criticism, Byron Scott says he won't ease up on Lakers' youngsters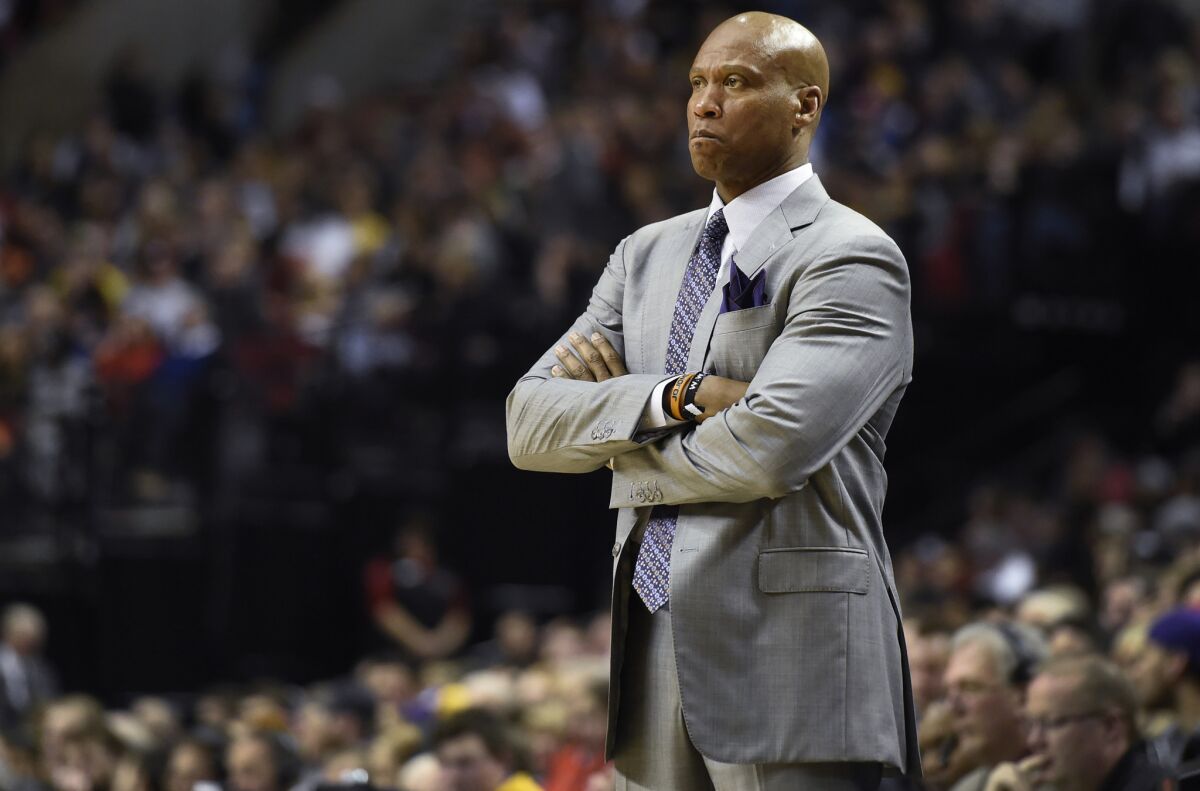 Byron Scott hears the critics. Does he ever.
They don't overtly chant the good name of Phil Jackson at home games, perhaps too polite to castigate one of their own. Scott, who is coaching the Lakers after starring on their "Showtime" teams, is tantamount to family after all.
But the boos have started creeping into recent games at Staples Center. A loss Tuesday against Minnesota would set the Lakers franchise record for most in a row (11).
It swerves the conversation toward Scott in the second season of his four-year, $17-million deal. Only one more year is guaranteed, and the Lakers have shown no fear in this department. Mike Brown was fired with $10 million and almost three years left on his contract; Mike D'Antoni was given more than half of the $4 million he was owed after resigning in 2014 with one more year on his deal.
Will Scott be back? People close to the organization think this season's final 2½ months are a trial of sorts. It would help Scott's chances if the young players showed growth and the games were more competitive. There has to be hope, not despair.
Scott has been criticized for being too rough on the Lakers' youth, and fans wonder whether the game has charged past him in the budding era of analytics.
He's not going to change. Not at age 54.
"I am who I am," Scott told The Times. "Pat Riley wasn't easy on us. Larry Brown wasn't easy on me [in Indiana]. I think that's the reason I was successful because I had a coach that pushed me and tried to get the very best out of me.
"As far as I'm concerned, I'm no different. I want to see how great these guys can be. I want to push them to the limit. I want to push them to things they've never done before. If that's being too tough, so be it."
Scott is expected to coach through the rest of the regular season, according to a person familiar with the situation, but even he realizes nine victories in 50 games is stretching the limits of acceptable reality.
"I would say, 'Nah, I think we would have a few more,'" Scott said. "I knew it was going to be tough because of all the youngsters that we have and I knew the learning curve was going to take time. I don't know what everybody else was thinking, but I didn't expect playoffs or nothing like that.
"I'm a little disappointed where we are right now from a record standpoint. But when I go home I look at our roster and look at our young guys, I say, 'We're still young, we're still growing.' There's no miracle cures out there for a 19- and 21- and 23-year-olds to get it right now without going through something. And as hard as they think they're working, they've got to work harder. That's going to be the key."
The Lakers are on pace for 15 measly victories after seemingly hitting the bottom of the well last season with 21, their lowest ever.
Scott, 30-102 in his Lakers coaching career, has the undesirable role of balancing Kobe Bryant's final lap with five young players in their first or second NBA season.
Sometimes Bryant plays. Sometimes he doesn't. Often he plays and isn't effective. It certainly affects the Lakers' youth, even though they don't say it publicly.
If it's all about the future, Scott isn't giving up. He wants to be here next season. He's hoping D'Angelo Russell and Julius Randle can follow a flailing-to-Finals template.
"Take Steph Curry," Scott said. "Four years ago, everybody was talking about, 'Did Golden State give him too much money? Is he injury-prone? Is he this and that?' Now he's the reigning MVP and arguably the best player in our league.
"It's not going to happen in a year so I don't understand why people get so carried away over it. D-Russ is going to be a good player. Does he have to learn? Absolutely. Do I have to push him? Absolutely. Same thing with Julius. And I understand that and I'm willing to do that."
NEXT UP
LAKERS VS. MINNESOTA TIMBERWOLVES
When: 7:30 p.m. PST.
Where: Staples Center.
On the air: TV: TWC SportsNet, TWC Deportes; Radio: 710, 1330.
Records: Lakers 9-41; Timberwolves 14-35.
Record vs. Timberwolves: 0-2.
Update: Minnesota has lost four in a row, including a 96-93 defeat Sunday at Portland. Timberwolves center Karl-Anthony Towns leads all rookies with 25 double-doubles. Minnesota holds two close victories over the Lakers — 112-111 on opening night and 123-122 in overtime in December. Lakers rookie Larry Nance Jr. won't play until after the All-Star break because of a sore knee.
Twitter: @Mike_Bresnahan
All things Lakers, all the time.
Get all the Lakers news you need in Dan Woike's weekly newsletter.
You may occasionally receive promotional content from the Los Angeles Times.