For the Lakers, it's not about future, it's about the here and now
Last week, when former Lakers great Shaquille O'Neal thought back to the legacies of Phil Jackson and the late Tex Winter, he remembered the routine.
"We did the same thing every day, came in, yoga, stretching, meditation, walk through triangle offense, practice, talk about it afterward," O'Neal said recently.
The triangle offense has faded into the franchise's past, but Lakers coach Luke Walton was part of those teams that followed that schedule and meditation is part of his daily life.
And just because the Lakers added one of the best players ever this summer doesn't mean meditation has left the organization. Early in training camp, Walton brought in a specialist to lead the team through a session.
Meditation is a practice that keeps one focused on the present, not on the past or future. That will be a critical skill for the Lakers this season. The future might be tempting to consider, the past might be easy to indulge, but the present matters more than anything else. The LeBron James edition of the Lakers must meld together, their young players must develop, and the franchise's future will depend on what happens now.
"We expect to have a special season, we just have to put it all together, come together, but we're not looking toward next summer or next season — we're into this season," general manager Rob Pelinka said. "We still have some work to do. We know what our plan is and we're going to stick to that plan. But we're not thinking about it right now. We're into this moment because we feel like we can do something very special."
Every day of practice this preseason, Walton has faced a luxury and a challenge. For the first time in his coaching tenure, his effort isn't so heavily focused on just the youngest players in the league. It has meant that he can go faster as he teaches the system. But he has to be careful not to go too fast.
"It doesn't make sense for us to move forward unless at least a majority of guys have a good feel for it so that we can execute that on the court," Walton said.
For the past two seasons, Walton's mission has been relatively simple. It was his job to develop a group of young players however he could to maximize their talent. Whether or not they were part of the Lakers' future, those players' development was critical.
Either they'd remain and improve the team or they'd become attractive prospects for deals with other teams. Players like D'Angelo Russell, Larry Nance Jr. and Jordan Clarkson became assets that helped the Lakers clear salary cap space and make the way for signing James.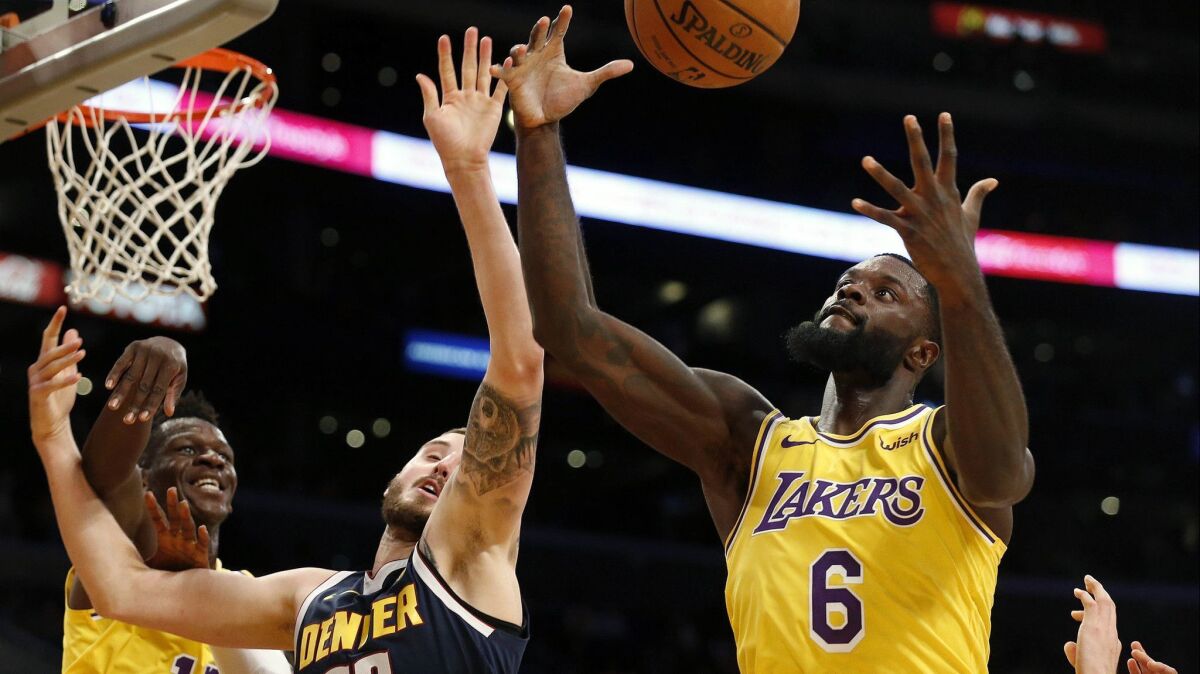 This year, that has changed. The Lakers' mission on the court is two-fold.
They still have young players who need development — Brandon Ingram, Kyle Kuzma, Josh Hart and Lonzo Ball, as well as rookies Moe Wagner, Svi Mykhailiuk and Isaac Bonga.
But now they have veterans who can be reasonably saddled with expectations. This season's team expects to be in the playoffs.
They added James to a team that won 35 games and finished 11th in the Western Conference. They added players with mercurial personalities but experience, knowledge and skills.
JaVale McGee won a championship last season with Golden State, handling a heavy responsibility of slowing James in the NBA Finals. Rajon Rondo won a championship 10 years ago, but last season he was the point guard on a playoff team in New Orleans that pulled off a first-round upset of Portland. Lance Stephenson, who has played his best in the comfort of Indiana, has brought an enthusiasm and toughness to Lakers games that is becoming contagious.
"I definitely feel like the group of guys we put together, they can be the equivalent of the Bad Boys Detroit team," McGee said. "It's just a bunch of guys that will hit you in the mouth first and if they get hit in the mouth they're not backing down."
As their play complements James, they might help the Lakers end a five-year playoff drought. They can also teach the younger players by example.
"You can tell that when me and Rondo are ciphering through our Rolodex of mental basketball capacity that those guys are like, 'OK, what are you all talking about?'" James said. "'What are you all thinking about? I want to know.'"
That's what gives James the most hope for this team — what's happening now.
Follow Tania Ganguli on Twitter @taniaganguli
---
All things Lakers, all the time.
Get all the Lakers news you need in Dan Woike's weekly newsletter.
You may occasionally receive promotional content from the Los Angeles Times.