Lakers center Ivica Zubac makes most of start in place of JaVale McGee, who remains sidelined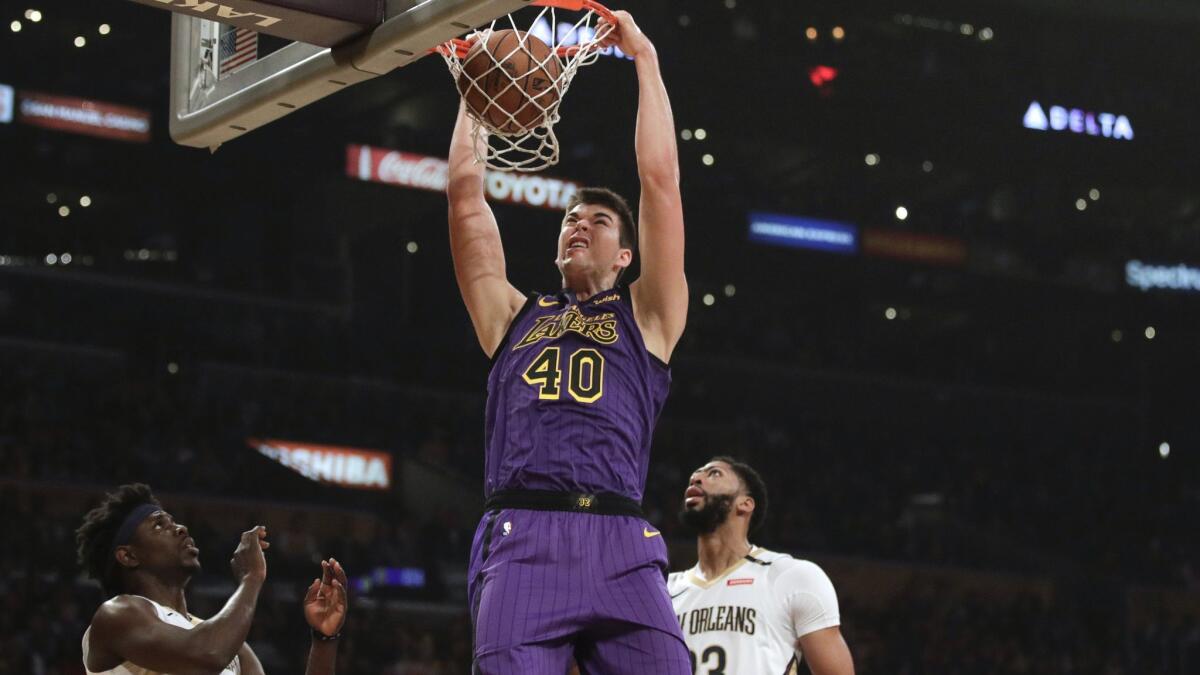 Ivica Zubac stood his ground late in a close game against the New Orleans Pelicans, rejecting a shot by former teammate Julius Randle, helping the Lakers protect a seven-point lead with 57.4 seconds left.
Zubac looked at Randle after the play, his right hand that had blocked the shot down by his side. His teammates stood and cheered, as did the fans inside Staples Center.
His teammates gave him the game ball, showing their appreciation for his effort in delivering 16 points, 11 rebounds, two blocked two shots and two steals in the Lakers' 112-104 victory.
And for getting that big block on Randle.
"It felt really good," Zubac said about blocking Randle's shot. "He's been bullying me in practice since I got in the league, so it felt good to block it and that helped us to win the game."
Zubac was a surprise starter, filling in for JaVale McGee, who was home with an upper respiratory infection that kept him out a third consecutive game.
"Every time I'm in the [practice] building he's doing something," Lakers coach Luke Walton said about Zubac. "He's either in the weight room, or he's running. He's playing two-on-two. He's working out with the coaches.
"So, you notice those things and when opportunities come, it makes you feel confident to go to someone that hasn't been playing a lot."'
The ailing and weary Lakers were in desperate need of some sort of infusion coming off a 1-3 trip that took them through Houston, Charlotte, Washington and Brooklyn.
They got that jolt from Zubac, who began the game making his first five shots by moving and cutting to open spots.
He also was assigned to defend Pelicans All-Star Anthony Davis at times.
And Zubac provided a highlight moment for the fans, blocking a Davis shot off a lob pass from Jrue Holiday late in the fourth quarter, giving the Lakers the ball back.
Zubac missed just two of his 10 shots.
"That's what we always tell our guys, stay ready and work and your opportunity will come," Walton said. "And he took full advantage of that tonight."
Zubac hasn't played in many games this season, this being just his 12th game.
His 32 minutes 16 seconds were a season-high. His points and rebounds were season-highs.
"I worked a lot to be ready for this moment, because I knew if something goes down with JaVale or Tyson [Chandler], I got to step up," Zubac said. "My conditioning is in a great place. When I get in, I'm just trying to do simple things, just set hard screens, roll, being a dunker, relocate from one dunk to another one. On defense, just trying to keep up with what the coaches told us to do. Keeping Julius from going to the middle was a big key."
Twitter: @BA_Turner
All things Lakers, all the time.
Get all the Lakers news you need in Dan Woike's weekly newsletter.
You may occasionally receive promotional content from the Los Angeles Times.