Lakers pick up another win without shame, 102-95 over the Spurs
Reporting from San Antonio —
The Lakers put forth an energetic effort at an inopportune time.
They beat the San Antonio Spurs 102-95 on Wednesday for their second win in as many games.
Yes, both of those wins hurt their chances in next month's draft lottery. No, the players involved don't care. Wins have been scarce enough this year, they'll enjoy these.
"No, I don't [care]," Larry Nance Jr. said. "I am a competitor first and foremost. My job is to compete night in and night out and everything else is out of my worries."
That's the mentality Lakers coach Luke Walton wants from his players as the season closes.
The Lakers built a big lead against the Spurs in the first half at AT&T Center with one of their best first quarters of the season. Fueled by a career-high 19 points from Tyler Ennis, and an active fourth quarter by David Nwaba, they ended a four-game losing streak in San Antonio. It was the Lakers' first win against the Spurs this season.
Their record improved to 23-55, while the Phoenix Suns lost to the Golden State Warriors to fall to 22-57. The Lakers have a better record than the Suns and Brooklyn Nets (19-59).
"Obviously, it's a unique situation, but our players' jobs are to go out there and win," Walton said. "At the end of the day it's a lottery anyway, so we're gonna need some luck from the basketball gods. We're gonna keep playing the way we think is best for our team. ... I'm real proud of the effort they gave us tonight."
If the Lakers finish with the third-worst record in the NBA instead of the second-worst, their chances of winning a first-round pick in the top three fall from about 56% to about 47%. The team with the worst record has about a 64% chance to get a lottery pick in the top three. If two teams finish tied in the standings, their chances become almost identical, with a tiebreaker giving one team a negligible edge in the lottery.
If the Lakers' lottery pick falls out of the top three, they must give this year's top first-round pick to the Philadelphia 76ers and their 2019 first-round pick to the Orlando Magic. If their pick remains in the top three, they keep it and owe Orlando only a pair of second-round picks.
In their previous two meetings, San Antonio beat the Lakers handily. On Wednesday, the Spurs played their second game of a back-to-back. Manu Ginobili and Danny Green were held out with minor injuries.
The Lakers too were shorthanded. D'Angelo Russell sat out with knee soreness and Brandon Ingram played only 10 minutes, back on a minutes restriction to manage his late-season patellar tendinitis. Jordan Clarkson didn't finish the game because of a left knee contusion.
The Lakers pulled ahead quickly and never trailed.
They led by 17 points in the first quarter, and by as many as 26 in the first half. They built a 17-0 run, their longest unanswered run of the season. The Spurs' 14 first-quarter points represented a season low for a Lakers opponent.
At halftime the Lakers led by 12. By the end of the third quarter, San Antonio had cut that lead to six. As they prepare for the playoffs, rest is paramount for the Spurs. Kawhi Leonard and LaMarcus Aldridge sat out the second half. Tony Parker and Patty Mills sat the fourth quarter.
Meanwhile, the Lakers saw a heavy dose of players for whom these last few games mean a great deal. Ennis scored eight of his points in the fourth quarter. He hit a three-pointer shortly after the Spurs tied the game at 76. A few minutes later, another three, this one by Metta World Peace, gave the Lakers a five-point edge.
Having started for D'Angelo Russell, Ennis was the only starter who played in the fourth.
Lakers forward Metta World Peace, left, battles Spurs center Dewayne Dedmon for a rebound during the second half.
(Darren Abate / Associated Press)
Lakers guard Jordan Clarkson attempts a layup against Spurs big men Davis Bertans, left, and Pau Gasol during the second half.
(Darren Abate / Associated Press)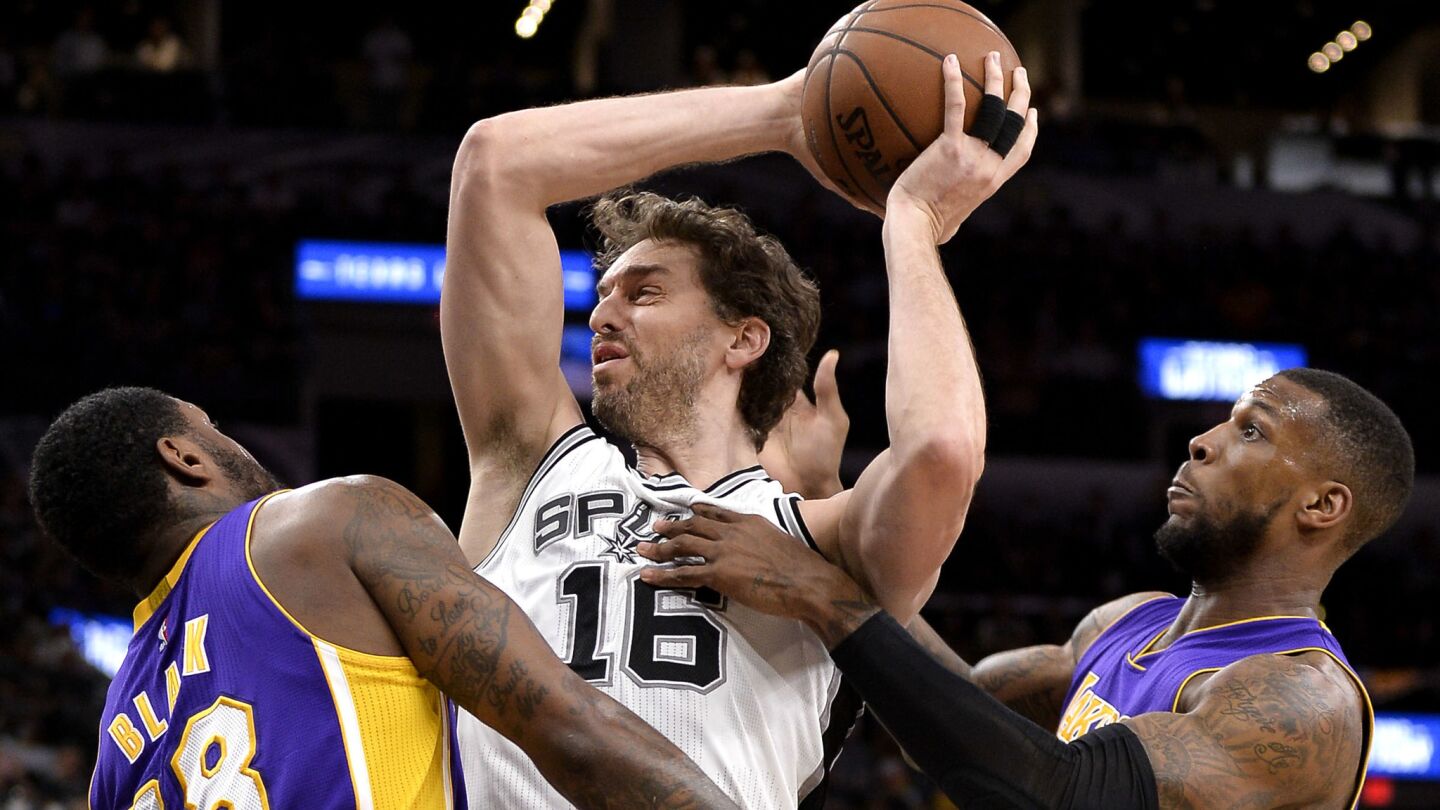 Spurs center Pau Gasol looks to pass against the double-team defense of Lakers big men Tarik Black, left, and Thomas Robinson during the second half.
(Darren Abate / Associated Press)
Lakers guard Tyler Ennis (11) chases after a loose ball against Spurs guard Bryn Forbes during the second half.
(Darren Abate / Associated Press)
Lakers guards Jordan Clarkson (6) and Tyler Ennis, shown during a break in play in the second half, combined for 36 points against the Spurs.
(Darren Abate / Associated Press)
Lakers forward Metta World Peace drives against Spurs guard Patty Mills during the first half.
(Darren Abate / Associated Press)
Spurs forward Kawhi Leonard, center, reacts to a play as he waits to enter the game along with teammates Dewayne Dedmon, left, and Tony Parke during the first half.
(Darren Abate / Associated Press)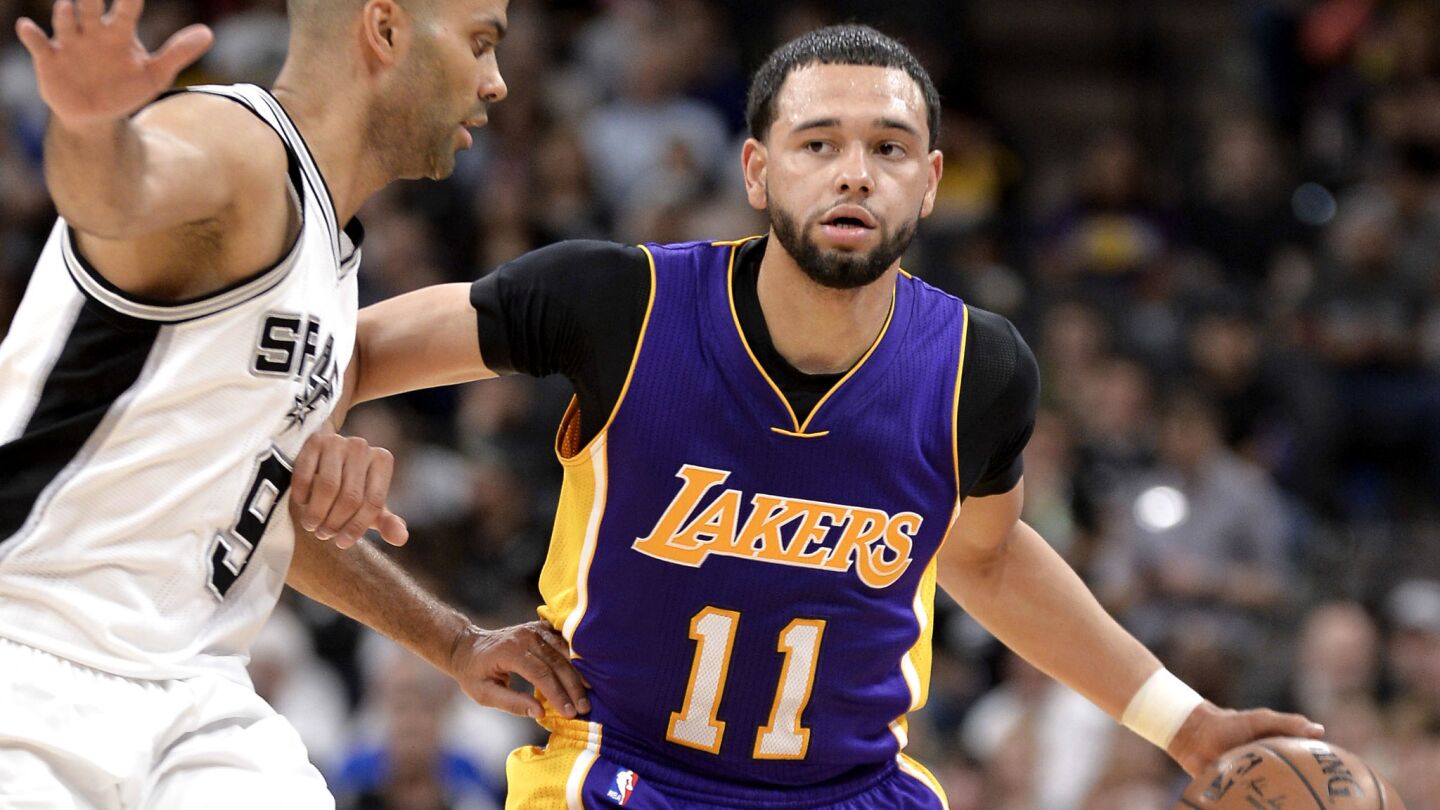 Lakers guard Tyler Ennis (11) drives against Spurs guard Tony Parker during the first half.
(Darren Abate / Associated Press)
Lakers Coach Luke Walton talks to Lakers guard Jordan Clarkson during the second half.
(Darren Abate / Associated Press)
Development League call-up David Nwaba played the entire fourth quarter and scored six of his 10 points, and added three rebounds, two assists and a steal during that period. He forced a Spurs shot-clock violation with the Lakers up 14, then dished an assist to Tarik Black that put the Lakers up 16.
After the game Nwaba boarded an SUV with D-Fenders general manager Nick Mazzella for a 31/2-hour drive to near the Mexican border. He'll play in a D-League playoff game in Hidalgo, Texas, on Thursday.
Thomas Robinson and Tarik Black also played throughout the fourth. Walton liked the physicality of the unit that finished the game. He loved the defensive energy, and hopes that stays with the Lakers into their offseason.
The Spurs got within five with a minute and 19 seconds to do, but the Lakers, defiantly, turned them back.
There are repercussions for wins, but that's not a burden the players embrace.
"I need to come out and play my hardest and win," Ennis said. "That's what coach wants us to do. I don't pay attention to what the fans say. If I was going out there and losing on purpose, they'd have a problem too, so I think we should go out and win as much as we can and let everything handle itself. We're all on social media so we see it. But I only worry about things in here."
Follow Tania Ganguli on Twitter @taniaganguli
MORE LAKERS NEWS
Lakers rookie Brandon Ingram is feeling close to 100%
Lakers report: Not much matters but the lottery at this point
Lakers' top brass agrees that Luke Walton is the coach of the future
---
All things Lakers, all the time.
Get all the Lakers news you need in Dan Woike's weekly newsletter.
You may occasionally receive promotional content from the Los Angeles Times.