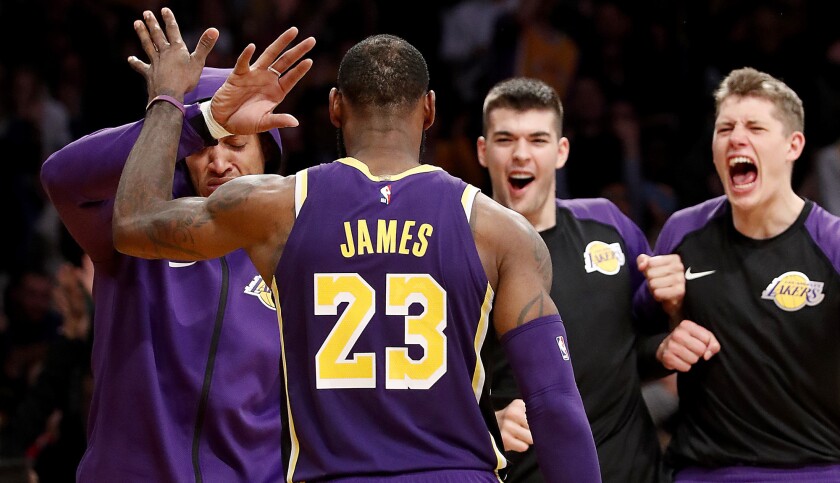 Five takeaways from the Lakers' 121-113 victory over the San Antonio Spurs on Wednesday night at Staples Center:
1) Though Tyson Chandler scored only two points, every one of his minutes were meaningful and made an impact for the Lakers.
Chandler was an amazing plus-27 in the plus-minus category over 28 minutes and five seconds.
His defense was stellar as usual. His screens were bone-jarring as always. His effort was up to his typical standard. Chandler also had nine rebounds and one assist.
The Lakers took notice of his play — again.
"I thought Tyson Chandler and his minutes tonight set a perfect example of who we want to be as a team," Lakers coach Luke Walton said. "He was a plus-27, zero shot attempts, nine rebounds, was all over the floor just competing with nothing in mind other than trying to win for his team."
2) Lonzo Ball played all 12 minutes in the fourth quarter, his play solid and forceful.
Ball made a three-pointer late in the fourth quarter that broke a tie and the Lakers never trailed again. He had a plus-12 rating in the final 12 minutes.
For the game, Ball had 14 points, nine rebounds and four assists with a plus-18 rating.
3) Seldom-used rookie Svi Mykhailiuk was thrown into the rotation because Brandon Ingram sprained his left ankle in the first quarter and Josh Hart was in foul trouble.
Mykhailiuk played 11 minutes and 36 seconds, 7:42 in the third after Hart picked up his fourth foul early in the quarter.
Mykhailiuk was just one-for-seven shooting from the field, his only make a three-pointer.
His time as a backup point guard might increase because Ingram and Rajon Rondo (broken right hand) are both out.
4) Walton said one of the goals for his team has been to cut down their turnovers.
The Lakers accomplished that against the Spurs, giving the ball away just 12 times. Center JaVale McGee had four of the turnovers.
5) The Lakers again had problems at the free-throw line. They rank 28th in the league at 70.5% for the season and fell short of that mark Wednesday night.
They shot just 69.7% (23 of 33) from the line in the game and 66.7% (10 of 15) in the fourth quarter.
LeBron James, who led the Lakers with 42 points, was three for six from the line in the fourth quarter and made nine of 13 for the game.
Twitter: @BA_Turner
---