Five takeaways from the Lakers' 131-113 win over the Phoenix Suns
There was a moment in the locker room after Wednesday's game when it was clear JaVale McGee grew frustrated with a particular narrative.
"This is what I want to say about the asthma," McGee said. "Stop bringing that up like I'm out here wheezing and having asthma attacks. I've never had an asthma attack in my life. I feel like that's definitely lowered my value as a basketball player. People say, 'Oh, he only can play 20 minutes because he has asthma.' No. There's a lot of people with asthma in the league. I feel like somebody stamped that excuse on me like, cool, we can play him low minutes because he has asthma."
McGee has been averaging 23.5 minutes per game in his first four games with the Lakers, while he averaged 9.5 and 9.6 minutes per game in each of his two seasons with the Warriors. In fact, you have to go all the way back to the 2011-12 season to see a world where McGee was regularly playing more than 20 minutes per game.
The Lakers have started to play McGee in shorter stints, which is keeping him fresher because they need him. McGee, who is playing on a minimum deal, is the only player the Lakers have available right now who can be trusted to start for them as a true center.
They need him badly.
Here are five takeaways from Wednesday night's 131-113 win over the Suns.
1. The Lakers canceled a shootaround on Wednesday morning but they did meet as a team. Luke Walton addressed the team in an apparently fiery manner. "He came in today very mad," Lance Stephenson said. "He yelled at us, he told us we've got to lock in on defense and play unselfish basketball and get a W."
2. Three of McGee's 20 points came from a three-pointer he made in the first quarter. Afterward he held his finger to his lips to quiet the crowd. That was the second three McGee has made in his entire career. He took two three-point shots on Wednesday night and is now 2-of-17 from three in his career. The first three-pointer, which went in, amused everyone, including McGee. The second, which didn't, led Walton to have a conversation with McGee. "We need him rolling to the rim," Walton said. "If he stands out there and shoots, we're just playing around the perimeter and that's not who we are as a team." McGee agreed he shouldn't have shot his second three.
3. The blowout win gave the Lakers an opportunity to rest LeBron James. They had hoped to be able to give him a break in the game, given that they'll face the Denver Nuggets tonight on the second night of a back-to-back. Walton said James nearly had to go back in the game when the Suns threatened to make the game close in the fourth quarter, but he was pleased his team pulled away again.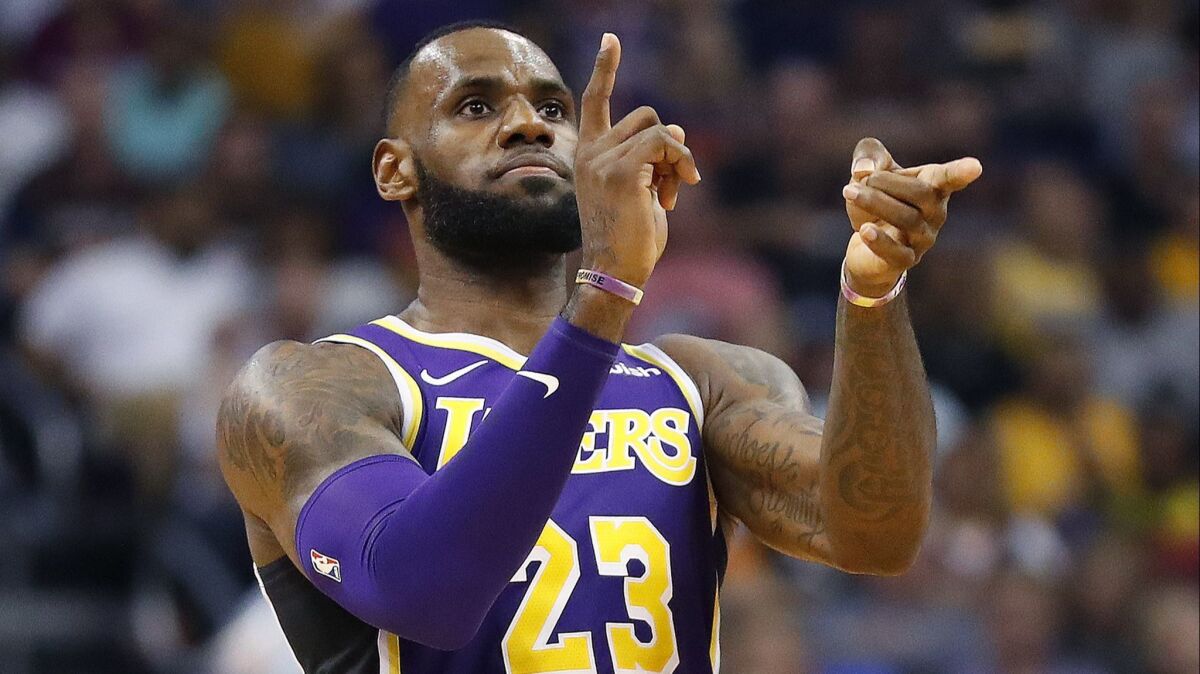 4. Josh Hart was tremendous for the Lakers in the first three games of the season and Walton rewarded him Wednesday night with his first start of the season. "Coming off the bench and you have a rhythm with that," Hart said. "You start and you know it's a little different, but it felt good. So always a bit tiring running up and down with that speed, that pace. But I felt good." Walton didn't commit to whether this would be a long-term plan, but I'd expect this to continue for at least a few more games. Hart replaced Kentavious Caldwell-Pope in the lineup.
5. Lance Stephenson has become the Lakers' de-facto backup point guard with Rajon Rondo and Brandon Ingram suspended. Rondo will return Saturday and Ingram will return Monday, but for now the Lakers are relying on Stephenson to manage their second team offensively. "When you're coming off the bench you can see a lot," Stephenson said. "I'm watching everything on the floor and I seen if I was in attack mode and finding my teammates and they was hitting shots, man, the game was going to be over. When I came in that game I just knew if I rebounded and pushed and found my teammates and be aggressive we were going to get the W."
Follow Tania Ganguli on Twitter @taniaganguli
---
All things Lakers, all the time.
Get all the Lakers news you need in Dan Woike's weekly newsletter.
You may occasionally receive promotional content from the Los Angeles Times.