Five takeaways from the Lakers' 122-104 loss to the Denver Nuggets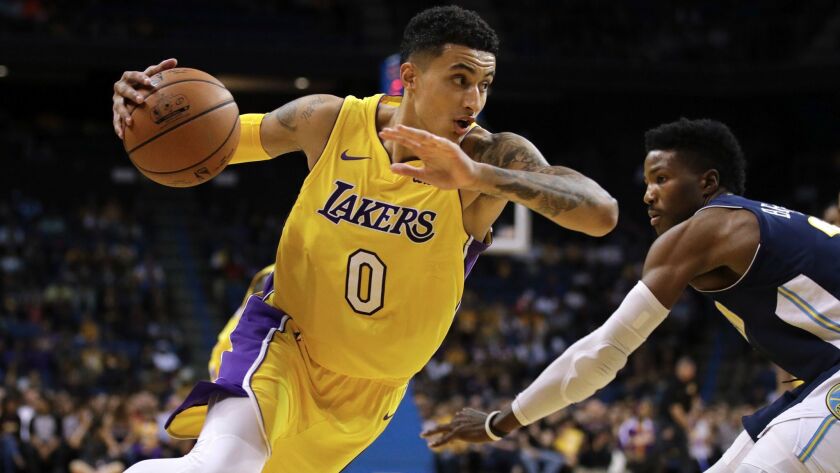 The Lakers are now 0-3 in the preseason after their yearly trip to Ontario, where they faced the Denver Nuggets without their last two top draft picks, Lonzo Ball and Brandon Ingram.
Halfway through their preseason schedule, the Lakers are still a long way from where they want to be. This is a team that will likely still be figuring things out into the season.
Here are five takeaways from the Lakers' 122-104 loss to the Nuggets.
1. Kyle Kuzma had a nice day again. Because of a glitch in the NBA's statistics system (which one hopes they will fix quickly as the season starts in less than two weeks), we don't have official numbers on anything, but Kuzma appears to have led the Lakers in scoring again with 21 points.
2. I'd heard a lot about Kyle Kuzma's performance after his first session at the NBA draft combine in Chicago. The Lakers were impressed with that and his interview there, but coach Luke Walton brought up one concern they had, which Kuzma has since assuaged. "He played once in Chicago and he had a great game and his agent shut him down," Walton said. "It was tough to tell if that was just a good game or if that was really who he was going to be in the league. We liked him a lot, obviously happy that this is kind of not just him having a game or two but seems to be the kind of person and player he is."
3. The Lakers get Thursday off — their first off day since the start of training camp.
4. Josh Hart hasn't been on the court much since being drafted in the first round. He had an ankle injury during Summer League and has been dealing with a hamstring injury he suffered while running during the preseason. But the Lakers got him back on Wednesday. "He was good," Walton said. "He gambled a couple of times on defense but for the most part he was solid and knocked down some shots for us. He is a tough young man, which is something we need on this team. For his first game, he did a good job."
5. Seahawks cornerback and Compton native Richard Sherman had an opinion after watching last night's game.
Twitter: @taniaganguli
---
All things Lakers, all the time.
Get all the Lakers news you need in Dan Woike's weekly newsletter.
You may occasionally receive promotional content from the Los Angeles Times.