Lakers are fined $500,000 for tampering with Paul George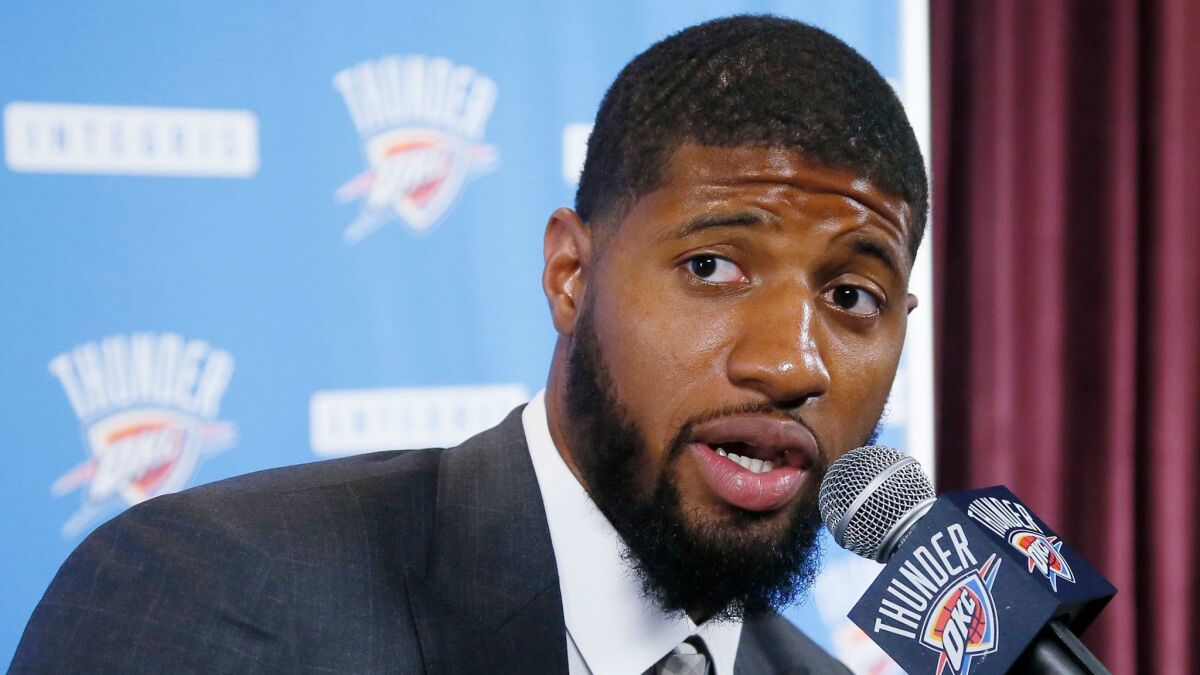 As punishment for improper contact with Paul George, the NBA smacked the Lakers with the largest fine it has ever assessed for tampering.
The NBA fined the Lakers $500,000 on Thursday for tampering with former Indiana Pacers star Paul George. The Lakers did not lose any draft picks, nor did they lose the ability to sign George in free agency next summer.
The penalty stems from a conversation between Lakers general manager Rob Pelinka and George's agent, Aaron Mintz. Mintz also represents Lakers forward Julius Randle and D'Angelo Russell, the Lakers' 2015 second overall pick, whom they traded to the Brooklyn Nets in June. The independent firm the league hired to investigate the charges found that Pelinka offered a "prohibited expression of interest" to Mintz.
"We respect and accept the NBA's decision regarding this matter," Pelinka said in a statement. "On behalf of the Los Angeles Lakers, I want to express our regret over this unfortunate incident to both our fans and the NBA."
The Lakers also released a statement from outside counsel Adam Streisand, who represented owner Jeanie Buss in a legal battle with her brothers this spring.
"The Lakers organization is pleased that this thorough investigation has been brought to a close — and we can assure the fans that the Lakers will be hyper-vigilant going forward to make sure this is never an issue again," Streisand said.
A accusation by the Indiana Pacers triggered the investigation.
"We accept the league's findings," Pacers general manager Kevin Pritchard said through a team spokesman.
The NBA's anti-tampering rule attempts to bar teams from interfering with a player who is under contract with another team. Among banned communications are any public expression of interest in a player under contract with another team, or expressing interest to the player's agent while he is still under contract with another team.
The league said it gave the Lakers a warning after President of Basketball Operations Magic Johnson spoke about George during an interview with late-night talk show host Jimmy Kimmel. Kimmel asked Johnson whether he would be allowed to talk to George during the offseason.
"We gonna say hi because we know each other," Johnson said, jovially. "You just can't say, 'Hey, I want you to come to the Lakers,' even though I'll be wink-winking, like, 'You know what that means, right?' "
The fine could have been up to $5 million. The league also had the power to stop the Lakers from being able to sign George in free agency, had they deemed the transgressions egregious enough.
Though it found evidence of tampering, the law firm Wachtell, Lipton, Rosen & Katz, which conducted the investigation, did not find any evidence of an agreement or understanding that a deal was in place. Having an illegal deal in place has been cause for stiffer penalties in the past.
In October of 2000, the NBA fined the Minnesota Timberwolves $3.5 million and took away five first-round draft picks for trying to circumvent the salary cap with the help of a secret, written deal. Joe Smith's contract was voided by the NBA and he was released by the Timberwolves.
George, however, might still end up a Laker.
In June, George informed the Pacers, through his agent, he planned to opt out of his contract in 2018 and wanted to sign with the Lakers. George is a native of Palmdale and grew up a fan of Kobe Bryant. The Pacers set to work at finding the right trade partner to move George before he left for nothing. Although the Lakers and Pacers engaged in trade talks, with Randle and Jordan Clarkson being discussed as potential trade pieces, no deal materialized.
As July approached, George continued to tell people around him he wanted to wind up with the Lakers. On the eve of free agency, the Pacers traded George to the Oklahoma City Thunder, where he will play with former UCLA star Russell Westbrook.
Westbrook, George and Cleveland star LeBron James, who has a home in Brentwood, could all be part of the free agent class next summer. Outside of Johnson's talk show appearance, the Lakers have not publicly discussed the names of players they'd like to sign in free agency, but they have said publicly they want to sign two stars to maximum deals next summer in an effort to chase a championship.
Follow Tania Ganguli on Twitter @taniaganguli
All things Lakers, all the time.
Get all the Lakers news you need in Dan Woike's weekly newsletter.
You may occasionally receive promotional content from the Los Angeles Times.