Lakers are again pounded by Thunder, and this time they have Kobe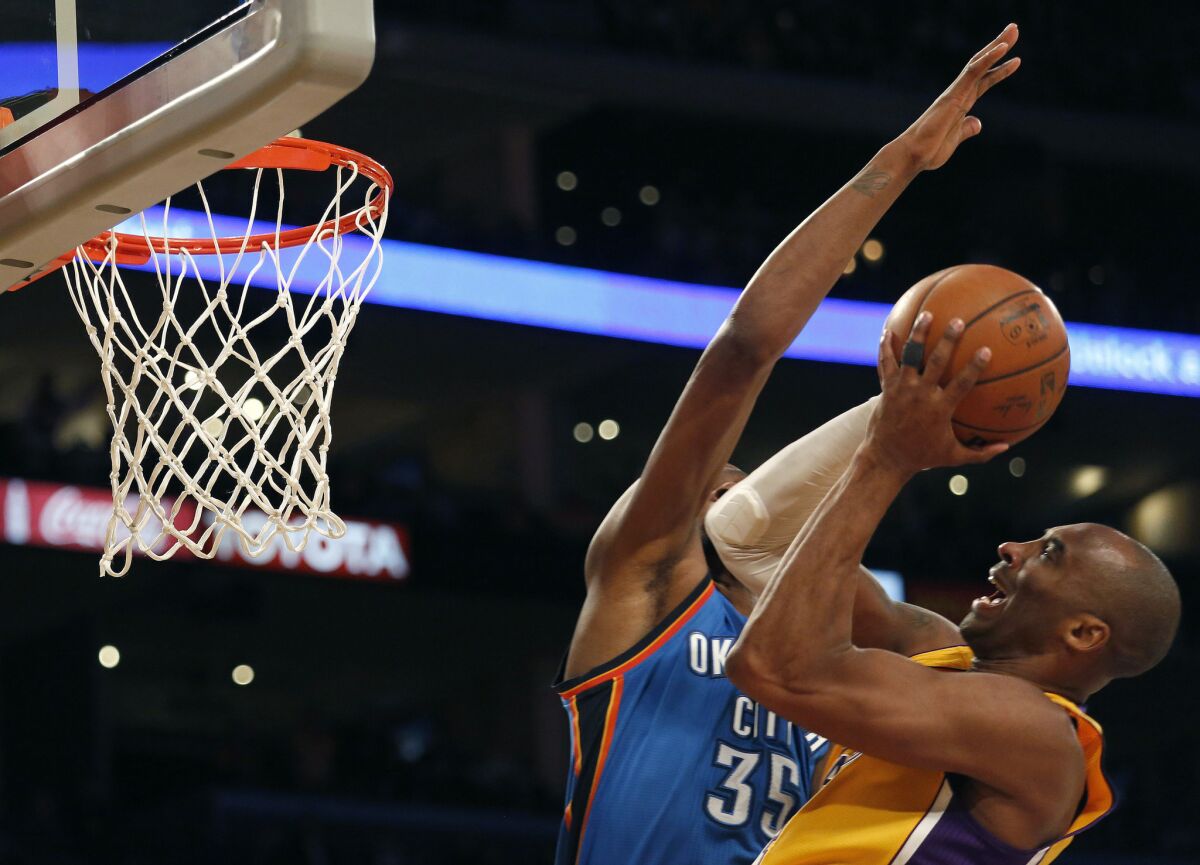 Kobe Bryant had a feeling this would happen.
Not long after the Lakers won in Denver on Tuesday, a holiday-season miracle in its own right, someone asked if he'd be ready for Oklahoma City on Wednesday.
"Not right now, but I will be," he said, smiling thinly. "How much ready do you need to get? They already [thumped] us by 40."
The Thunder came close to it again, using a sublime third-quarter run to hammer the Lakers, 120-85, at Staples Center.
And to think Bryant's final road game will be April 11 at Oklahoma City, assuming he's still standing. The Lakers too.
They're now a putrid 5-24, still unable to win two consecutive games and playing the Clippers on Christmas. That hasn't gone well lately, the Clippers sweeping the Lakers last season while simultaneously hosting in-game dunk contests.
Happy holidays?
Bryant seemed resigned to being on a team with so much youth and so few victories.
"You can train a cat all you want to bark. The damn cat's not going to bark," he said, smiling. "It makes no sense to be yelling at it. It's as simple as that."
If progress was measured in point differential, the Lakers improved by exactly five points since getting pummeled by the Thunder last Saturday. Of course no one cares about that.
The Lakers trailed by only 11 at halftime Wednesday. It wasn't long before Kevin Durant was dunking alley-oop lobs from Russell Westbrook.
After ending the first half on a 14-2 run, Oklahoma City started the third quarter with a 22-0 burst that finally ended on Bryant's reverse layup with 6:21 left until the fourth.
The Thunder came out "juiced up" in the third quarter, Lakers Coach Byron Scott said.
"We just can't get to that [intensity] level right now. That's just the honest-to-goodness truth," he added.
The signs were there in the first quarter. Bryant tried a three-point shot, Durant blocked it back at him. Bryant actually laughed after securing the ball and drove for an eight-footer. It was also blocked by Durant.
Bryant later said he was laughing at Durant's athleticism and lanky, long physique.
To Bryant's credit, he led a spirited second-quarter run that kept the Lakers relatively close. To Bryant's detriment, he faded from there and finished with 19 points on seven-for-22 shooting (31.8%).
For comparison's sake, Durant had 21 points on seven-for-nine shooting. Westbrook had 23 points, eight rebounds and eight assists for the Thunder (20-9).
Jordan Clarkson was the only other Lakers starter to score in double figures (10 points).
Bryant missed the fun Saturday, skipping the game because his shoulder bothered him. That 118-78 embarrassment was the Lakers' worst loss to the Oklahoma City/Seattle franchise.
There were a few highlights in the rematch, mostly from Bryant.
He dunked for the second time this season, taking a long pass from Lou Williams and finishing with an uncontested, two-handed first-quarter slam.
He pump-faked in the second quarter, got Westbrook to bite and converted a three-point play after hitting from the left side as Westbrook made contact.
Then he got Durant to fall for the pump-fake, making two free throws after drawing the foul.
That was pretty much it.
On a night the Lakers needed all their players, and then some, they couldn't accomplish the former. Julius Randle sat out because of a sore ankle and Nick Young was absent too (intestinal flu symptoms).
D'Angelo Russell scored 18 points, but almost all came after the Thunder stopped caring.
Twitter: Mike_Bresnahan
All things Lakers, all the time.
Get all the Lakers news you need in Dan Woike's weekly newsletter.
You may occasionally receive promotional content from the Los Angeles Times.