Lakers erase 17-point deficit in overtime victory over the Thunder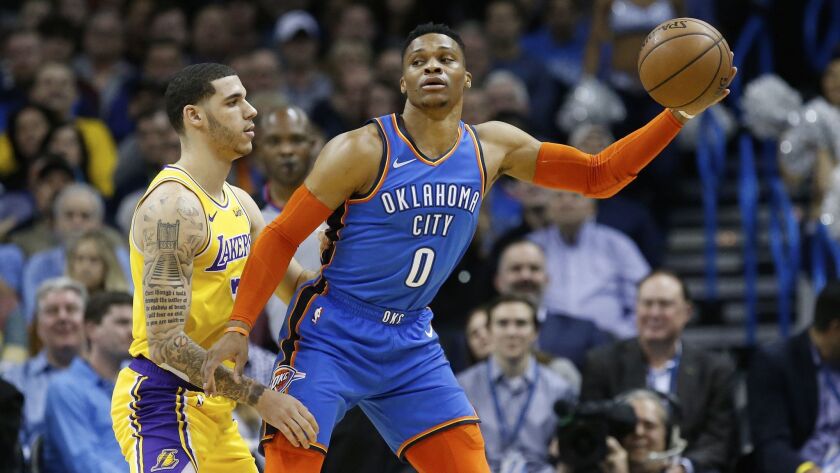 Reporting from OKLAHOMA CITY —
When the stakes were at their highest, the young Lakers excelled and the veteran-laden Oklahoma City Thunder crumbled.
When they could have let the moment, the hostile crowd and the talent they faced on the other team overwhelm them, the young Lakers found the kind of poise they'd been seeking for weeks.
The Lakers beat the Thunder 138-128 in overtime Thursday night, notching what was easily their most impressive win without LeBron James. They are now 5-7 in his absence, but began one of their toughest stretches this season with a win.
"Really proud of the way our guys just fought and fought and fought and found a way to win," coach Luke Walton said.
Kyle Kuzma scored 32 points, making 11 of 20 shots overall and a career-high seven three-pointers. Brandon Ingram had a career-high 11 assists. Josh Hart scored 12 points and had 10 rebounds, four in overtime. Ivica Zubac scored a career-high 26 points, adding 12 rebounds. Lonzo Ball had 18 points and 10 assists.
Paul George countered, threatening to take over the game like he did when the Lakers lost to the Thunder at Staples Center. But George's 27 points, seven rebounds and eight assists weren't enough. He missed all five of his shots in overtime, four from beyond the three-point arc. The Thunder made only two of 13 shots in the overtime while the Lakers made five of 10.
It was the Lakers' first win in three overtime games.
Sign up for our daily sports newsletter »
Down by 17 points in the first quarter, the Lakers seemed headed for a lackluster blowout at the hands of one of the league's best teams.
They committed too many turnovers, 12 of the Thunder's first 16 points coming off Lakers miscues. They trailed by 12 points after the first quarter.
But then they did something they hadn't done in a while.
They fought back.
"I was just a little on edge after the first quarter," Walton said. "I felt like we weren't competing hard enough. Which is not who we are as a group. I think I was probably a little trigger happy, a little on edge about when I thought guys were not competing at an acceptable level. I was going to find people that could get it done."
A 21-5 run gave them a lead in the second quarter. In all during that period, the Lakers scored 40 points, outscoring the Thunder by 16.
At halftime, they led by four. After three quarters, the Lakers trailed by one. Their defense kept them on pace with the Thunder in the fourth. Oklahoma City made only six of 21 shots, and point guard Russell Westbrook made only one of nine field goal attempts.
The fourth quarter ended in confusion.
Seconds away from the end of regulation, the Lakers bench screamed toward the floor, calling for a non-shooting foul. The Lakers led by three points and didn't want the Thunder to hit a three-point shot to tie the score. Ball responded, but when he did the official determined that Thunder guard Russell Westbrook was in the act of shooting a three-pointer.
Play stopped, and several players rushed over to ask for a review.
"Look at it!" Tyson Chandler implored the officials.
The play was not reviewed and Westbrook made all three free throws, sending the game to overtime. Referee Tom Washington later admitted the call was a mistake.
"Upon being able to see the review of the play, we realized that the illegal contact actually happened prior to his upward motion," Washington said. "So it should have been a sideout."
Regardless, the Lakers had business to complete.
"The message was simple," Walton said. "It was, how much fun is this? We got five minutes more of basketball to play now. We wanted to win but here we are we got five more minutes. Let's enjoy this. Keep doing what we're doing and competing, rebounding the ball, pushing the pace, making plays for each other. I was impressed."
In overtime, the Lakers held the Thunder to only six points. They were fueled by Ball, who scored five of their first seven points in overtime, starting with a weighty three-point basket.
"It was my fault he hit the three free throws," Ball said of Westbrook's foul shots near the end of regulation. "Maybe I should've fouled him a little earlier. But I had to just wash it off. Told my teammates I got them for the next five minutes. I thought I did pretty good."
A fan in a Lakers jersey whooped in the game's closing seconds, and assistant coach Brian Shaw grinned back at him.
With 32 seconds left in overtime, Brandon Ingram flew in for a dunk, putting an exclamation point on the victory.
"It felt good to score," said Ingram, who made only one of nine shots. "I think driving to the lane and seeing two and three guys every time I went to the rim had me frustrated a little bit. But when you see Lonzo and Kyle Kuzma and Josh Hart and those guys playing like that, it makes everything better. Especially when you win a game like that."
The buzzer sounded and Kentavious Caldwell-Pope stood at center court, hugging a grinning Hart.
It was an unequivocally happy moment for a team that had struggled to find those in the last month.
Follow Tania Ganguli on Twitter @taniaganguli
---
All things Lakers, all the time.
Get all the Lakers news you need in Dan Woike's weekly newsletter.
You may occasionally receive promotional content from the Los Angeles Times.