Five takeaways from the Lakers' 138-128 overtime win against the Oklahoma City Thunder
During the darkest of their LeBron-less days (less than one week ago) the Lakers kept talking about something they didn't seem to really believe.
They said they could win with the players they had, even while missing LeBron James and Rajon Rondo. Lance Stephenson said the team needed to start believing that again, and Luke Walton argued, unconvincingly, that they did believe it even through their losses.
A win like Thursday night's will go a long way to instilling that confidence in the Lakers.
"It says we have enough," Brandon Ingram said. "It says we have guys in this room that can do different things at different times and in any night it can be a different guy's night on the basketball floor. No matter what we do, if we follow the game plan, that we can be really good."
Here are five takeaways from the Lakers' overtime win over the Oklahoma City Thunder.
1. Josh Hart, who had 12 points and had 10 rebounds, reminded you of why he's so valuable to the Lakers. "I don't think he missed any 50-50 ball that came by him," Lonzo Ball said. "And you know we ask him to do a lot at his size, play the four sometimes, but he never complains. He just goes in there and does his job." Said Walton: "Without him, we don't even come close to winning that game." Hart said he has been dealing with back spasms the past few days, which makes the kind of tough game he had even more impressive. "I haven't been shooting the ball well lately, but I wanted to get every loose ball, every rebound I could just to do my part," he said.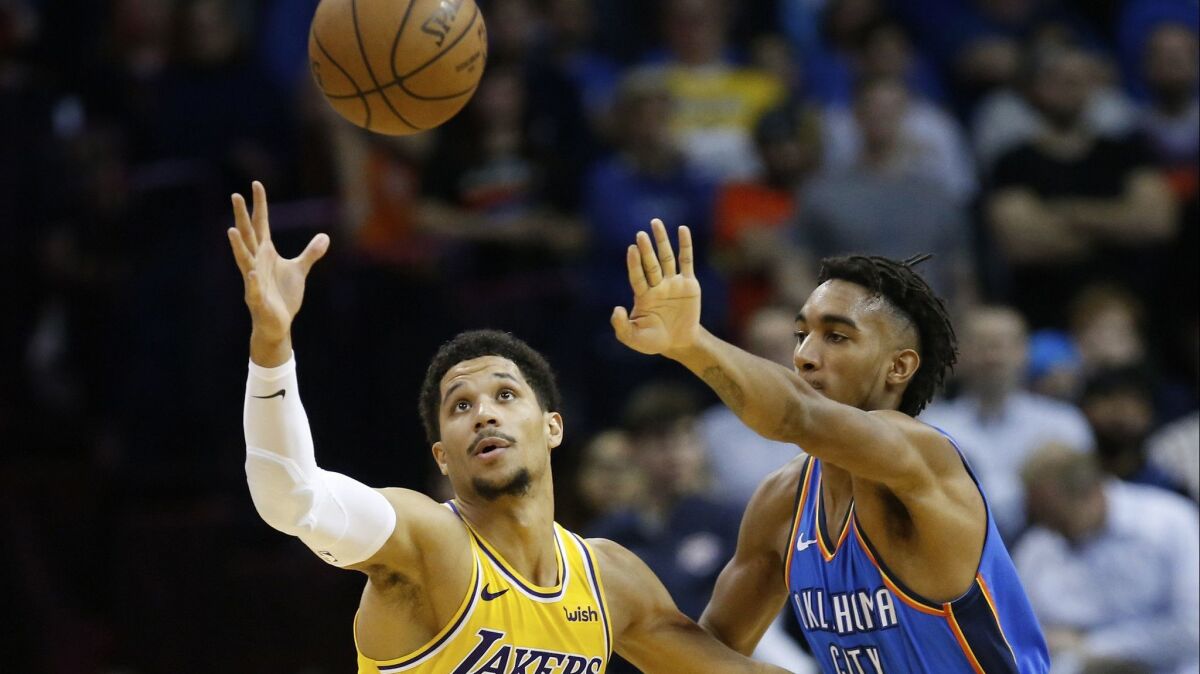 2. Brandon Ingram was relieved when he dunked the ball late in overtime, punctuating the Lakers' win. It was the first field goal he made all night in nine tries. But Ingram's game was more than scoring on Thursday night. He defended well and had a career-high 11 assists. The Lakers were very efficient in scoring when Ingram passed them the ball. "It's contagious," Ingram said. "I think if one guy does it, then other guys do it. We know the exact spots other guys are going to be in. We know where guys are going to come off of screens from. To put it in the right pocket and have them just shoot the basketball without thinking, I think that's the best thing."
3. The narrative surrounding Ivica Zubac has sure changed since the start of the season. When the Lakers added Tyson Chandler, they did so believing they had only one viable center in JaVale McGee. Zubac was getting over a taxing, flulike illness that made him much less productive than he had been. He's now feeling more like himself, which led to a game like Thursday's and a career-high 26 points.
Sign up for our Lakers newsletter »
4. Zubac was often tasked with keeping monstrous Thunder center Steven Adams off the boards. Adams still got 15 rebounds, but as a team the Lakers outrebounded the Thunder by 19. Zubac said every time he successfully boxed out Adams, Hart was right there to grab the rebound.
5. Despite their shared biographies (they're both from Los Angeles, they both went to UCLA), Russell Westbrook and Lonzo Ball don't really have a relationship. That could have added some spiciness to the game, but it was a marquee matchup regardless. Ball had a really nice night in general and did well guarding Westbrook. It helped that Westbrook was nearly incapable of scoring from inside the three-point line. He took 30 shots and went two-of-18 from inside the arc, finishing with 26 points.
Follow Tania Ganguli on Twitter @taniaganguli
All things Lakers, all the time.
Get all the Lakers news you need in Dan Woike's weekly newsletter.
You may occasionally receive promotional content from the Los Angeles Times.