Lakers falter again in the stretch, losing to Minnesota 124-120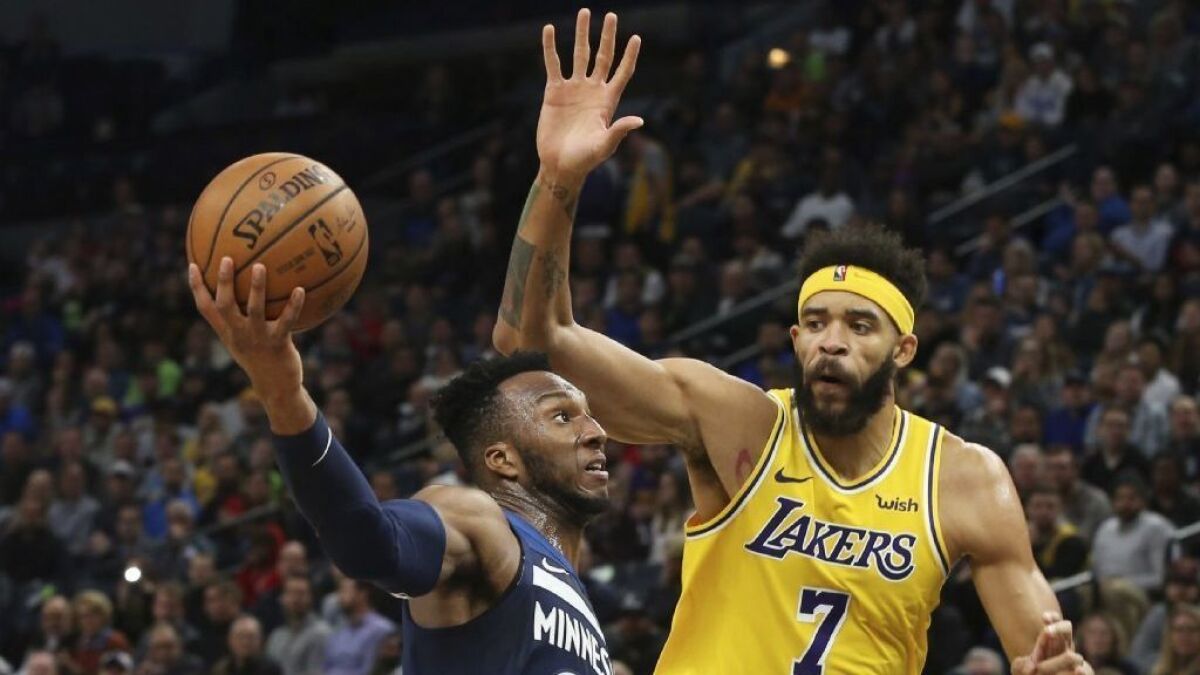 Reporting from Minneapolis —
For a while, LeBron James sat at his locker without saying anything. His postgame media obligations were finished. He drank a postgame recovery shake from a water bottle. He'd already showered and dressed after the Lakers' fifth loss in seven games, this one to a Minnesota Timberwolves team that has spent the last month making headlines for its dysfunction.
A few minutes before, he'd been asked what it's like when his patience runs out.
"You probably don't want to be around when my patience runs out," James said.
The crowd around him chuckled, but James didn't.
"I'm serious," he said.
Monday night's 124-120 loss to the Timberwolves showed again that this is a Lakers team that is still learning. It's a team that makes mistakes, that struggles to defend without fouling and that is testing the patience of its biggest star, as he knew it would.
"We gotta get better," James said. "We know that. We talk about patience, but we can't have recurrence of the same thing. … Doing the same thing over and over and over and expecting a different result, you know, that's insanity. So we have to get better. We can't just have the same mistakes over and over again."
Minnesota was coming off a 30-point loss to the Milwaukee Bucks. The Lakers were coming off a four-point loss to the San Antonio Spurs. It was Brandon Ingram's first game back after a four-game suspension.
Lakers coach Luke Walton tried a new starting lineup, with Ingram at shooting guard and Kyle Kuzma at power forward.
"He obviously started really good," Walton said of Ingram. "He was ready to get after it. Hit shots, got to the rim, pushed it out for us.
"But the early foul trouble kind of messed up that rotation from then on. So, the start of it looked good, but it's a small sample size."
The fans at the Target Center booed Timberwolves guard Jimmy Butler during his introduction, but Butler might have turned them in his favor in the fourth quarter. With 18.8 seconds to play, he made a backbreaking three-point shot to give the Timberwolves a five-point lead.
Butler, whose demand to be traded has soured his relationship with the organization and its fans, scored 20 of his 32 points in the second half.
"I enjoy matchups against LeBron, James [Harden], KD [Kevin Durant], Steph [Curry], whoever it may be," Butler said. "I just want to show that I can compete with the best of them."
James missed his first five shots but then started scoring at a much more efficient rate. He finished with 29 points on 11-for-23 shooting, with 10 rebounds and seven assists.
"I'm still able to get rebounds, get my teammates involved, still defend," James said. "I can still make an impact if I'm making shots or not.
"I'm not a one-dimensional player. If I'm not scoring I can do other things that affect the game. We had a lead going into halftime and I didn't play well at all."
The Lakers had a two-point lead at halftime and a one-point lead after the third quarter.
Midway through the fourth quarter, the Timberwolves put together a 14-2 run and started to pull away.
But still the Lakers had a chance.
With the Lakers trailing by four points, James and Minnesota guard Derrick Rose exchanged turnovers before James drove for a layup to cut the deficit to two.
Then Taj Gibson blocked a Kuzma shot with 38.5 seconds remaining.
With 13 seconds left, Gibson blocked a shot by Josh Hart at the rim.
"We just gotta get over the hump," Kuzma said. "Wins aren't going to come easy. I think everybody's going to play their best against us because of who we have on our team.
"For us we have to realize that and be ready from the jump and finish our games."
Said Walton: "It's going to be a tough flight home. But like I told our guys, nobody feels sorry for us. It's up to us to figure it out and start winning some of these close games. And we will. I can promise you that."
Follow Tania Ganguli on Twitter @taniaganguli
---
All things Lakers, all the time.
Get all the Lakers news you need in Dan Woike's weekly newsletter.
You may occasionally receive promotional content from the Los Angeles Times.