Rajon Rondo returns but Lakers get pushed around in 120-105 loss to Timberwolves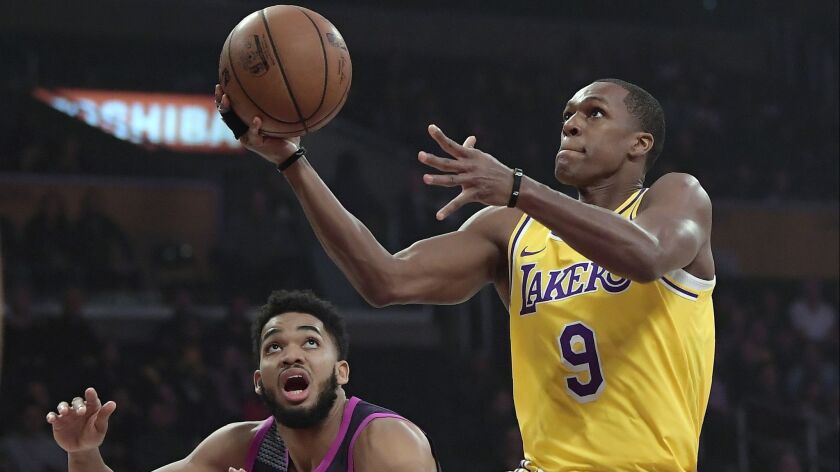 Rajon Rondo's return Thursday night presented the Lakers with a much-needed healthy body at a time when injuries have begun to take a toll on a team that is trying to stay afloat in the tough Western Conference.
Rondo was the stabilizer the Lakers had to have with LeBron James (strained left groin) and starting point guard Lonzo Ball (sprained left ankle) still trying to get healthy enough to play.
But Rondo's return from surgery to repair a torn ligament in his right ring finger didn't provide the Lakers nearly enough of a spark because they were not physical enough during their 120-105 loss to the very physical Minnesota Timberwolves.
Rather than play up to the "challenge" of being a physical group that Lakers coach Luke Walton wanted, they instead succumbed to the taller and more powerful Timberwolves on Thursday night at Staples Center.
"We had a challenge tonight and that was to be more physical," Walton said. "And that was going to be a lot of work. It was going to be something that was going to take all five guys. And we know that Minnesota is a bigger team than us, or a stronger team than us with what we have right now. The only way to win that physicality battle is to just bring it and out work them. Unfortunately we did not do that tonight."
Walton pounded his hand on the table after making that statement, seemingly for emphasis.
Minnesota center Karl-Anthony Towns scored 27 points and 12 rebounds, four offensive. Taj Gibson had 14 points and 10 rebounds, six offensive.
Luol Deng, whom the Lakers bought out of his contract and then waived him last September, came back to haunt his former team with seven points, even hitting a three-pointer in front of the Lakers' bench in the third quarter.
As a team, the Timberwolves had 22 offensive rebounds. They had 34 second-chance points and 34 points off 19 turnovers by the Lakers.
"So, no matter what you do you're not going to give yourself a very good chance of winning a game when you shoot yourself like that," Walton said.
Rondo had missed the last 14 games since going down on Christmas in a game against the Golden State Warriors. Though at times not quite in sync as the starting point guard, Rondo had a double-double with 15 points and 13 assists while wearing a black sleeve over his right and middle fingers.
Rondo completed his 37 minutes of playing time by being assessed a technical foul with the Lakers trailing 113-99 with 2:12 left.
Rondo started the game strong, throwing a nice bounce pass to Ivica Zubac, who started at center.
Rondo weaved a pass to Kentavious Caldwell-Pope for his second assist.
Rondo's first made shot was a straight-ahead three-pointer.
He took on the 7-foot, 248-pound Towns, threw an on-the-mark bounce pass to Michael Beasley for a layup, made a three-pointer and got a dunk on a breakaway off a Timberwolves turnover.
Rondo checked out for the first time with 2:02 left in the first quarter and the Lakers leading 26-22 behind his leadership, passing and shooting.
He had eight points on three-for-six shooting, four assists and two rebounds by the end of the first quarter.
"Rondo was great," Walton said. "He was great. He was playmaking on both ends of the floor, helping us get organized, getting guys shot, hitting his own shots. He was three of five from three tonight. He played in however long [a month] it's been. He came in, stepped up and knocked down some big shots for us."
Etc.
When the Lakers held their shoot-around Thursday morning at Staples Center, James and Ball were getting treatment back at the team's practice facility in El Segundo.
Before the Lakers' game later that night against Minnesota, Walton was asked for an update on James, who has been out since he suffered his injury on Christmas at Golden State, and if his star would be out days or weeks going forward.
James has missed 15 games.
"We'll see again tomorrow how he's feeling," Walton said. "We'll kind of take it from there. I'm not going to throw out weeks or day. He knows what he's doing. He's taking care of his body and when he's ready to go, he'll go."
Twitter: @BA_Turner
---
All things Lakers, all the time.
Get all the Lakers news you need in Dan Woike's weekly newsletter.
You may occasionally receive promotional content from the Los Angeles Times.