Five takeaways from the Lakers' 108-103 loss to the Portland Trail Blazers
This season's Lakers are the kind of team that is prone to do things that haven't been done by the franchise in years.
So, even though they were playing the third-place team in the Western Conference, with a star better than any player they have, it seemed feasible that Monday night's game could result in the first six-game winning streak the Lakers have had since 2011.
That was not to be.
Here are five takeaways from the Lakers' 108-103 loss to the Portland Trail Blazers.
1. They really missed Brandon Ingram. Ingram is out for at least the next two games with a strained left groin. In the past few months, he has become a go-to scorer for the Lakers, someone they have trusted to get a bucket when they absolutely need it late in a game. As Monday night's game closed, the Lakers were clearly missing his ability to go into the paint and get a couple of points. At the end of the game, the Lakers needed a three, but there were opportunities earlier where a two-point score would have made life a lot easier for them.
2. Damian Lillard had a lot of success working around what the Lakers were trying to do to slow him. "Tried to get a blitz on him, but a lot of times he was attacking before the screen even got there," Lakers coach Luke Walton said. They were trying to force Lillard not to shoot threes, to instead have to go inside. Lillard shot plenty of threes throughout the game, he just didn't make most of them until the four in a row he hit in the fourth quarter.
3. Julius Randle led the Lakers with 21 points and nine rebounds, all of them defensive. Portland didn't have a great rebounding advantage overall, but they did grab three offensive rebounds with less than a minute left, which caused the Lakers to get the ball back, down three with 7.4 seconds left. They had a chance to get the ball back with nearly a minute left. "Annoying," Randle said. "I feel like when we were at home and we played them last game we lost the same way. They had a lot of offensive rebounds. They won the game I think last game that we played them at home off an offensive rebound…. So it's annoying, it's frustrating, especially to kind of lose the same way."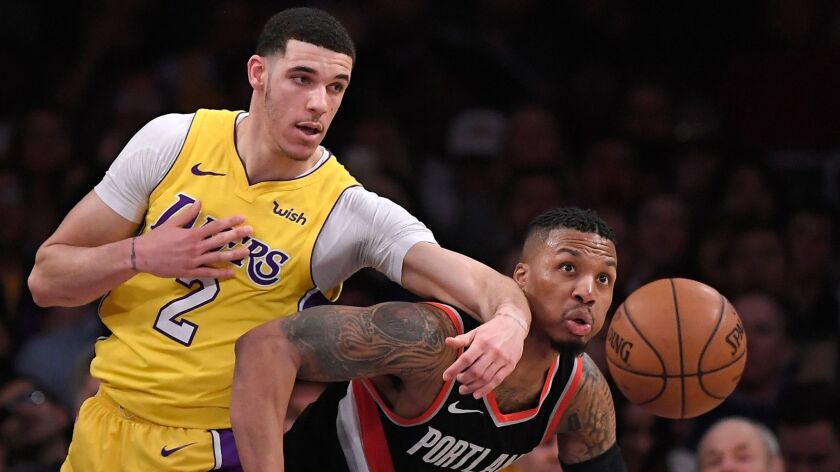 4. Lonzo Ball and Kyle Kuzma had uneven games. They both went one of four from three in the first three quarters of the game. Ball made only one of six shots overall and Kuzma made two of six. The Lakers' pace and the way the ball moves is clearly better when Ball is out there, and it was Monday. But statistically Ball was quiet, especially early. He finished the game with 10 points, two rebound and two assists, the latter two of which are uncharacteristic for him.
5. Monday's game showed the importance of having a go-to scorer. Portland had one for late in the game. The Lakers didn't. They have some players who might develop into that role, and Ingram certainly could have filled it, but that fully mature go-to guy is what separated the Lakers from the Trail Blazers on Monday. And it's something they'll seek in free agency.
Follow Tania Ganguli on Twitter @taniaganguli
---
All things Lakers, all the time.
Get all the Lakers news you need in Dan Woike's weekly newsletter.
You may occasionally receive promotional content from the Los Angeles Times.