Column: What's next for the Lakers after Magic Johnson's exit? LeBron, Pelinka and Buss pick up the pieces
It started with a dunk, a classic LeBron James one-handed tomahawk slam.
Eighty-two games ago, James began his time with the Lakers with the perfect play, a dunk, the easiest two points in basketball. One possession later, he did it again, another right-handed smash, sending his teammates on the bench into a frenzy and Lakers fans who traveled to Portland into euphoria.
It looked so easy, the sport's simplest recipe — take an NBA team, add the game's best player and wait for the victories to pile up. Only the Lakers didn't win that night in Portland. Things were never as simple as those slam dunks on the team's first game.
All of it ended Tuesday with James on the bench in a suit watching the Lakers lose 104-101 to Portland; team President Magic Johnson headed for the exits; coach Luke Walton dangling by the slimmest thread; owner Jeanie Buss not in her usual seats and general manager Rob Pelinka having his relationship with Johnson publicly dissected with few platitudes.
While trying to explain his relationship with Pelinka, who was hired by Buss in 2017, Johnson said he didn't have any problems with Kobe Bryant's former agent. He also said he went into the job without really knowing him.
"The relationship with Rob is fine," Johnson said. "I just didn't know him and he didn't know me. And we got put together. We had to get to know each other and learn how to work with each other. We did that. But, you know, it has nothing to do with me stepping down."
Magic Johnson announces he's stepping down as Lakers' president of basketball operations.
Asked whether Pelinka was the right man to continue as general manager, Johnson didn't offer an endorsement.
"That's a decision that Jeanie has to make," he said. "I worked well with him. I had no problems with him."
But, as soon as he said that, Johnson mentioned that Pelinka might have some "baggage" around the league, at least according to his "agent friends" who called Johnson.
Sign up for our Lakers newsletter »
That baggage — bad feelings from his time competing with other agents and perceptions of poor communication with other general managers around the league — was something Johnson didn't take with him on his way out of Staples Center.
It also was clear that Johnson intended to fire Walton, but seemingly quit, in part, because he felt Buss would be hurt by the decision.
"I had more fun on the other side than on this side because now, tomorrow, I would have to affect someone's livelihood and their life," Johnson said, seemingly referring to Walton's job status. "And I thought about that. That's not fun for me. That's not who I am. And then I don't want to put her in the middle of us, even though she said, 'Hey, you do what you want to do.' I know she has great love for him. And great love for me."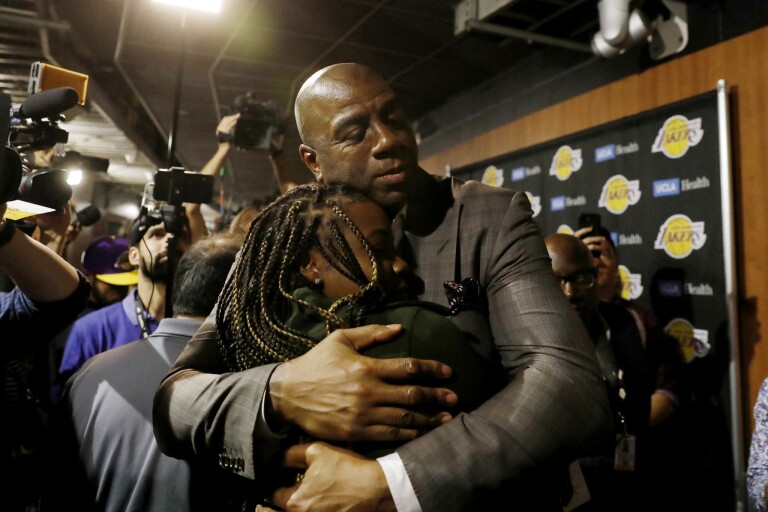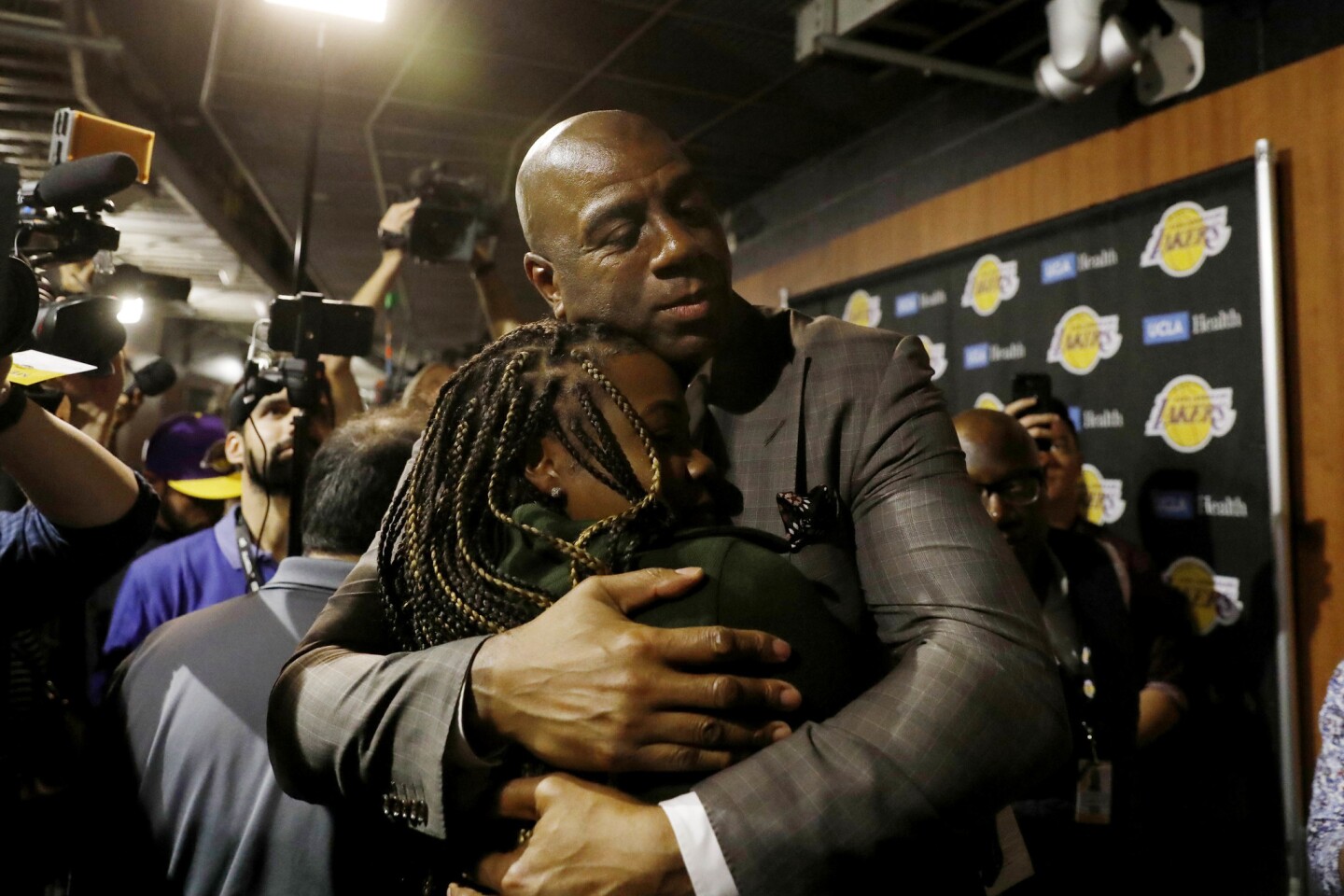 Magic Johnson hugs Lauren Jones, Los Angeles Sentinel reporter, after he steps down as Lakers' president of basketball operations at the Staples Center.
(Gary Coronado / Los Angeles Times)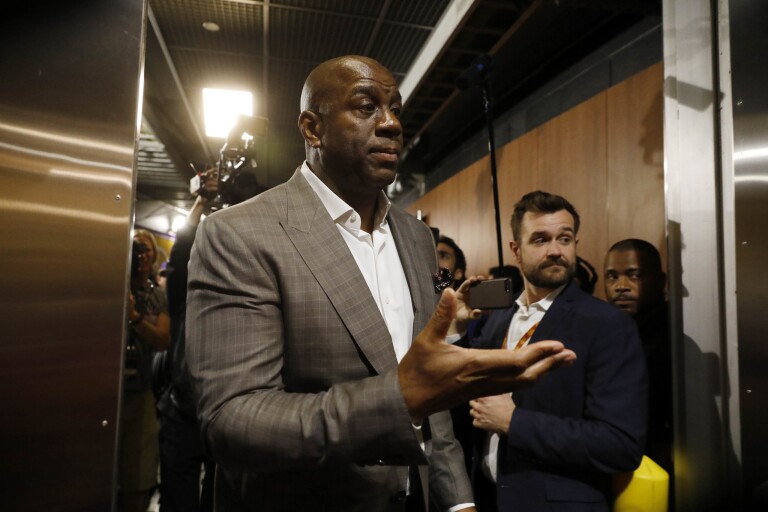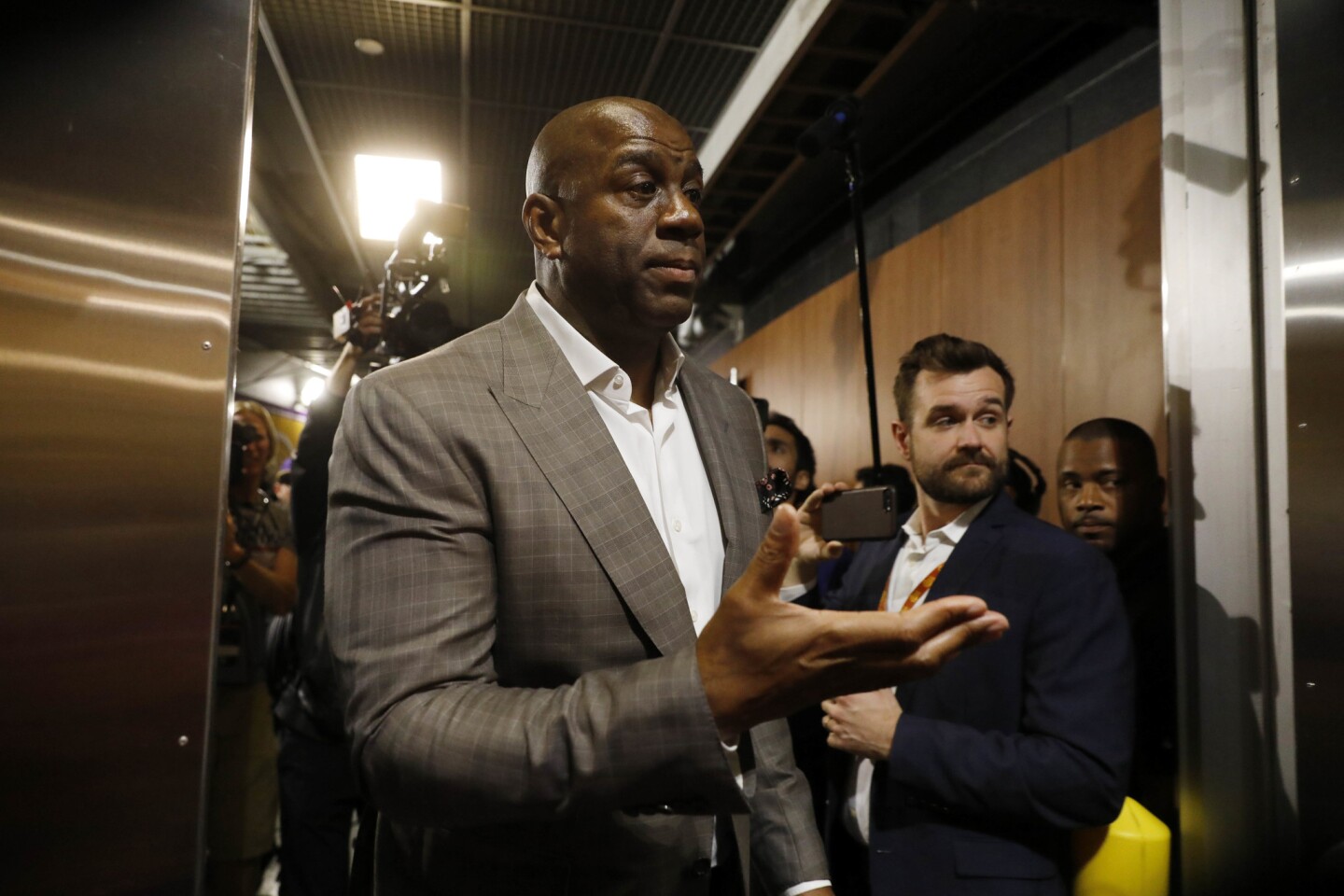 Magic Johnson steps down as Lakers' president of basketball operations.
(Gary Coronado / Los Angeles Times)
Magic Johnson steps down as Lakers' president of basketball operations.
(Gary Coronado / Los Angeles Times)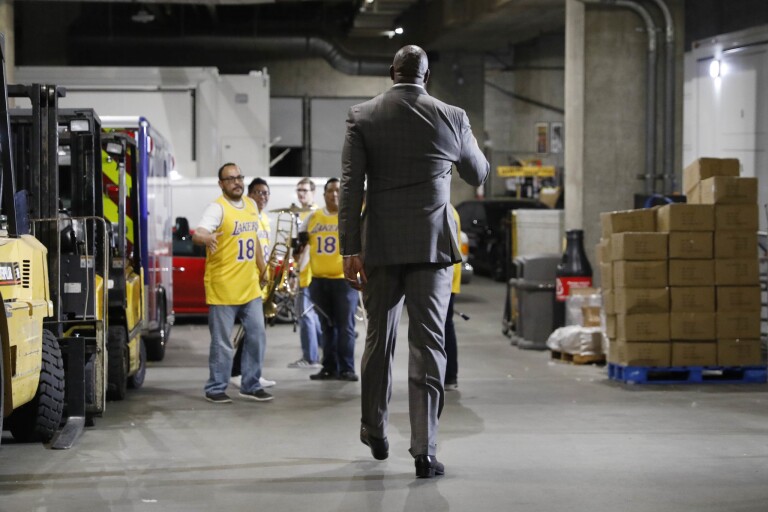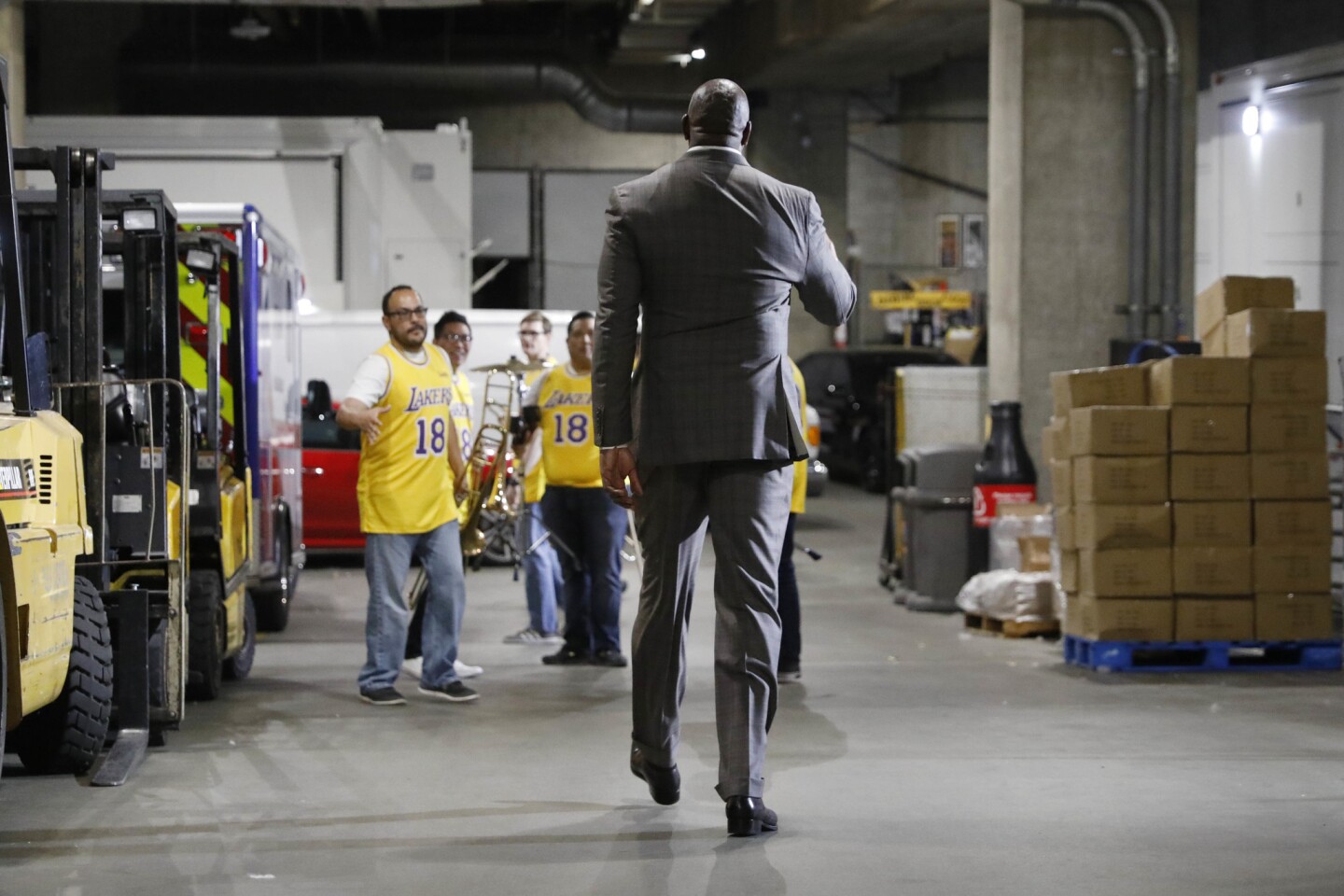 Magic Johnson steps down as Lakers' president of basketball operations.
(Gary Coronado / Los Angeles Times)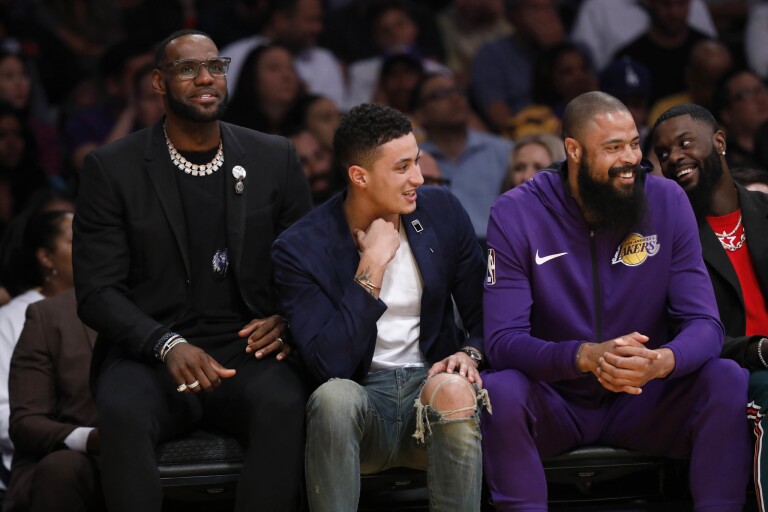 LeBron James, left, Kyle Kuzma, Tyson Chandler (5) and Josh Hart (3) of the Lakers.
(Gary Coronado / Los Angeles Times)
Lakers forward Jemerrio Jones (10) blocks a shot attempt by Portland Trail Blazers guard Seth Curry.
(Gary Coronado / Los Angeles Times)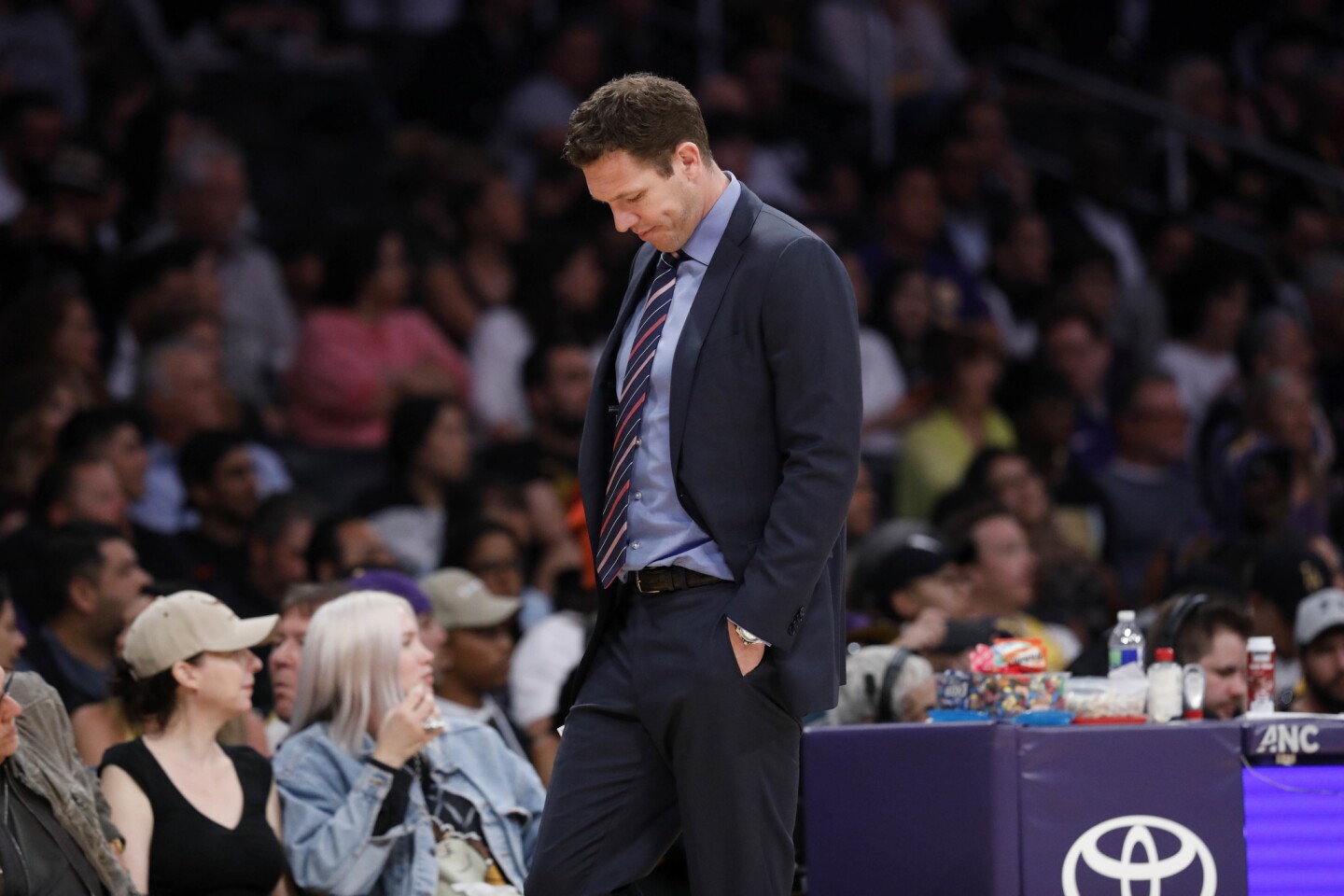 Lakers head coach Luke Walton.
(Gary Coronado / Los Angeles Times)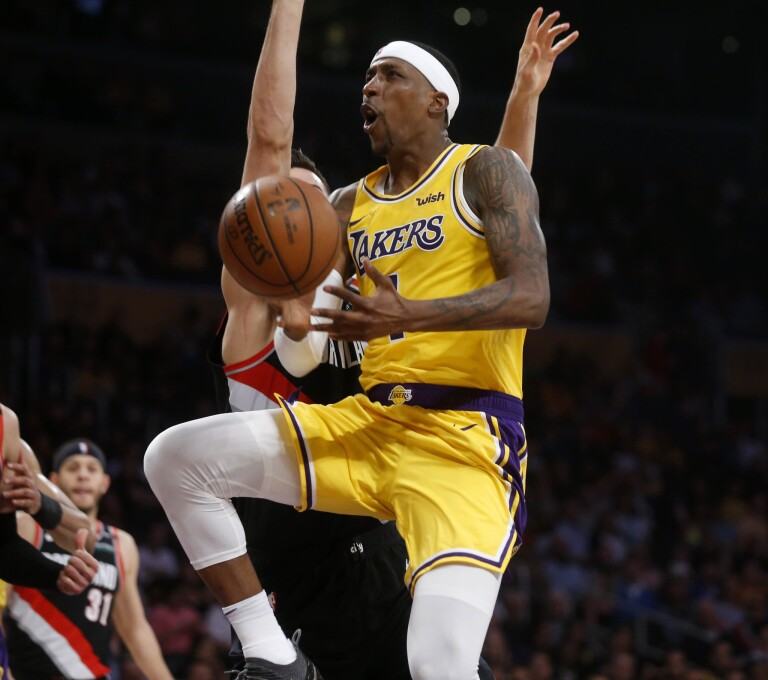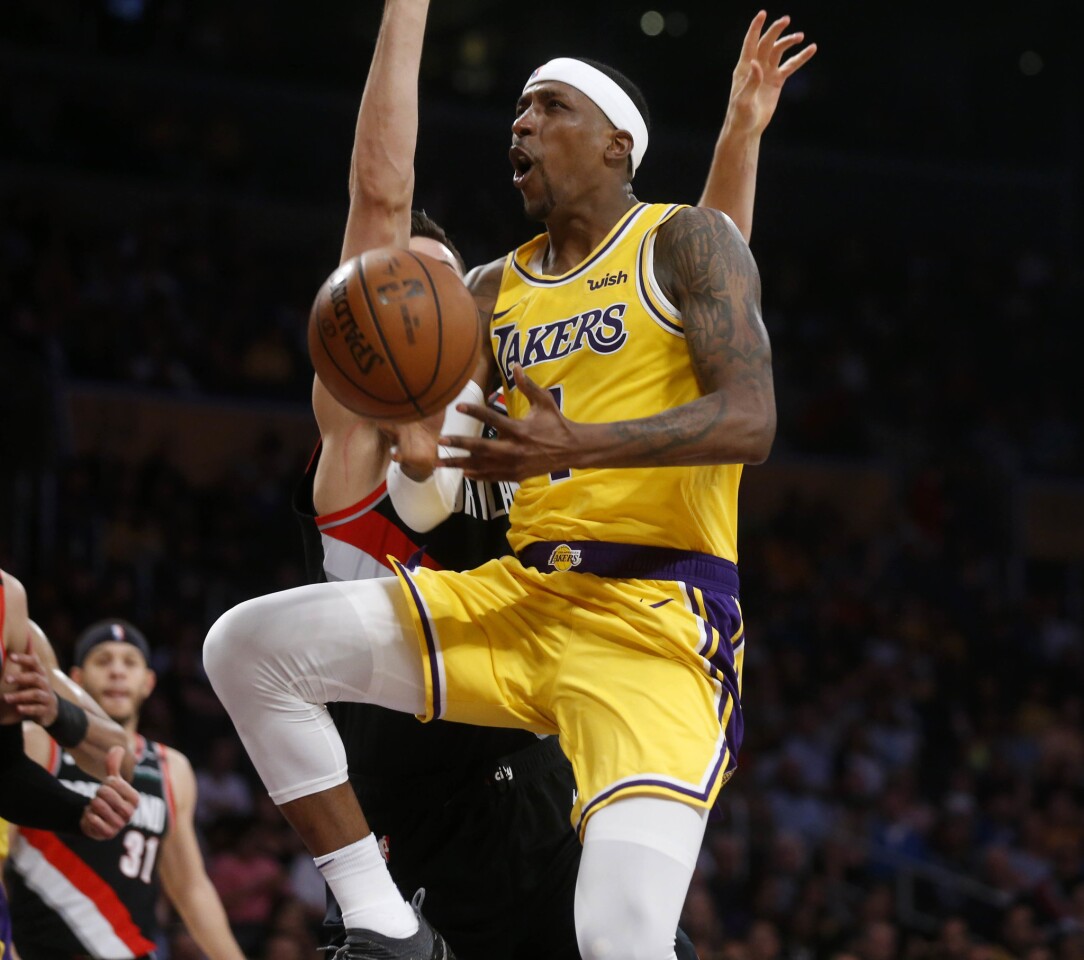 Lakers guard Kentavious Caldwell-Pope loses the ball while driving to the basket.
(Gary Coronado / Los Angeles Times)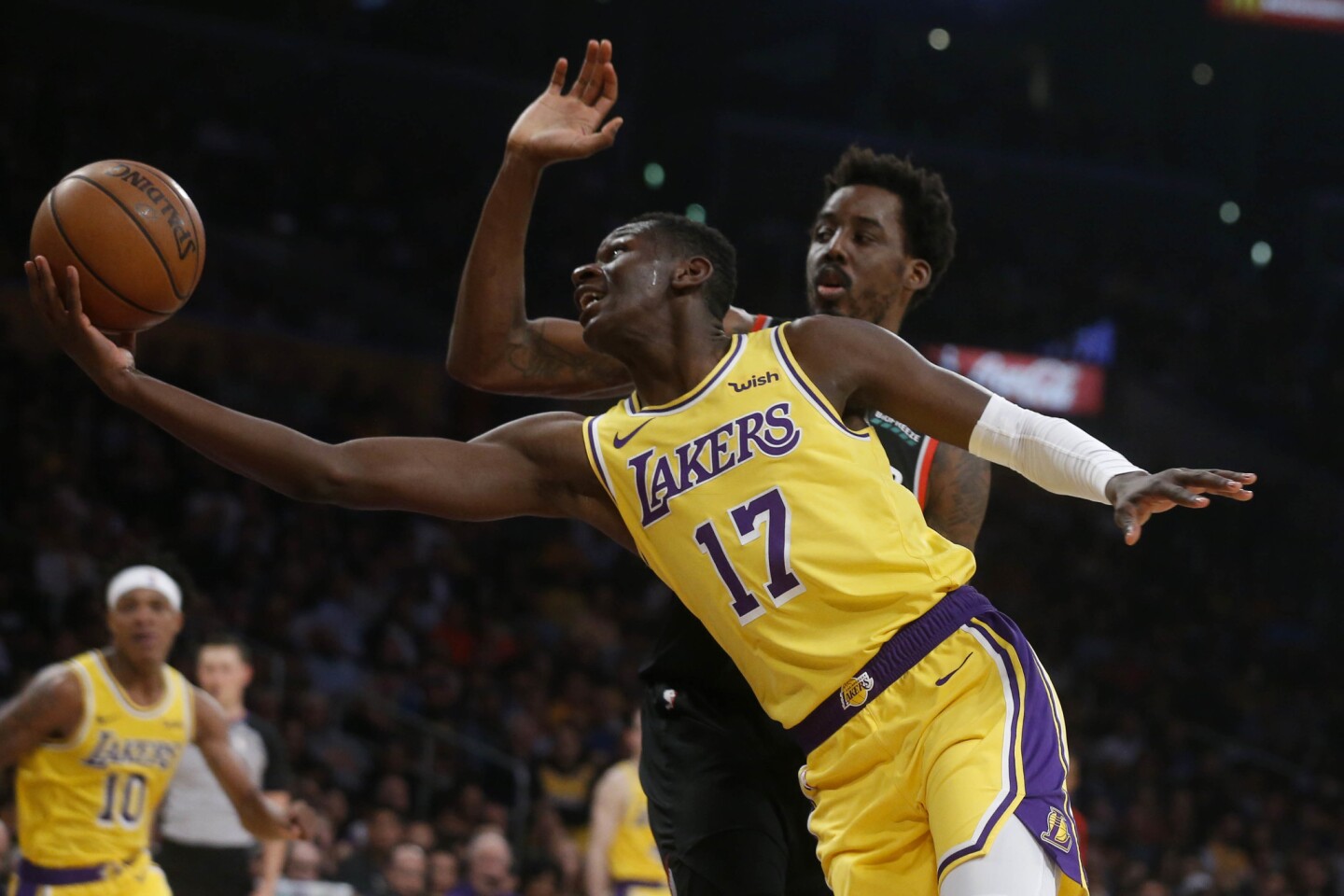 Lakers guard Isaac Bonga drives around Al-Farouq Aminu.
(Gary Coronado / Los Angeles Times)
So now Buss has to figure out what to do with an unexpectedly open vacancy at the head of her basketball operations. She has to weigh whether Pelinka, whom she apparently hired without Johnson's approval, actually has too much baggage to be "put" with another president of basketball operations. And she has to figure out whether Walton, who has two years left (one guaranteed) in his contract, deserves to be paired with another president of basketball operations that didn't hire him.
The enormity of it all was on full display in Johnson's scattered final words as a Lakers employee.
He lamented not being able to Tweet when players like Russell Westbrook, Dwyane Wade and D'Angelo Russell had on-court success. He said he was unfairly cast as the bad guy when he expressed a willingness to work with Philadelphia's Ben Simmons only if the Lakers, the 76ers and the NBA were all on board with it.
He said he had no regrets and wouldn't do anything differently.
He said the Lakers were a player away from a trip to the Western Conference Finals on a night when they lost for the 45th time, the Lakers' sixth losing season in a row.
"Did anybody see this team?" Johnson said. "Everything is in place."
Johnson called Tuesday "a great moment for the organization."
And maybe it is. Johnson's departure empowers Buss to start over with a more experienced front office. Maybe it leads to the team beefing up its infrastructure, adding to its scouting and analytics departments. Maybe, like the Clippers have, Buss assembles a team of assistant general managers and advisors to help whoever is in that job.
All of those hopes have some in Lakers nation agreeing with Johnson, that this is a great moment.
But it's also a reminder of the instability that has plagued the team since the death of Jerry Buss. The Lakers head into a pivotal summer without their lead recruiter, possibly without a coach and with a general manager bruised by his former partner. Their star is no longer invincible, a groin injury sidelining him for the longest extended stretch in his 16-season career.
Tuesday night, in the season's final seconds, Portland forward Maurice Harkless floated unguarded to the right corner and made a buzzer-beating three-point basket to punctuate what started the first night in Portland.
James' first two baskets in October made it seem like everything was going to be easy. And with the season done, a franchise-altering night makes it seem like getting everything right could be really hard.
Twitter @DanWoikeSports
---
All things Lakers, all the time.
Get all the Lakers news you need in Dan Woike's weekly newsletter.
You may occasionally receive promotional content from the Los Angeles Times.