Five takeaways from the Lakers' 128-110 loss to the Washington Wizards
The Lakers get the day off in New York on Monday, and it will be a much-needed day of rest for this group.
Sunday night they fell victim to a big night from John Wall (40 points) coupled with a very sluggish night on the part of the Lakers themselves. The Wizards are waiting on the completion of a trade that will send two of their players — Austin Rivers and Kelly Oubre Jr. — to Phoenix for Trevor Ariza.
Here are five takeaways from the Lakers' 128-110 loss to the Washington Wizards.
1. Their lack of numbers is wearing on them, which comes into particular focus during a road-road back-to-back. The Lakers had 11 players available, three of them rookies. The four players they didn't have — Brandon Ingram, Rajon Rondo, JaVale McGee and Michael Beasley — could have combined to contribute about 90 minutes of playing time for the Lakers that instead fell to the rest of the team.
2. For the sake of development, that will be a positive thing for the rookies, who got more playing time than they have thus far this season. Svi Mykhailiuk, who has needed the least amount of time before the Lakers threw him into games, played 27:30. Moe Wagner played double-digit minutes for the first time all season and scored 12 points. And Isaac Bonga got out there for 3:54. He's not ready yet, but any chance he has to get a few minutes is valuable at this point.
3. LeBron James' 13 points was his lowest scoring output of the season. "I think we did a good job of making it difficult on him, showing him a lot of bodies, active hands, making sure he wasn't getting his own misses and putting them back quick and just making a difficult [time] for him," Wizards guard Bradley Beal said. "He loves to pass, just being able to do both, it's all the extra effort on the defensive end, and I think we had it tonight."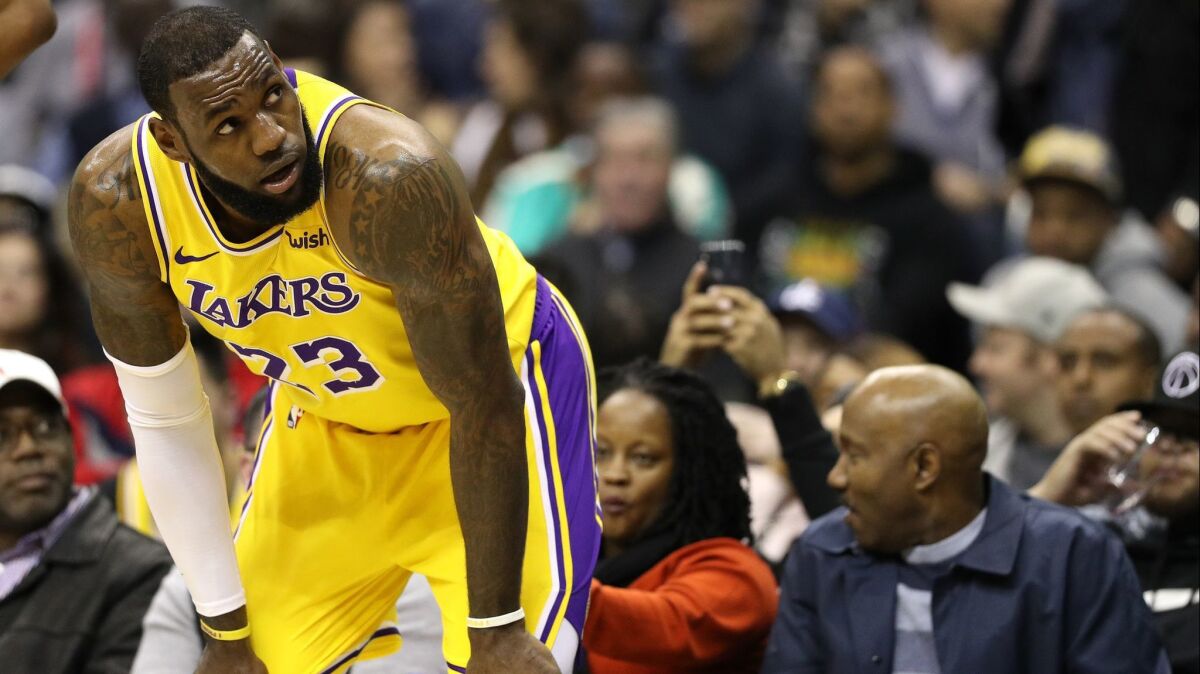 4. Not having the players you normally have can lead to some unusual circumstances. "Funky lineups," as Kyle Kuzma put it. Wall also noticed something he doesn't often see. "Usually they start trapping but they kind of went back to a box and one and a triangle and two," Wall said. "Like I haven't seen that since high school. It was a little different because it got difficult at times, it kind of got congested offensively and took some bad shots, and I had some bad turnovers. They did a great job of mixing it up."
5. Remember Thomas Bryant? He was a Lakers second-round pick in 2017 and the Lakers waived him this summer, effectively choosing Ivica Zubac over him. This year he's started in 14 games for the Wizards. On Sunday evening, Bryant neared a double-double, scoring eight points and grabbing 11 rebounds. Bryant also had two blocks — one against Josh Hart, who was part of his draft class. Bryant had some words for Hart after making that play.
Follow Tania Ganguli on Twitter @taniaganguli
All things Lakers, all the time.
Get all the Lakers news you need in Dan Woike's weekly newsletter.
You may occasionally receive promotional content from the Los Angeles Times.