How involved would LaVar Ball actually be if the Lakers drafted Lonzo?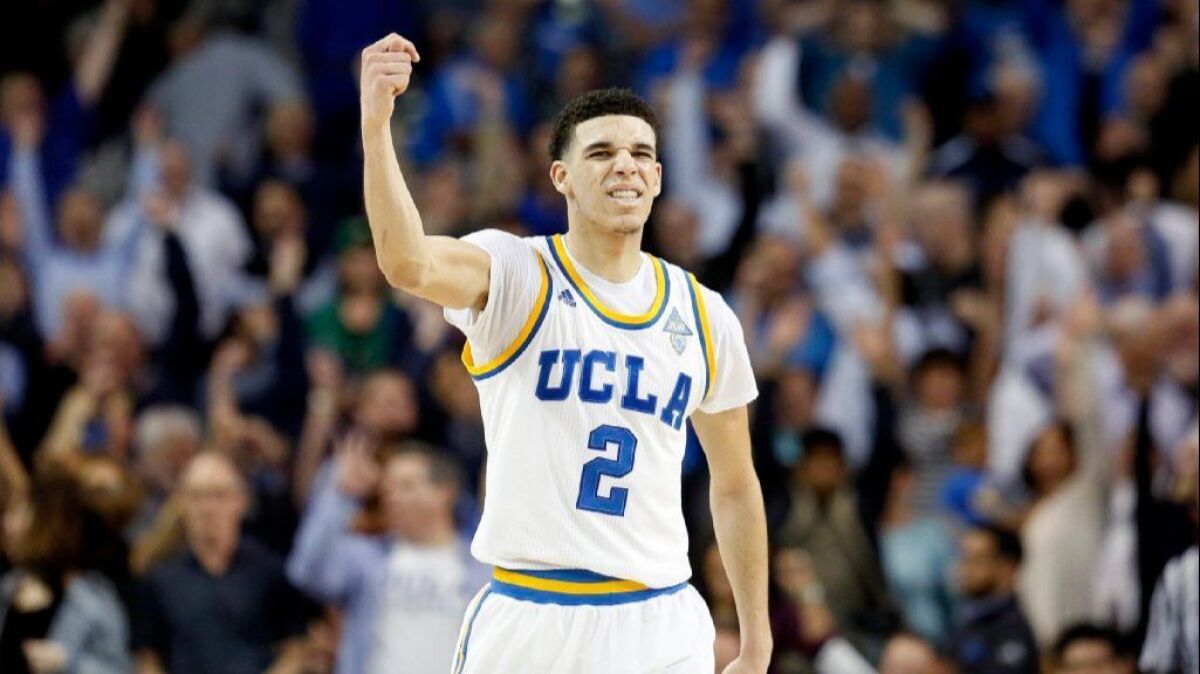 Steve Alford didn't hesitate when asked about Lonzo Ball's enthusiastic and controversial father, LaVar.
Was LaVar Ball around the team much?
"Zero," Alford said.
Was he ever at practice?
"Never at practice," Alford said. "Never at practice; never called me."
Did he ever try to meddle in your coaching?
"Never," Alford said.
It's a subject interesting many as the Lakers figure out who they will take with the second overall pick in next month's draft. Some wonder if LaVar Ball's comments could hurt Lonzo in the draft process or even once he enters the NBA.
The Lakers might be undeterred. They like Lonzo. As part of their study of the top players in the draft, they will call Alford, the UCLA men's basketball coach, to ask what kind of presence LaVar had with his team. More than anything, though, they'll evaluate Lonzo Ball the player — independent of his outspoken father.
"I am aware of some of the comments of Lonzo's dad, and I think he's someone who's passionate about his son," said Jeanie Buss, the Lakers controlling owner. "I admire that. In my long history there was a time when I was heavily involved in tennis promotion, so I dealt with a lot of the tennis players' parents. Their commitment to their kids rivals LaVar Ball's connection to his own children."
While Buss wouldn't have any concern about the Lakers drafting Ball, she also said she'd leave that decision to Magic Johnson, president of basketball operations, and general manager Rob Pelinka, with input from coach Luke Walton.
In the last few months they've all spoken positively about Lonzo, who led the Bruins to a 31-5 record, a year after they went 15-17. Johnson has said repeatedly that LaVar's reputation won't influence his decision on Lonzo's fit with the Lakers. He also echoed Buss' sentiment on LaVar's involvement.
"I'm happy that a father goes around saying great things about his son," Johnson said on a local radio show. "And also too, it hasn't bothered Lonzo. That's what we really have to look at. … As long as it doesn't bother him, it's not gonna bother the Laker organization."
The Lakers decision makers are not unfamiliar with outspoken fathers.
"I was a basketball player and had a basketball dad," Pelinka said. "… That's part of the game. We're going to evaluate the players and who they are as players."
Bill Walton's critiques of the Lakers veterans got his son Luke in some trouble when the team drafted Luke in 2003. There was a bidding war among the veterans for who would get Luke as his rookie. Karl Malone won. They informed Luke his life would be "hell" that year.
When they actually got to know him, they liked him too much to truly haze him.
Last season, when asked if he ever asked his father to cut back on the opinions, Luke deadpanned: "My entire life."
He added: "Normally, I say it while he's talking. I don't know if he even knows that I'm talking to him."
Many around the NBA expect a similar target placed on Lonzo.
LaVar has angered some NBA players with his comments, including Cavaliers stars LeBron James and Kyrie Irving.
When Irving suggested LaVar back off from his son, LaVar responded by saying Irving wasn't a father and so didn't understand. He also mentioned Irving having grown up without his mother. Irving actually has a daughter, and his mother died when he was 4.
LaVar's bold statements have included claims that Lonzo is better than Warriors point guard Stephen Curry, that he himself could have beaten Michael Jordan in his prime, and that UCLA might have fared better in the NCAA tournament were it not for their preponderance of "slow-footed white guys."
When asked, the team's two best white guys — TJ Leaf and Thomas Welsh — said they weren't bothered by LaVar's comments. They also loved playing with Lonzo, who was soft -spoken but grew more comfortable being vocal as the season progressed. And who played unselfishly.
A teammate who led the NCAA in assists is easy to like.
Lonzo Ball is a top NBA draft prospect. He played point guard for UCLA before declaring for the draft. (May 12, 2017) (Sign up for our free video newsletter here http://bit.ly/2n6VKPR)
"It was a blast playing with him," Leaf said. "We're still very close. We talk all the time. I'm close with him and his family. Obviously his dad is pretty bold in what he says, but it's his father. He loves him. At the end of the day he wants what's best for his son."
Some whispers of interference surfaced at Chino Hills, where Lonzo played in high school and his brothers play now. LaVar sometimes yelled instructions during games to his sons. One coach, Steve Baik, resigned after Lonzo's senior year when Chino Hills went 35-0. Baik said his resignation was not about LaVar.
"There were times he definitely communicated certain things that were good," Baik said. "I've known the family probably since Lonzo was a sixth grader. There are times things didn't go so well and LaVar is outspoken and he communicated things that frustrated him, but it came out of a place knowing we had a relationship. At the end of the day, he trusted me and his boys with me because he knew I was a guy who believed in his son."
Another, Stephan Gilling, was replaced after clashing last season with LaVar, who has said he had nothing to do with the firing.
LaVar's presence changed at UCLA, a school with 45,000 students and 11 men's basketball national championships.
"I think all parents probably should know that moving on to the collegiate level anyway," Alford said. "It's not high school, it's not AAU. Your son's on scholarship; your son's at UCLA getting an incredible opportunity academically and athletically.
"Playing time, shots, that kind of stuff — we don't entertain some of those phone calls anyway. I never had any issues at all with LaVar."
There was some internal concern about the effect of the family's shoe and merchandise business, Big Baller Brand, on NCAA compliance.
"We always work very closely with the NCAA to make sure — compliance is the most important thing," UCLA Athletic Director Dan Guerrero said.
Overall, the school was pleased by their experience with Lonzo. Guerrero and Alford describe him as a player who didn't skip classes and enjoyed his year at UCLA.
Lonzo seems amused by many of his father's comments.
"It's funny for me," Lonzo said in April. "I just look at it and laugh. I know how he's been since Day 1, it's just that now all of America gets to see him because he's on the TV all the time. I know he loves exposure, so it's good for him and I just hope he stays the same. I don't want my dad to change."
The Lakers have drafted players younger than Lonzo before. He'll be 20 for most of his rookie season, whereas Brandon Ingram, Ivica Zubac and D'Angelo Russell were all 19 for most of theirs. Kobe Bryant turned 18 after he was drafted.
Parents aren't usually part of the equation, but the Lakers will do their research on Lonzo's vociferous dad.
When they call Alford, he knows what he'll say.
"I'll talk to them like I'm talking to you," Alford said. "He was terrific. I had no dealings with him at all. He let me coach his son, didn't get in the way at all."
Times staff reporters Ben Bolch and Eric Sondheimer contributed to this report.
Follow Tania Ganguli on Twitter @taniaganguli
ALSO
NBA mock draft: Look for Lonzo Ball to join the Lakers
Lakers turn attention to scheduling workouts with top players
Lakers and Mavericks used young players down the stretch. But only one team says it was trying to lose
All things Lakers, all the time.
Get all the Lakers news you need in Dan Woike's weekly newsletter.
You may occasionally receive promotional content from the Los Angeles Times.