The pizza party celebrating LeBron James coming to L.A. goes on without him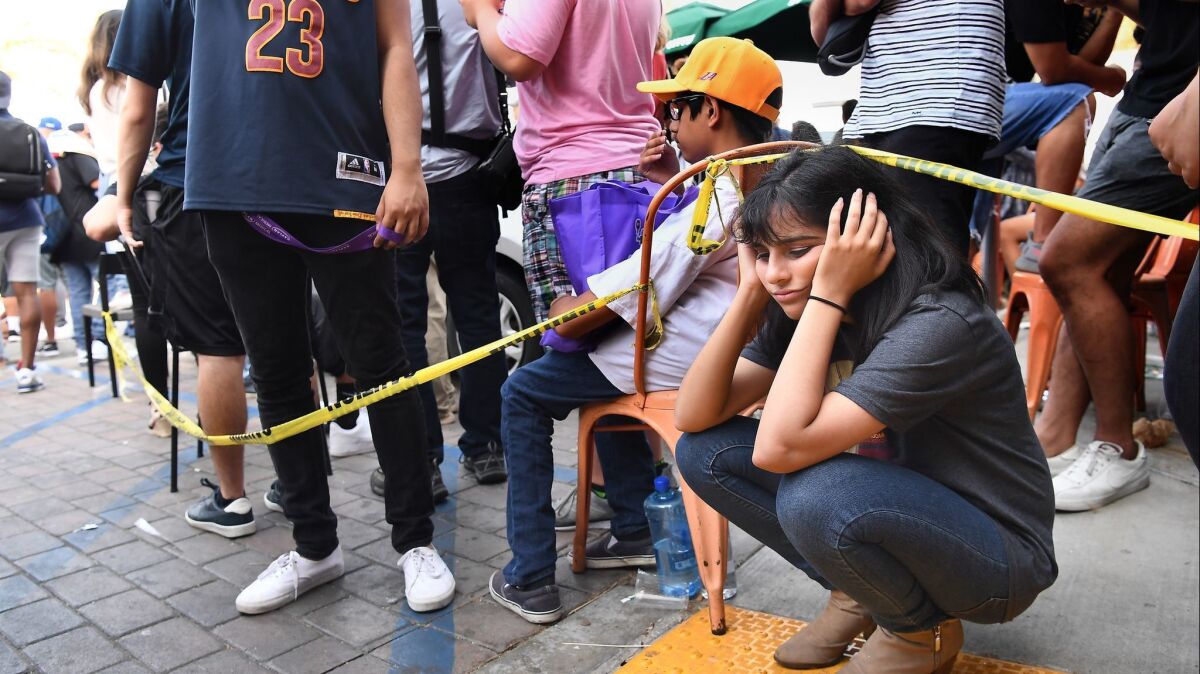 Clutching a giant cardboard cutout of LeBron James' face, Brandon Giove prepared to head home, "a bit disappointed."
The 20-year-old Lakers fan from Huntington Beach hoped to see the team's new superstar at Blaze Pizza in Culver City, as the chain that James is a part-owner of celebrated his arrival in L.A. by giving away pizza for three hours beginning at 2 p.m.
Giove became resigned to the fact that James was unlikely to arrive. Then he heard people running toward a car at the opposite end of the parking lot. Maybe The King was here after all?
Giove ran back with everyone else. It was a false alarm. One of many that briefly excited the crowd of fans who had seen James' tweet "Haven't been to a pizza party in a minute. Culver City?" on Monday in response to Blaze Pizza's promotion.
For the hundreds who waited in line in Culver City and other Blaze Pizza stores across Los Angeles, there was free pizza but no LeBron James. His wife Savannah posted an Instagram picture of him relaxing in a pool later in the day.
"I'm a bit disappointed but I'm still a Laker fan, I'm still gonna root for LeBron and it was still a great time here," Giove said. "I think we're still going to have a great time. I think the fans are still going to be really happy for him even though he didn't show. It really says a lot that so many people came here to see him without even being certain that he would show."
James' plans weren't just a mystery to fans. Blaze Pizza marketing chief Shivram Vaideeswaran said the company, of which James owns roughly 10%, knew no more than the crowd.
"We didn't know about his tweet until he posted it," Vaideeswaran said.
Fans formed a line around the block in the hope of getting into the Culver City store. Fans in line had Lakers jerseys, Cleveland Cavaliers jerseys, Miami Heat jerseys and one Boston Celtics jersey bearing Kyrie Irving's name and belonging to Orange County resident Alex Khalaji, who drew the ire of Lakers fans as he held it up.
Standing at the very front of that line was Janet Raines, 47, of West Los Angeles, who arrived at 7:30 a.m.
"I was surprised I was the very first person in line, but I love the Lakers, I love LeBron. I'm just happy to welcome him to L.A.," she said.
"Even if he doesn't show up here today, I know he'll do many great things for Los Angeles and for the community."
Chase Landers of Santa Monica said he wouldn't be too discouraged by James' absence either, albeit for different reasons.
"I just really want a free pizza," Landers said. "If he came that would just slow me down from getting my pizza."
---
All things Lakers, all the time.
Get all the Lakers news you need in Dan Woike's weekly newsletter.
You may occasionally receive promotional content from the Los Angeles Times.