Magic Johnson: I felt betrayed by Rob Pelinka and lacked power with Lakers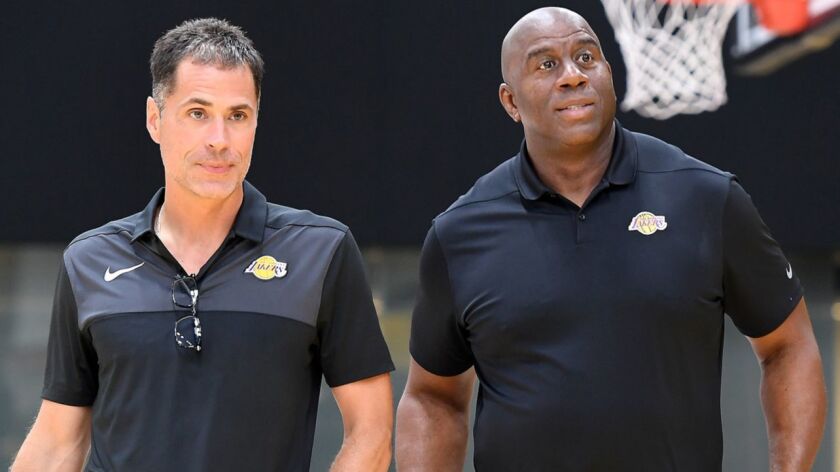 Magic Johnson said Rob Pelinka betrayed him when the two worked together, and that the large number of people who had Jeanie Buss' ear eroded his power as the Lakers president of basketball operations. Speaking during an hour-long interview with ESPN's "First Take" on Monday morning, Johnson cited those as the main reasons why he resigned as the Lakers' president of basketball operations.
"I got things happening and being said behind my back, and I don't have the power I thought I had to make the decisions," Johnson said. "I told them when it's not fun for me and when I think I don't have the decision-making power that I thought I had, then I got to step aside."
Johnson resigned on April 9, just before the Lakers' season finale, as they headed into the offseason without making the playoffs for the sixth consecutive year. He announced he was stepping down without telling Lakers co-owner Jeanie Buss, who hired him two years before, and without telling any player, to the chagrin of LeBron James.
That night Johnson said part of why he resigned was because of "backstabbing and whispering" that was happening. Although he didn't identify Pelinka as the perpetrator then, he hesitated to say Pelinka was the right general manager for the job.
On Monday morning Johnson explained.
"I started hearing, 'Magic's not working hard enough' and 'Magic's not in the office' and people around the Lakers office were telling me Rob was saying things, and I didn't like those things being said behind my back," Johnson said. "I started getting calls from my friends outside of basketball saying those things were now being said to them outside of basketball. Not just in the Lakers office anymore but in the media and whatnot."
The "straw that broke the camel's back," Johnson said, was that he wanted to fire former Lakers coach Luke Walton, but couldn't get Buss' full commitment.
"I said, 'Listen, we got to get a better coach. I like him, he's a great, a former Laker and the whole thing,'" Johnson said. "So the first day, [she said], 'Well, let's think about it,' the second day, [she said] 'OK, you can fire him,' and then the next day [she said], 'No, let's try to work it out.'
Johnson said Buss eventually brought in Tim Harris, the Lakers' president of business operations, as part of the meetings. Harris is not heavily involved in basketball decisions, but he was part of the large group of Lakers officials who interviewed candidates to be the next Lakers head coach, their sixth in nine years. Johnson said Harris wanted the Lakers to keep Walton, who parted ways with the organization on April 12.
"I only really answer to Jeanie Buss and now I have Tim involved," Johnson said. "It's time for me to go."
In the early days of the Lakers' coaching search, Pelinka was conducting interviews alone, though Buss was in regular communication with Johnson.
Eventually, Kurt Rambis, a team advisor, joined Pelinka to interview Jason Kidd. Every interview after Kidd's interview featured a group of seven: Pelinka, Jeanie Buss, her brothers Joey and Jesse Buss, Linda and Kurt Rambis as well as Harris.
Johnson recommended hiring Tyronn Lue. After several days of negotiations, talks with Lue broke down and the Lakers ultimately hired Frank Vogel. The team introduced Vogel at a news conference at 11 a.m. today.
"There's too many people at the table, and everyone gets to share their opinion, and there's so much information coming at [Buss], so when I say we have to do this, she can't make a decision because they say, 'No, don't go the way Magic is going, go this way,'" Johnson said.
Johnson also said he had to "monitor" Joey and Jesse Buss, who he said have aspirations of one day running the team's basketball operations. Joey, 34, runs the Lakers' developmental affiliate and Jesse, 31, is their director of scouting and assistant general manager.
Sign up for our Lakers newsletter »
Johnson, who said he would be interested in being part of a group that would buy the Lakers if the team were ever up for sale, asked that Buss streamline her group of advisors.
"You have to empower somebody and then have everybody who has a role on the Lakers stay in that role," Johnson said. "OK, Tim Harris, you're the president of business, stay over there in business. Jesse, Joey, hey, you're the assistant general manager, you run the G League team, do that and do it well. Once you show that you can drive excellence, maybe you can move over to another department, but right now everybody has a voice. It's too much. That's why sometimes we don't make the right decision."
Twitter: @chewkiii
---
All things Lakers, all the time.
Get all the Lakers news you need in Dan Woike's weekly newsletter.
You may occasionally receive promotional content from the Los Angeles Times.