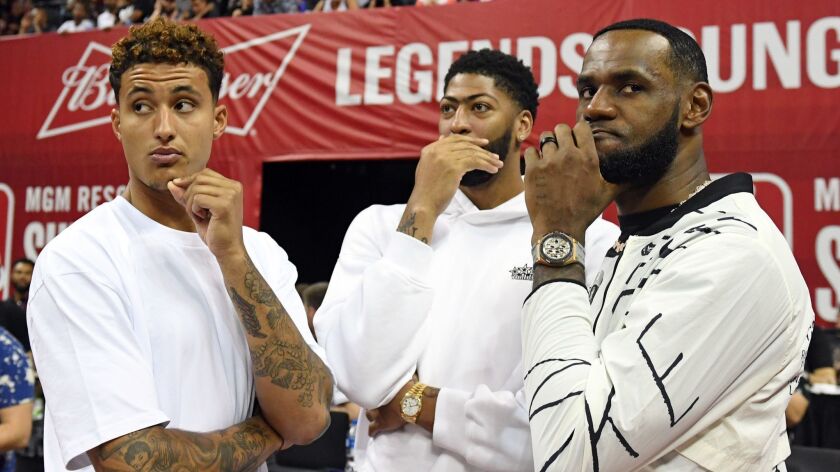 Reporting from Las Vegas —
LeBron James and Anthony Davis have yet to suit up together in purple and gold, but they made their debut as Lakers teammates at the Thomas & Mack Center when they sat courtside last week during the NBA Summer League.
Last season, James made his first public appearance as a Laker at the league as he watched some of his new teammates play an exhibition while he wore Lakers shorts in the front row.
The NBA Finals finished less than a month ago and next season is 3½ months away, but the action here serves as an unofficial bridge between the two and is perhaps the best location for people watching in a city renowned for that activity.
Warren LeGarie, executive director of the league, and Albert Hall, vice president of business operations, are the orchestrators of the organized chaos that unfolds over the 11 days of play in which all 30 NBA teams are represented.
While many who fill the stands of the 17,923-seat Thomas & Mack Center and the adjoining 3,100-seat Cox Pavilion are there to watch basketball, many are also there to get their first glimpse of James and Davis sitting courtside or conversing with their new coaches Frank Vogel, Jason Kidd and Lionel Hollins.
"This has become the epicenter of NBA social media," said LeGarie, who's also president of a management company that represents a third of the head coaches in the NBA. "People want to be a part of that. If you're here, you're not going to miss out. You're going to see something interesting."
While some of the courtside moments that have gone viral seem coincidental, they are set in motion well in advance by LeGarie and Hall, who do their best to invite and seat the most talked-about stars in the game together for the biggest games of the day on national television.
'Don't kid yourself, we work at making those moments happen," Hall said. "We know and understand what the news will be and what could be news."
On Friday, James and Davis sat courtside and got up to greet Lonzo Ball and Josh Hart, who were sent by the Lakers to New Orleans in the trade that brought Davis to Los Angeles.
On Saturday, a day after Kawhi Leonard and Paul George became Clippers, James, Davis and Kyle Kuzma were chatting with the Clippers continent of Jerry West, Lou Williams and Patrick Beverley.
It was the first glimpse of Los Angeles' newest rivalry, pitting the teams some Las Vegas sports books have as the co-favorites to win the NBA title next season.
"Sometimes it just happens and sometimes we go out of our way to ask if we can make that happen with a few phone calls," Hall said. "LeBron has been a supporter of summer league for years. The number of players coming back is what makes the summer league so special."
The league is primarily a showcase for rookies and other players trying to get a spot on a team either in the NBA, G League or perhaps internationally. With the league celebrating its 15th anniversary, most of the players in the NBA can trace their pro debut to Las Vegas, which is why so many enjoy coming back year after year.
"We always make them feel welcome," LeGarie said. "They know they're going to be treated professionally. They're not going to be mobbed. They can come here and enjoy the games. Over the past 15 years a lot of players have started here, so this is like [San Juan] Capistrano where the swallows return. They had their first taste of success here so they know they can come here and be treated well."
Sign up for our Lakers newsletter »
As LeGarie and Hall ran around Thomas & Mack Center and Cox Pavilion on Monday as 10 games took place, they were amazed at what the league has become.
When they started in 2004, they had just six NBA teams and played a total of 13 games. Over the next three years, that number ballooned to 16 teams playing more than 40 games before the NBA attached its name to the league in 2007.
By 2008, the league expanded to 22 teams. As of last year, every team in the NBA participates in the league.
"When we first started 15 years ago, we had six handshakes and a box of fliers," Hall said. "That's how this thing started. We didn't have contracts with anybody. I was handing out flyers on Spring Mountain Road and we had inflatable people up in the stands just to make it look full. Now we have LeBron James and Anthony Davis sitting courtside. We've come a long way."
---