Lakers' rotation continues to evolve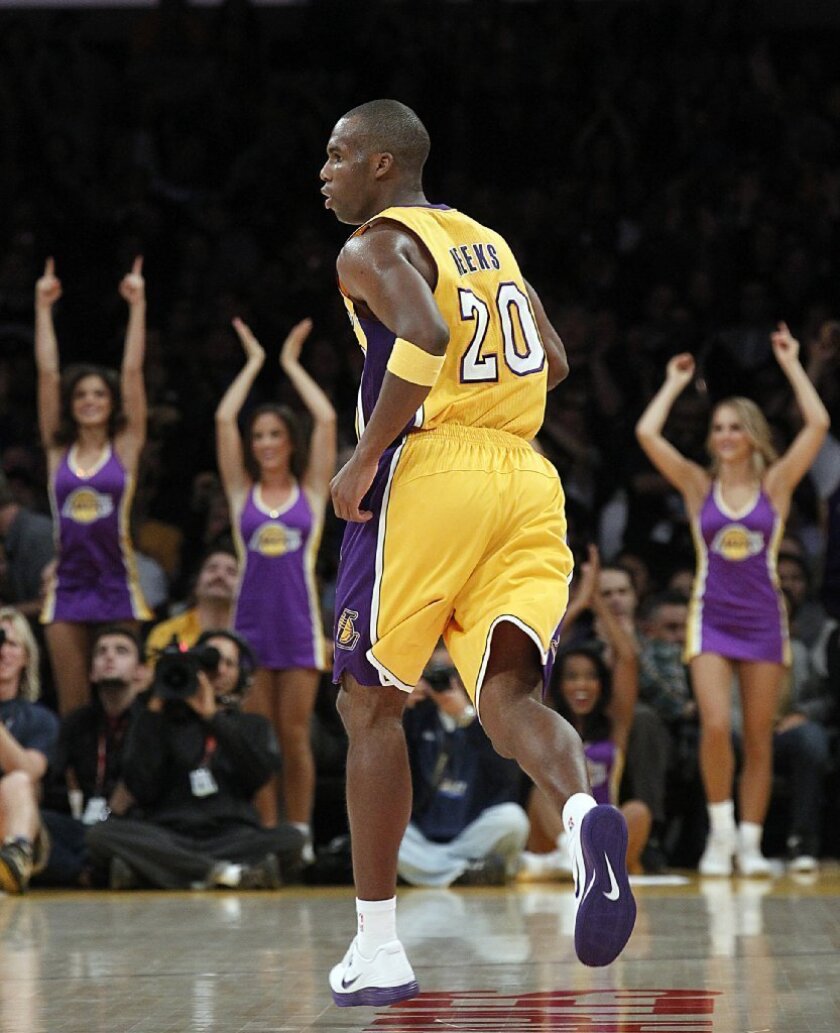 As Coach Mike D'Antoni tries to find a combination of players that will complement the Dwight Howard/Pau Gasol frontcourt, he's made it clear that he's willing to experiment with the Lakers' rotation.
D'Antoni has already moved Metta World Peace to the bench, giving him the backup minutes at power forward instead of Antawn Jamison.
"Right now, the problem is we've got a little bit of a logjam at four. We might try to move [Jamison] back to three a little bit and see, but I really like Metta at the four right now," D'Antoni said. "If you're trying to rotate Pau, Metta and Dwight, who all command a lot of minutes, that leaves very little minutes for anybody else. It's tough."
Jamison isn't the only frontcourt player forced out of the rotation.
"Jordan Hill, I've got him there too," said the Lakers coach. "Those are guys that I'd like to see and work through, but right now, today, Dwight, Pau and Metta are going to take the lion's share of the minutes."
Steve Nash might return for Saturday night's visit to the Golden State Warriors, but even if he doesn't start until Christmas Day against the New York Knicks, he's a lock to start at point guard.
While Kobe Bryant will naturally be in the starting lineup as well, it's not entirely clear what position he'll play. That would depend on whom D'Antoni uses as the fifth starter.
"Jodie [Meeks] or Devin [Ebanks]," he said. "Jodie could at the two or three (the wing). He and Kobe should be the two and three."
Meeks has made a strong impression on D'Antoni, so much that Bryant may become the team's primary small forward.
"If you're going to play with two big guys, then we need speed on the outside. Jodie gives that. He gives a lot more foot speed and quick three-point shooting," D'Antoni said.
"Right now Jodie Meeks is playing well. Darius [Morris] is playing really well," continued the Lakers coach. "We'll see. That's kind of an ongoing thing. I'll probably try Antawn a little bit there [at three], Devin, I'm going to try there. We've got to figure that one out."
Morris might be an option defensively for the Lakers at either guard spot. It's unclear who will be Nash's primary reserve, Morris or Chris Duhon.
In general, players prefer a set rotation, but the team just hasn't been good enough this year to warrant that kind of stability. At 12-14, D'Antoni has to experiment until he finds a combination that wins on a consistent basis.
"I can't have it until I get satisfied with it. We're still searching a little bit," D'Antoni said. "Someone has to reach out and grab it."
With Gasol back already and Nash about to return, the Lakers should improve simply by having greater talent on the floor. But D'Antoni still needs to find the right mix of players to support the team's four stars.
ALSO:
Is Kobe Bryant shooting the Lakers out of games?
Magic Johnson: Steve Nash will bring the Lakers missing leadership
As Lakers await Steve Nash, Metta World Peace sounds off (sort of)
Email Eric Pincus at eric.pincus@gmail.com and follow him on Twitter @EricPincus.
---
All things Lakers, all the time.
Get all the Lakers news you need in Dan Woike's weekly newsletter.
You may occasionally receive promotional content from the Los Angeles Times.