Metta World Peace will be used as backup shooting guard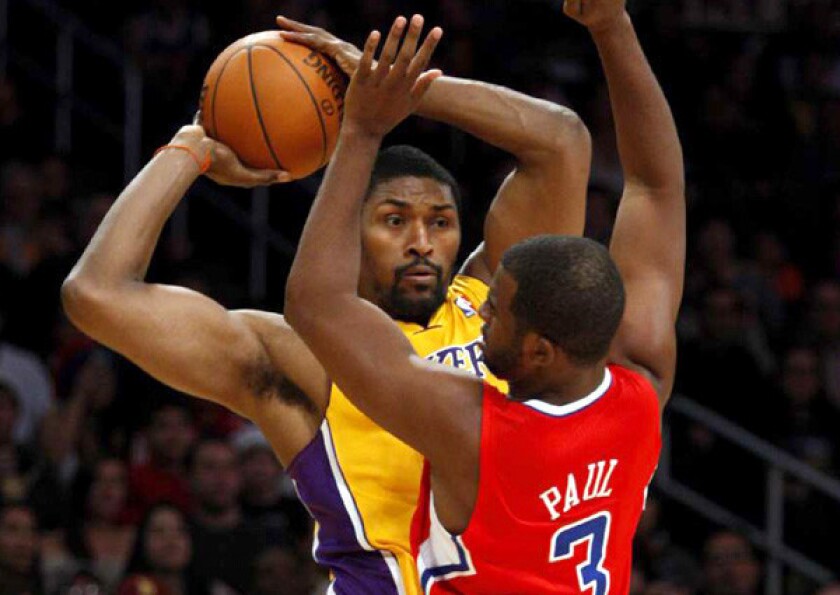 Metta World Peace will get minutes at shooting guard, Lakers Coach Mike Brown said.
"That's going to be my second unit," said Brown. "Metta will be the two, [Antawn] Jamison is the three, [Jordan] Hill is the four and [Dwight] Howard or Pau [Gasol] is going to be the five."
Brown experimented on Sunday against the Detroit Pistons with a lineup featuring Howard at center and Darius Morris running the point along with Hill, Jamison and World Peace.
In their second-quarter run of about three minutes, the group was able to extend the Lakers' lead from 18 to 21.
Devin Ebanks will remain in the rotation at shooting guard and small forward, as Brown looks for minutes to rest both Kobe Bryant and World Peace. For now, Jodie Meeks and veteran Chris Duhon, are unlikely to get significant minutes.
"I've got to give my bench a chance, because right now I really haven't. I've been messing around with it too much trying to search for combinations," said Brown. "Now that I've found a combination that I think I want to roll with it a little bit, let's give them a chance to see how they play before making another change."
The Lakers as a team have been shooting well this season, diminishing the need for another scorer like Meeks. Now Brown is looking for his squad to improve defensively.
With the 6-foot-7 World Peace at shooting guard, the Lakers will have a sizable lineup featuring Morris (6-4), Jamison (6-9), Hill (6-10) and Howard (6-11). When Gasol (7 feet) rotates in instead of Howard, the Lakers are even taller.
The Lakers started the season 0-3 but finally got their first win over the struggling Detroit Pistons. They may have a bigger challenge on Wednesday night against the Utah Jazz.
ALSO:Steve Blake fined $25,000 by NBA
---
All things Lakers, all the time.
Get all the Lakers news you need in Dan Woike's weekly newsletter.
You may occasionally receive promotional content from the Los Angeles Times.