Gasol yearning for the triangle offense? Sure seems like it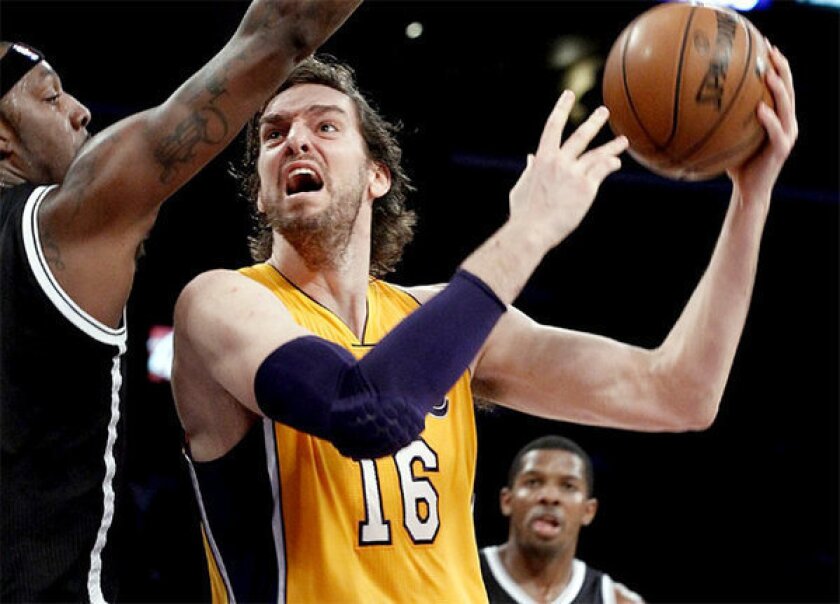 Pau Gasol has been in four entirely different offenses the last three seasons. It's pretty obvious which one he prefers.
The Lakers' four-time All-Star did everything but give a figurative hug to the triangle offense Monday.
"It put me in a natural position for me, which was post. I could score and I could pass," he said. "It was a perfect fit for me when I got here and Andrew [Bynum] was out. I had a lot of minutes and it was a need to cover.
"Now it's a different personnel, different need, different look, different system, different positioning. As a professional, you adjust to a different position in your company and try to do your best so the company still finds you a valuable asset and the company still performs as well as it did before."
Gasol didn't prosper in either of Mike Brown's offenses, including the short-lived Princeton scheme earlier this season. More recently, he has been slow to adapt to Coach Mike D'Antoni's push-the-pace sets.
Emphasis on slow.
"We're all trying to get adjusted to the faster pace and running harder to our spots so the spacing's better, the flow is better," he said.
Gasol was benched in the fourth quarter of the Lakers' loss Friday to Memphis, the first time he could remember sitting out the final 12 minutes of a competitive game. He finished with six points on three-for-eight shooting.
He looked better Saturday, sitting out the fourth quarter as a reward, not a punishment, as the Lakers destroyed Dallas. Gasol finished that game with 13 points and nine rebounds in 28 minutes.
D'Antoni was obviously more pleased with Gasol's Saturday effort.
"He can easily play our system, and he's going to be a very important player for us," he said.
ALSO:
Lakers' Steve Nash, Steve Blake won't play against Pacers

---
All things Lakers, all the time.
Get all the Lakers news you need in Dan Woike's weekly newsletter.
You may occasionally receive promotional content from the Los Angeles Times.