Byron Scott wants Lakers to average 10 to 15 three-point shots a game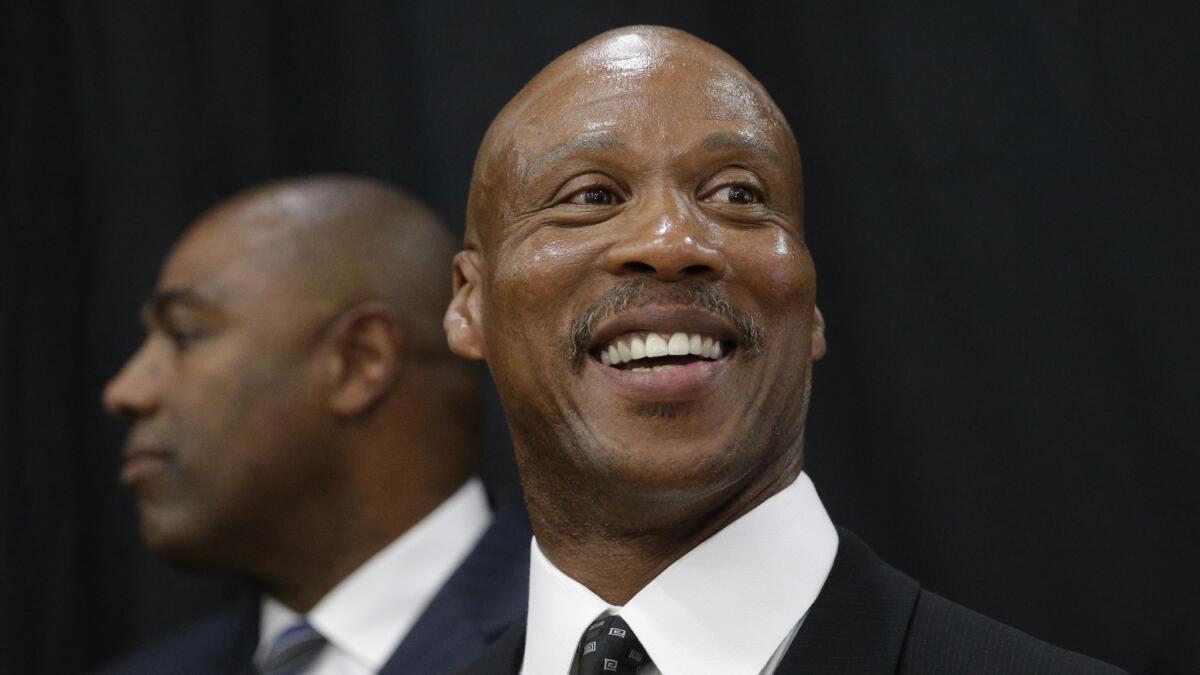 The Lakers are quickly adjusting to life after Mike D'Antoni, who resigned as coach after a 27-55 season.
His replacement, Byron Scott, has spent most of training camp focusing on defense and conditioning.
The team's offense will also have a very different look under Scott.
Though D'Antoni liked his team's high volume of three-point attempts (24.8 a game at a 38.1% clip), Scott was happy the Lakers had only 10 attempts (making five) on Monday in their preseason opener against the Denver Nuggets.
"Our game plan is really to get to that basket," said Scott after practice Tuesday. "I like the fact that we only shot 10 threes. If we shoot between 10 and 15, I think that's a good mixture of getting to that basket and shooting threes.
"I don't want us to be coming down, forcing up a bunch of threes. I really want us to attack the basket."
D'Antoni made his reputation running a high-powered offense with the Phoenix Suns. His teams were less famous for their defense; last year's Lakers were particularly helpless on that end through an injury-plagued season.
The Lakers held the Nuggets to just 38.7% from the field in their 98-95 exhibition win, although they sent Denver to the free-throw line for 44 shots.
Scott said he didn't mind his team fouling.
"The aggressiveness is one thing I want us to keep our mind on," said Scott.
"I think for the first three or four preseason games, teams are going to average shooting 37 free throws against us -- because that's how I want us to play," he continued. "Once we get that established, the referees around the league will know that we're going to play a physical brand of basketball and some of those things will go away."
The Lakers committed 34 personal fouls to the Nuggets' 27. Meanwhile, the Lakers finished with 22 free throws, making 15, while shooting 44.8% from the field.
The team plays Thursday night at Staples Center in a preseason game against the Golden State Warriors.
Email Eric Pincus at eric.pincus@gmail.com and follow him on Twitter @EricPincus
All things Lakers, all the time.
Get all the Lakers news you need in Dan Woike's weekly newsletter.
You may occasionally receive promotional content from the Los Angeles Times.