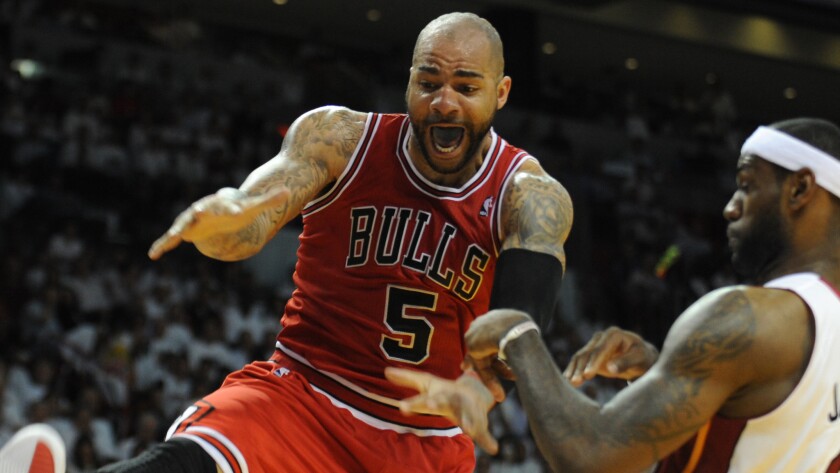 Carlos Boozer fully expects to be a starter this season with the Lakers.
"Absolutely," Boozer said Friday, giving a single-word answer on if sees himself in the starting lineup this coming year.
The Lakers took Julius Randle with the seventh overall pick in the 2014 NBA draft. Will the Kentucky forward be ready to start at power forward opening night, or will be come off the bench behind Boozer?
The Lakers have a crowded frontcourt with rookie Ryan Kelly, Robert Sacre, Ed Davis, Jordan Hill, Randle and Boozer.
Could the Lakers start an undersized 6-foot-9 pair with Randle at power forward and Boozer at center? If so, what of center/forward Hill, who was re-signed for $18 million over the next two seasons?
A head coach might be able to provide some clarity, but the team has yet to name one since Mike D'Antoni resigned the position in late April.
On Friday, the Lakers introduced Boozer, a little more than a week after making the winning bid when the Chicago Bulls used their one-time amnesty on the veteran forward.
The Bulls wiped Boozer's final year ($16.8 million) from their salary cap, allowing the team to sign away free agent Pau Gasol from the Lakers.
In turn, the Lakers claimed Boozer for $3.251 million through a blind bidding process. The Bulls will be responsible for the remaining $13.55 million on the veteran forward's contract.
"Unexpectedly for us, our bid was the highest bid and we were awarded Carlos," General Manager Mitch Kupchak said. "Not for a second did we think he would be available to us.
"The only downside to this whole thing is that we had to waive a North Carolina guy to get Carlos here, in Kendall Marshall."
Kupchak, also a Tar Heel, now has two players on the roster from rival Duke (Kelly and Boozer). Marshall was claimed off waivers by the Milwaukee Bucks.
Boozer said he isn't especially concerned about the Lakers' coaching vacancy.
"This is a top organization in the league, they're going to give us a good coach," he said. "When we have a coach in place, and we find out what the system is, and what direction he wants to lead us in, we'll find our identity."
Boozer also said he looks forward to joining Kobe Bryant on the court. The two have spoken multiple times over the past week, he said.
"He's doing great. He says he feels healthy and he's motivated," Boozer said. "His drive to win is very contagious."
According to the 32-year-old forward, Bryant's message was, "Come ready. Come ready to lead. Come ready to surprise some people."
Boozer said he believes that he still has a lot to offer.
"My body feels great," he said. "I don't know how long I'm going to play, maybe four or five, six more years, maybe seven."
The 12-year veteran brings a career average of 16.6 points and 9.8 rebounds. Last season with the Bulls, he averaged 13.7 and 8.3, respectively, playing 28.2 minutes a game.
Email Eric Pincus at eric.pincus@gmail.com and follow him on Twitter @EricPincus
---