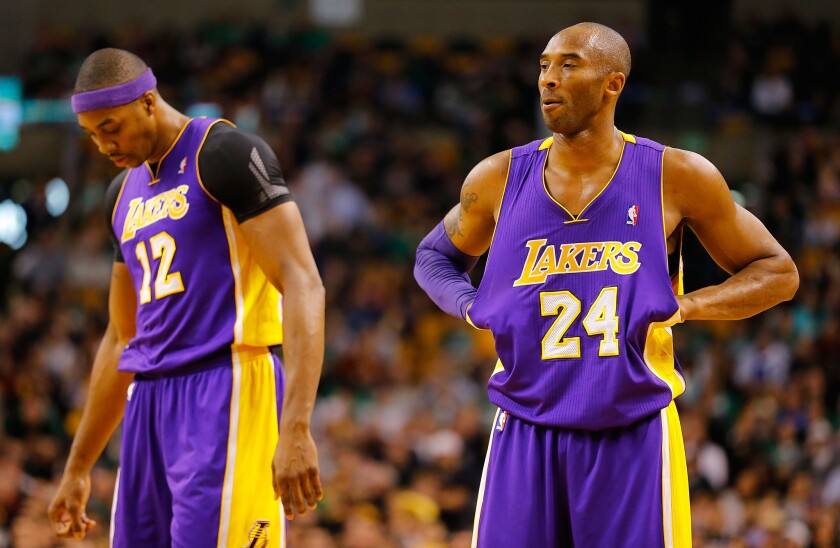 As Kobe Bryant plays out his 20th and final season with the Lakers, The Times has reached out to players, coaches and broadcasters for recollections about his career.
Dwight Howard, an eight-time All-Star, played one season with the Lakers and Bryant, in 2012-13.
They didn't like each other. They really didn't when they played together.
But Howard had some kind things to say about Bryant, while taking some mild swipes at the media and Lakers fans when interviewed after the Rockets beat the Lakers last Saturday.
See more of our top stories on Facebook >>
First, shame on all those reporters for ever saying Howard and Bryant were uncomfortable around each other in their one highly underwhelming season together.
"I don't know why — everybody just made it seem like we just hated each other. There's no need for us to hate each other," Howard said. "People always going to pass judgment on a situation. But that situation for me is over and done with."
Second, shame on Lakers fans, the ones who thought Howard would be the franchise's next Shaquille O'Neal while possibly (surely?) teaming with Bryant, Pau Gasol and Steve Nash to win the Lakers' 17th championship.
Howard became a free agent after his one season with the Lakers and signed with Houston.
"Kobe's done excellent for the Lakers and I think a lot of the fans are just upset that I chose to go somewhere else to play basketball, so that's understandable. There's nothing I can do about it," Howard said.
"And I don't think he's that upset about me leaving, because at the end of the day we're all men and we make decisions based on our life. I don't have an issue with him. I pray for the guy every day and I'm happy to see him go out on a high note.
Bryant "is one of the greatest players to ever play the game. He's just getting recognized in each city that he plays in for his accomplishments on the floor and all of us want to have that kind of reception when we're about to finish our career," Howard said.
"It's great to see that from the fans and it makes you feel good, knowing that the hard work you put in, everybody around the world is just fascinated and they love it."
Twitter: @Mike_Bresnahan

MORE LAKERS NEWS
Gregg Popovich on Kobe Bryant retiring: 'It will be a great personality gone'
Mitch Kupchak: D'Angelo Russell will be a 'very, very, very, very good player'
Kobe chronicles: Shaquille O'Neal shares his thoughts on Kobe Bryant's upcoming retirement
---