Ed Davis opting out of contract, but hoping for return to Lakers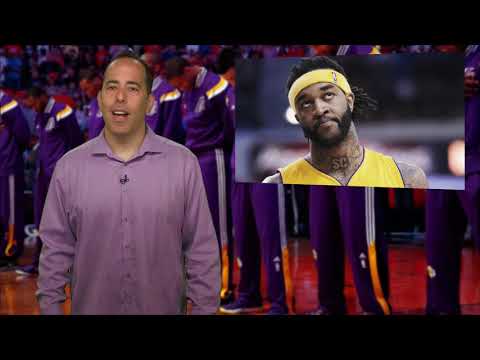 <p class="p1"><span class="s1">The Lakers have a number of significant decisions to make over the summer, but it all starts with the draft lottery.</span></p>
Forward/center Ed Davis will opt out of the second year of his deal with the Lakers before July, foregoing $1.1 million for a shot at a bigger contract.
"I'm going to test free agency," Davis told The Times in a telephone interview. "Hopefully I'm back with the Lakers, as long as everything is equal with all the other teams."
The Lakers signed Davis last summer to a two-year, $2.1-million minimum contract. In 79 games this season, the five-year NBA veteran averaged career highs in scoring (8.3 points a game), rebounding (7.6), blocked shots (1.2), assists (1.2) and field-goal percentage (60.1%)
"That's always been a strength of mine, just being able to finish in the paint with contact," he said.
Davis, 25, will spend some time at home in Richmond, Va., before working out in North Carolina.
"Once I start to pick it up, I'll come back out to L.A. and train out there," said Davis, the 13th overall pick in the 2010 NBA draft by the Toronto Raptors.
How long he stays in Los Angeles is up in the air, given that he'll soon be a man without a team.
While he hopes to return, the Lakers have to get through the NBA draft in June, then the initial star-chasing of free agency in July before turning to Davis.
"This is where I want to call home," said Davis. "The city, the coaching staff, the owners, the [general manager], everything like that -- I'm definitely comfortable."
"I look at Coach [Byron] Scott. He's always been a straight shooter with me since day one. If he says something, he means it. I think [General Manager] Mitch Kupchak is the same way. They don't just tell guys things they want to hear, but tell the truth and you know exactly how they feel."
Scott recently said to the media that Davis was one of the team's most valuable big men this season. Both Kupchak and Scott have said they'd like to see Davis return.
"One thing I respect about this coaching staff, through the highs and lows they were all the same," said Davis, who is optimistic about the team's future. "[The Lakers are] a couple of draft picks and a couple of free agents away from being a contender again."
After an injury-plagued season, the Lakers finished with a 21-61 record, the worst winning percentage in franchise history (.256).
Davis said he'll hit the weights this off-season, although the 6-foot-11, 225-pound North Carolina product doesn't necessarily want to add much weight to his frame.
"I want to continue to get stronger. I don't get on a scale and go like I want to weigh 250 or whatever. I can easily get up to 250 but then I won't be able to move how I want to. I won't be able to jump," he said.
While Davis likes to play center, where he's a bit undersized, it can be difficult against some of the more punishing power players in the league.
"Sometimes I give up some weight going up against the bigger fives, the back-to-the-basket DeMarcus Cousins type guys," he said. "It doesn't really matter what position I'm at ... my main thing is getting stronger, to hold my own against the fives."
He'll also work to improve his 48.7% free-throw shooting.
"I shot poorly from the free-throw line this year, my worst since I've been in the league. I'm just going to work on my shot overall, just regain that confidence, he said. "My goal is to shoot [free throws] in the mid-to high 70s next year.
Davis' free-agent decision won't necessarily hinge on a guaranteed starting role.
"I feel I'm not really going to a situation where I want to start. I want to finish games. I want to be a key piece in a rotation," he said. "I'm always going to fight to get the starting job. If I'm slotted to be one the first bigs off the bench, I don't have a problem with that."
Davis said he would like a three- or four-year deal, but above all, fitting with a team is his priority.
"Come July, hopefully I am back with the Lakers," he said. "One thing about the organization, they'll turn around sooner or later."
Email Eric Pincus at eric.pincus@gmail.com and follow him on Twitter @EricPincus.
All things Lakers, all the time.
Get all the Lakers news you need in Dan Woike's weekly newsletter.
You may occasionally receive promotional content from the Los Angeles Times.