Julius Randle off crutches as 2014 draft class limps through season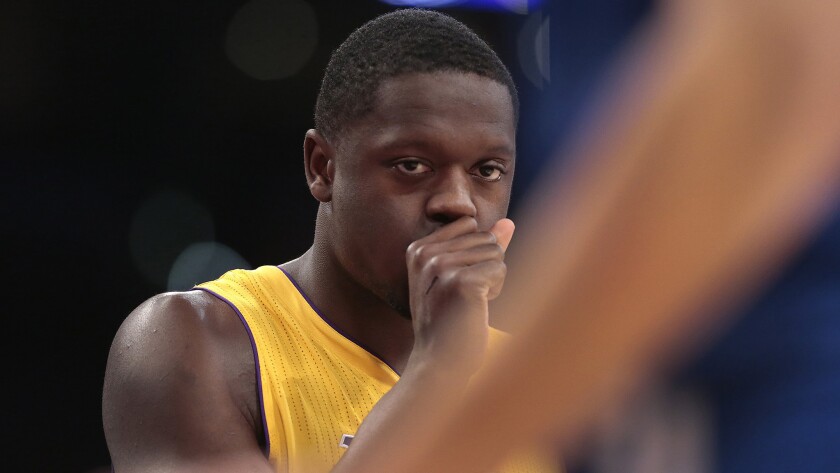 Julius Randle was hard at work at Lakers' practice on Wednesday, rehabilitating his mending right leg.
"I'm off crutches. I'm walking around, just trying to get the strength back in my leg," said Randle, who is out for the season after breaking his leg in October in his first regular-season game with the Lakers.
"Honestly, I don't even know if I'm supposed to be off crutches," said Randle, who scrapped the walking aids roughly a week ago. "The doctor said to go at your own pace. My pace was to get rid of them immediately."
The Lakers were practically giddy after they hosted Randle for a draft workout in June, and thrilled that the Kentucky power forward was available at the seventh pick in the 2014 NBA draft.
After showing flashes through the preseason and in practice, Randle was felled in his debut, a loss at Staples Center to the Houston Rockets
Randle isn't the only member of the 2014 draft class to be snake-bit. Second-overall pick Jabari Parker (Milwaukee Bucks) tore his anterior cruciate ligament on Tuesday night.
Other lottery selections suffering significant injuries this season include third pick Joel Embiid (Philadelphia 76ers), fourth pick Aaron Gordon (Orlando Magic), sixth pick Marcus Smart (Boston Celtics), ninth pick Noah Vonleh (Charlotte Hornets), and 11th pick Doug McDermott (Chicago Bulls).
"Unfortunately it's happened with our draft class a lot, but injuries in general are just a part of the game," Randle said. "You put your body out there, sacrifice your body, it happens. "
It's been a difficult, isolated start to his career, but Randle is expected to return to full strength well before next season.
"You miss the competitive atmosphere, going to war with your teammate," Randle said. "It's a brotherhood out there, and it's tough to just sit back and watch, but I'm learning a lot throughout all of this."
Randle said he's studying film, both of current players (Kevin Garnett, Tim Duncan, Dirk Nowitzki and other "stretch fours") and retirees (Charles Barkley and Antonio McDyess).
He's also learning from watching the Lakers in the gym.
"There are things I know I need to work on, watching how guys take care of their bodies over the course of the season," he said. "Little things that will help me next year."
Randle visited his former teammates at Kentucky over the weekend. Naturally they peppered him with questions about his teammate Kobe Bryant.
"They're like, 'Does Kobe really [act] out like that?'" he recalled. "I was like, 'Nah, he's just competitive. It wasn't serious anything like that. He's just a competitive guy, he expects the best out of us.'"
Randle was referring to a recent incident in which Bryant called out his teammates in front of General Manager Mitch Kupchak and the media after a heated scrimmage.
"It was funny. I can't say it was nothing that I didn't expect," Randle said. "Like I said, there's reason why he is who is, that's part of it."
The Lakers (8-17) host the Oklahoma City Thunder (12-13) on Friday night.
After taking Tuesday off, the Lakers and All-Star guard Bryant went through a light practice, with a heavier schedule expected Thursday.
Jordan Hill sat out Wednesday with an upper respiratory infection, but Coach Byron Scott said he expected Hill to be ready by Friday.
Email Eric Pincus at eric.pincus@gmail.com and follow him on Twitter @EricPincus.
---
All things Lakers, all the time.
Get all the Lakers news you need in Dan Woike's weekly newsletter.
You may occasionally receive promotional content from the Los Angeles Times.