Mitch Kupchak: 'Unacceptable' for Lakers to simply dump salary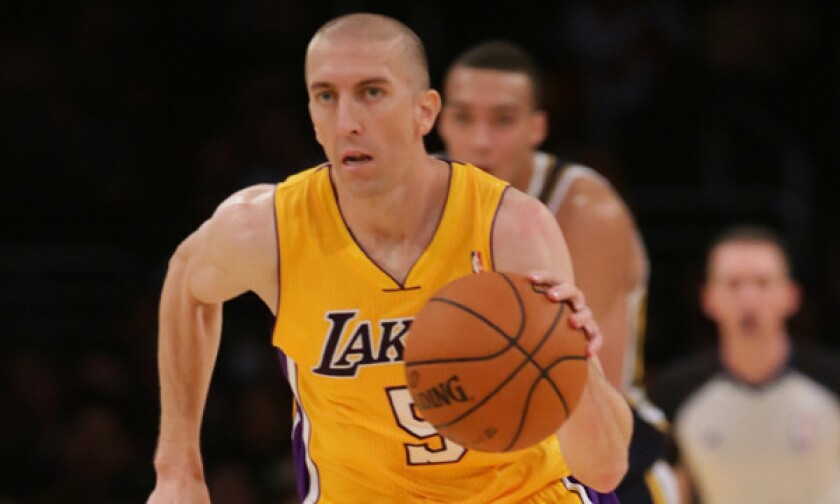 The NBA trade deadline came and went on Thursday. The Lakers made a little splash on Wednesday night, trading point guard Steve Blake to the Golden State Warriors for young guards Kent Bazemore and MarShon Brooks.
"As a person, as a player, we loved him," said Mitch Kupchak of Blake in a press conference on Thursday. "But our shortage of point guards about a month or so ago led us to Kendall Marshall."
The Lakers started the season with three point guards but when they all went down simultaneously with injury, Kupchak signed Marshall. Once the point guard corps started rounding into shape, the glut at the position became problematic.
"It really got to the point where we needed to free up some time in the backcourt to look at Jordan [Farmar], and give Kendall the time that he's earned."
"We got back two young players who are developing," said Kupchak of Bazemore and Brooks.
With 15 players and an 18-36 record, the Lakers have $77,089,936 in salaries on the roster.
The Lakers are over the NBA's $71.7 million luxury tax threshold by about $5.8 million including incentives for Jodie Meeks, Jordan Hill and other odds and ends. The result is an approximately $8.9-million punitive tax.
The team is still paying $7.7 million to Metta World Peace, who is currently on the New York Knicks after the Lakers waived him with their one-time amnesty over the summer.
Including tax and amnesty, the Lakers will pay out about $93.8 million for a team tied with the Sacramento Kings for the worst record in the Western Conference.
The Lakers saved roughly $4 million in salary and luxury tax by moving Blake's $4 million contract to Golden State.
"With this organization, that kind of relief is not really a big number," said Kupchak. "The financial aspect of what we do ... is not taken into consideration."
While the Lakers shopped players like Pau Gasol, Chris Kaman and Jordan Hill, ultimately none was moved. Why didn't the franchise make a greater effort to get out of the luxury tax?
"The organization is not motivated by saving 'X' amount of dollars," Kupchak said. "We were more concerned with making a basketball deal."
"I think the expression would be a 'salary dump.' That's not what this organization will do. If we could get picks or players that we felt good about going forward, then we would have done that. But we had opportunities to go below the threshold and we wouldn't do it."
The Lakers were open to money-saving deals but not without getting something more in return.
"If you can make a basketball deal or two basketball deals, which means you're getting back a player you like or a [draft] pick, and go below the tax threshold, that's something we would have liked to have done," said Kupchak. "We did have an opportunity to go below the tax threshold, but there were no basketball components and that's unacceptable with this organization."
The Lakers aren't especially concerned with the league's repeater tax, an additional dollar-for-dollar penalty levied if a team is in the tax for a certain number of years.
"At some point you have to get underneath [the tax threshold]," said Kupchak. "But the repeater tax, I don't think going forward could be a big issue for us for the next year or two."
The Lakers anticipate going under the salary cap itself (projected by the NBA to be $62.9 million for next season) this summer. Kupchak indicated the team will also consider staying under the cap the following summer.
If so, the Lakers would avoid the repeater tax for a total of five years.
The repeater tax is not an issue this season; the new rule of the league's collective bargaining agreement doesn't start until the 2014-15 season.
Meanwhile, Kobe Bryant is earning $30.5 million this year, despite playing just six games this season. His status is still in doubt with a knee injury. Steve Nash has played in just 10 games with a $9.3-million salary.
The Lakers' injured "starting" backcourt has played a combined 16 games at $39.8 million.
Tanking for a 2014 first-round draft pick was never the team's goal but the league-high 196 player games lost to injury have put the Lakers in contention for a top draft pick in June.
The team should end up with at least a top-10 pick, higher if they don't make the mistake of winning any more basketball games this season.
The projected 2014 draft pool could include Kansas players Joel Embiid and Andrew Wiggins, Dante Exum (Australia), Jabari Parker (Duke), Julius Randle (Kentucky), Tyler Ennis (Syracuse) Marcus Smart (Oklahoma State), Aaron Gordon (Arizona) and Noah Vonleh (Indiana) -- to name a few.
The San Antonio Spurs landed Tim Duncan in 1997 after center David Robinson sat out most of the 1996-97 season with back and foot injuries, leading to a 20-win season and a lucky draft lottery.
Perhaps the Lakers' miserable season will have a similar pay off.
Meanwhile, the Lakers roster appears to be set after the team's first trade since the 2012 acquisition of Dwight Howard, now a member of the Houston Rockets.
"We accomplished one of our goals, which is to free up the backcourt a little bit so we can evaluate our ball-handling guards," said Kupchak. "We want to look at young talent, which I think we did with Golden State. Our main goal is to look to the future, evaluate the players we have, maintain our flexibility during the offseason and improve this team.
"You always want to do more, but we did get a deal done and we're pleased."
ALSO:
Lakers trade Steve Blake to Golden State Warriors
Dwight Howard visits Lakers for first time since spurning them
Hall of Fame guard Gail Goodrich meets with struggling Lakers
Email Eric Pincus at eric.pincus@gmail.com and follow him on Twitter @EricPincus.
---
All things Lakers, all the time.
Get all the Lakers news you need in Dan Woike's weekly newsletter.
You may occasionally receive promotional content from the Los Angeles Times.