Next Lakers coach? Sports book gives Steve Kerr, Derek Fisher the edge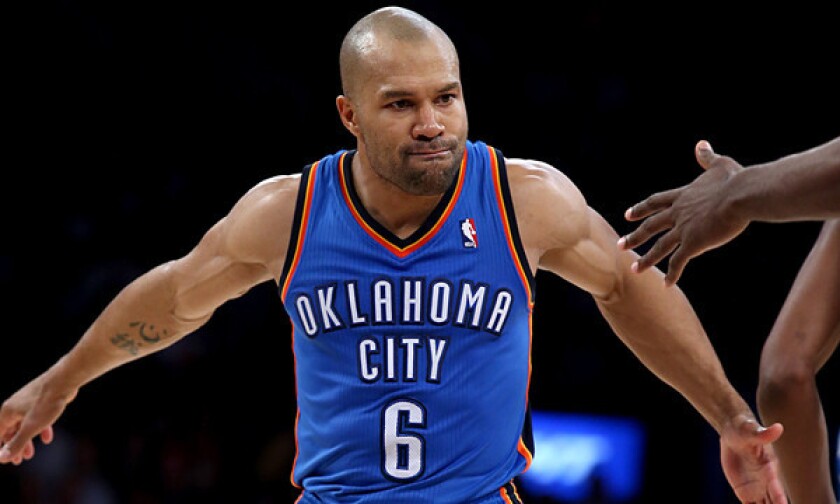 Who will be the next coach of the Lakers?
According to oddsmaker Betfair Sportsbook, Steve Kerr and Derek Fisher could be the favorites.
Kerr was given even odds, despite ongoing negotiations with team President Phil Jackson of the New York Knicks.
Fisher, who is still playing with the Oklahoma City Thunder, who are embroiled in a first-round battle against the Memphis Grizzlies, was given 3-1 odds by Betfair.
The former Laker has said that this will be his final year as a player. Fisher has denied interest in coaching -- although he wouldn't be the first to change his mind.
ESPN/ABC broadcaster, and former Houston Rockets and New York Knicks coach, Jeff Van Gundy was given 5-1 odds. With 12-1 odds, his brother Stan Van Gundy came in behind the field (9-1).
John Calipari, coach at the University of Kentucky, was given 15-1 odds, along with Denver Nuggets Coach Brian Shaw and University of Louisville Coach Rick Pitino.
Shaw is currently under contract, likely requiring draft considerations from the Lakers to Denver to pry him free.
Calipari has denied any interest in leaving the Wildcats.
Before it starts, I'm totally committed to helping this group of young men reach their dreams. I wouldn't & couldn't leave this group!— John Calipari (@UKCoachCalipari) May 1, 2014
Also on the Betfair list: Lionel Hollins (20-1), Byron Scott (25-1), Kevin Ollie (25-1), Tom Thibodeau (25-1), Doc Rivers (33-1), Ettore Messina (33-1), Mike Krzyzewski (33-1) and Kobe Bryant (33-1).
Under the rules of the NBA's collective bargaining agreement, players cannot simultaneously coach their teams. Bryant would have to forgo the final two years on his contract at $48.5 million to coach the Lakers. The betting odds should be nil.
ALSO:
Lakers coach: Are John Calipari, Mike Krzyzewski, Kevin Ollie a fit?
Poll: With Mike D'Antoni out, who should be the next Lakers coach?
George Karl, Jeff Van Gundy, Kurt Rambis, Byron Scott on Lakers' list
As Lakers prepare for coaching search, Ettore Messina could make list
Twitter: @EricPincus
---
All things Lakers, all the time.
Get all the Lakers news you need in Dan Woike's weekly newsletter.
You may occasionally receive promotional content from the Los Angeles Times.