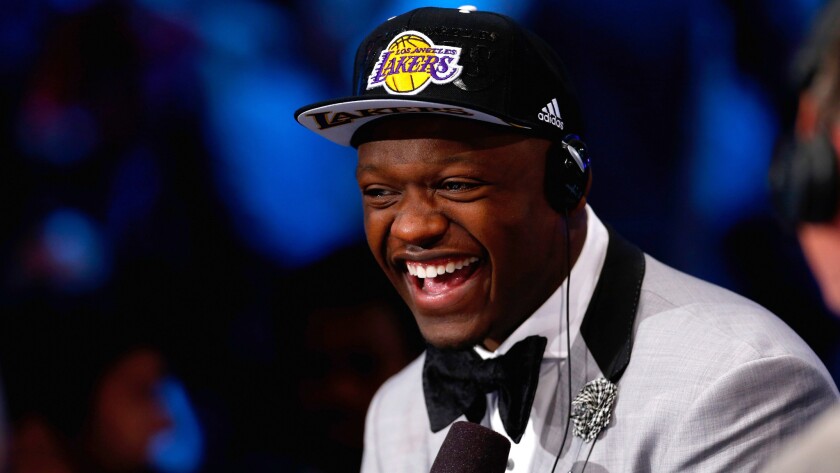 The Lakers signed rookie forward Julius Randle on Sunday, securing the seventh overall pick in last month's NBA draft to a deal potentially worth approximately $13.5 million.
The deal is for four years, with the Lakers holding options for the third and fourth seasons.
Randle signed quickly and made a surprise debut with the Lakers' summer league squad. Despite playing his first five-on-five basketball since the NCAA championship game with Kentucky (the Wildcats lost to Connecticut), Randle played more than 21 minutes Sunday against the New Orleans Pelicans.
Randle finished 10 points and two rebounds on four-for-nine shooting in the Lakers' 90-73 loss to the Pelicans. The Lakers are 0-2, having lost their summer league opener to the Toronto Raptors, 88-78, on Friday.
Former Clippers forward Trey Thompkins led the Lakers with 18 points against the Pelicans. Second-round pick (46th overall) Jordan Clarkson scored 16, after leading the Lakers with 21 against Toronto.
With the departure of Pau Gasol to the Chicago Bulls via free agency, Randle could step into the Lakers' starting lineup this coming season, alongside returning center Jordan Hill.
The Lakers have no intention to trade Randle, but legally he cannot be dealt for 30 days after signing his contract.
Randle will earn $3 million for the coming season.
Email Eric Pincus at eric.pincus@gmail.com and follow him on Twitter @EricPincus.
---