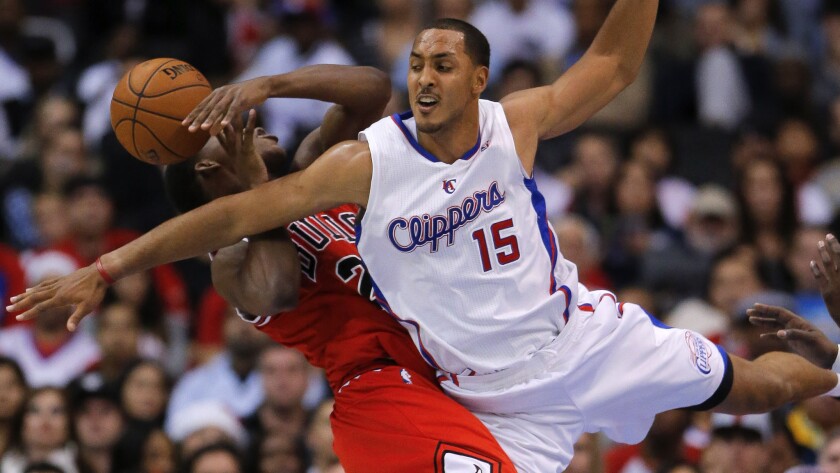 The Lakers have considered adding on Ryan Hollins -- according to the free agent center, who visited the "Bottom Line Sports Show" over the weekend.
As tweeted by Sirius/XM NBA Radio, Hollins said, "he's been in talks with the [Miami] Heat, [Sacramento] Kings, [Chicago] Bulls, Lakers, [and San Antonio] Spurs, among others."
The 7-footer, who played for the UCLA Bruins, spent the last two season with the Clippers. He's also played for the Boston Celtics, Cleveland Cavaliers, Minnesota Timberwolves, Dallas Mavericks and Charlotte Bobcats (now Hornets). The Bobcats originally selected him with the 50th overall pick in the 2006 NBA draft.
Over the course of his eight-year career, Hollins has averaged 3.8 points and 2.2 rebounds a game.
Jordan Hill projects to start at center for the team this season, backed up by Robert Sacre and Ed Davis. Power forward Carlos Boozer may also get time at the five
In August, the Lakers reportedly worked out big men Greg Stiemsma, Daniel Orton and Dexter Pittman. Stiemsma has since gotten a guaranteed deal with the Toronto Raptors.
The Lakers have also auditioned forward Michael Beasley twice.
According to website HoopsHype.com, the team recently worked out guards Pooh Jeter, Wayne Ellington and Ronnie Price -- along with forwards James Nunnally and Jeremy Tyler.
The team was also previously linked in reports to guards Bobby Brown, Ben Hansbrough, Toney Douglas and Malcolm Lee.
The Lakers are currently committed to 13 guaranteed players. The team can bring as many as 20 to training camp, starting on Sep. 29, but only a maximum of 15 to the regular season.
Email Eric Pincus at eric.pincus@gmail.com and follow him on Twitter @EricPincus.
---