Marcus Smart, Nik Stauskas, others take part in Lakers draft workout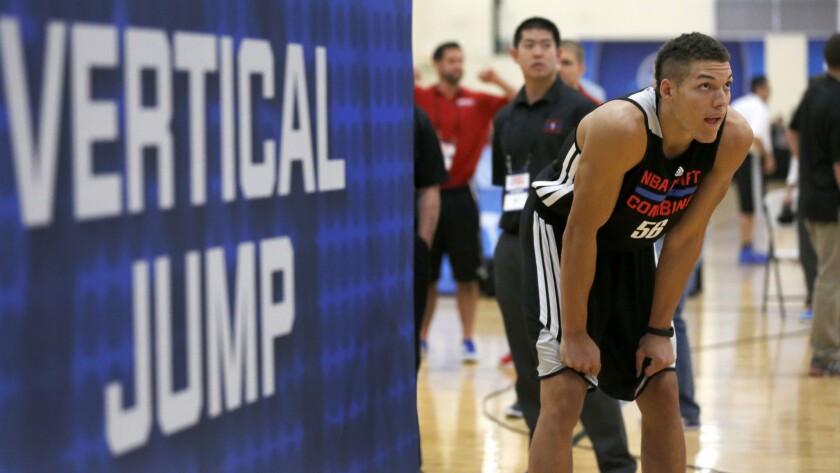 The Lakers held their second pre-draft group workout on Friday at the team's practice facility in El Segundo.
Three players returned to give the Lakers a second audition -- Arizona's Aaron Gordon, Oklahoma State's Marcus Smart and Louisiana-Lafayette's Elfrid Payton.
"I was a little bit more comfortable. Since I've been at the Lakers now, and last time, I've gotten better as a player," said Gordon. "It's just confidence. I have all the tools, now it's just sharpening my tools and making them at peace with myself."
Gordon has specifically worked on improving his free-throw shooting, which was a meager 42.2% over his one year with the Wildcats.
"It's more fluent. It's more in tune with my jumper," said Gordon, who has tweaked his form. "I'm more confident in the shot that I'm shooting."
The team also worked out Michigan shooter Nik Stauskas, South Carolina State power forward Matthew Hezekiah and swingman P.J. Hairston of the NBA D-League's Texas Legends.
"This is a legendary place. A lot of great players have come through here," said Stauskas. "Just to be here and play for such a great team like the Lakers, work out for them, it's an honor."
The Lakers have the seventh overall pick in the June 26 NBA draft.
Smart, like many prospective top 10 picks, has been traveling almost non-stop on the pre-draft circuit.
"I'm enjoying this," said Smart of his recent stretch of non-stop workouts. "This only comes around once in a lifetime."
The 6-foot-3 point guard should be able to come into the NBA as a strong defender.
"I like to think my game is NBA ready. I have the physical build, my mentality. I'm a big guard, so that helps me," Smart said.
Payton, a quick, defensive-minded guard, was recently given an invite to the NBA's green room on draft night, a privilege typically reserved for prospective lottery picks (top 14).
"It's pretty cool. It was exciting when I got my email. I'm excited to go," said Payton, who models his game after some of the league's best point guards.
"[Rajon] Rondo, Tony Parker and Chris Paul. That's three guys I really look at, and try to take bits and pieces from their game."
Stauskas likened his game to that of Klay Thompson of the Golden State Warriors.
"I like Klay Thompson a lot. He's one guy that I really like to watch play," said Stauskas. "If I can kind of emulate his game, I'd be happy."
Originally Stauskas was scheduled to work out for the Lakers two weeks ago in their first group workout, but sat out with a strained shoulder.
He's since been auditioning with a number of teams over the past weeks.
"I went to Orlando to visit, Boston, Charlotte. I've worked out for Chicago, Sacramento, Denver, Minnesota and Golden State," said Stauskas. "A lot of frequent flyer miles."
"I have a rare skill set that not many people have, the ability to really shoot it and then put it on the floor and create for others," he continued. "There's not many people who can do what I can do."
The Lakers may be unlikely at this point to have a head coach in place before the draft, after Mike D'Antoni resigned in April.
"They're in the rebuilding stage, the Lakers are," said Smart. "Whoever they hire, best of luck to them. I'm pretty sure it's going to be a great coach."
The Lakers are scheduled to take another look at UCLA guard Zach LaVine, and still may hold additional workouts before Thursday's draft.
Email Eric Pincus at eric.pincus@gmail.com and follow him on Twitter: @EricPincus.
---
All things Lakers, all the time.
Get all the Lakers news you need in Dan Woike's weekly newsletter.
You may occasionally receive promotional content from the Los Angeles Times.