Preview: Lakers Week 16 predictions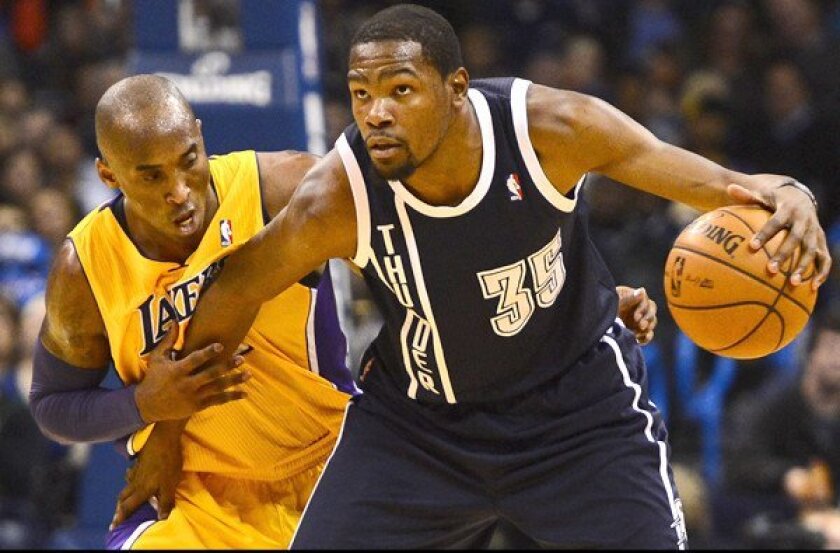 The Lakers head into the All-Star break with two games on the schedule. After facing off against the Oklahoma City Thunder on Thursday, the Lakers are off until next Wednesday.
Steve Nash left Sunday's loss to the Chicago Bulls early after a knee and nerve injury, but he said he hopes to play this coming week.
The Lakers are still without Kobe Bryant (knee), Pau Gasol (groin), Jordan Farmar (hamstring), Nick Young (knee), Jodie Meeks (ankle) and Xavier Henry (knee).
Through 51 games, the Lakers have just 18 wins, one behind cumulative expectations at 18-33.
Tuesday vs. Utah Jazz
Utah (17-33) hasn't won many games this season but on Saturday the Jazz took out the Miami Heat in Salt Lake City, 94-89.
Marvin Williams scored 23 points, hitting five three-pointers to upset Miami.
Utah is generally a team that struggles for points, averaging a Western Conference low 94.1 a game.
The Lakers average 100.8 a game, but have significant issues when it comes to defense -- allowing 105.8 points a game.
So far this season, the Lakers and Jazz have split a pair, with each team getting a victory at home.
The Jazz won a close one in late December, 105-103, behind 24 points from Gordon Hayward.
On Jan. 3, Kendall Marshall made his first start with the Lakers, scoring 20 points with 15 assists as the Lakers beat the Jazz, 110-99.
When it comes to lottery position, the Lakers stand to catch the Jazz in the win column, by losing. That wouldn't be a bad thing, although the Lakers aren't intentionally trying to tank. It's just that injuries have destroyed what was once a promising season.
Prediction: Lakers
Thursday vs. Oklahoma City Thunder
At home or on the road, the Oklahoma City squad (41-12) is a handful.
Despite playing without point guard Russell Westbrook, OKC has managed to climb to the top of the Western Conference. Kevin Durant seems to be on pace for his first NBA most valuable player award.
At full strength, the Lakers might be able to challenge the Thunder at Staples Center, but without their five of their top six scorers (Gasol, Young, Meeks, Bryant and Henry), they are at a significant disadvantage.
Chris Kaman has picked up some of the scoring load. Steve Blake is back from an elbow injury but the Lakers are far too short-handed against the Thunder.
Working against the Lakers, the Thunder can score (averaging 105.1 points a game) but also defend (allowing just 97.5).
Prediction: Thunder
ALSO:
Lakers lose Steve Nash to injury, game to Bulls, 92-86
Steve Nash leaves Lakers' game because of knee injury
Demoted Laker Manny Harris sets D-Fenders record with 56 points
Email Eric Pincus at eric.pincus@gmail.com and follow him on Twitter @EricPincus.
---
All things Lakers, all the time.
Get all the Lakers news you need in Dan Woike's weekly newsletter.
You may occasionally receive promotional content from the Los Angeles Times.