Lakers may be winning too many games for their own good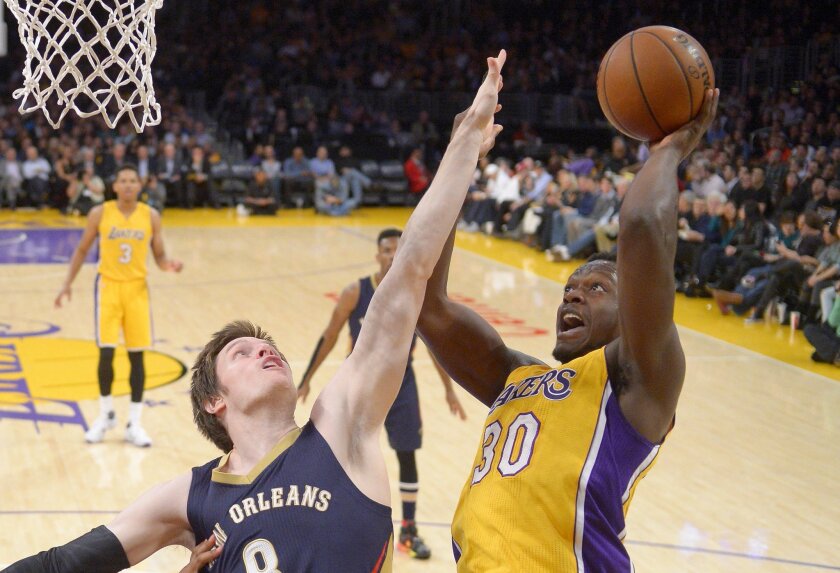 With their Sunday night victory over the New Orleans Pelicans, the Lakers have won four of their last eight games, improving to 9-31 on the season.
Given their precarious position in June's NBA draft, the Lakers may be winning too many games for their own good.
The Lakers owe their pick to the Philadelphia 76ers, via the Phoenix Suns, for Steve Nash, unless the Lakers get through May's draft lottery with a top-three selection -- otherwise the pick won't convey until 2017 (also with top-three protection).
In 29th place, the Lakers currently have a 55.8% chance of a top-three selection in next June's draft, with 19.9% odds at the top pick, 18.8% for second and 17.1% for third.
Recent victories have diminished any significant hope that the Lakers will "catch" Philadelphia, to improve their odds to 64.3% (25.0%, 21.5% and 17.8%, respectively).
Instead, the Lakers have gained on teams such as the Brooklyn Nets (11-28), the Minnesota Timberwolves (12-28), the Phoenix Suns (13-27) and the Pelicans (12-26).
Minnesota has dropped eight straight; the Suns have lost nine of their last 10.
If the Lakers climb to 28th in the standings, their odds of keeping a top-three pick shrink to an unfavorable 46.9%. Catch two teams and the lottery chances dip down to 37.8%.
It's conceivable the Lakers could finish with the fifth-worst record and just a 21.3% chance, likely forfeiting their pick to the Sixers.
The top potential prospects in the draft include LSU's Ben Simmons, Duke's Brandon Ingram, Providence's Kris Dunn and Maccabi Tel Aviv's Dragan Bender.
Of course, the Lakers have a number of difficult opponents ahead, including the Golden State Warriors, the San Antonio Spurs, the Chicago Bulls, the Dallas Mavericks and the Clippers.
The likelihood of the Lakers continuing to win at a .500 pace through the rest of the month is slim -- but the risk that the team gradually climbs in the standings is real, as the team's young players develop.
Email Eric Pincus at eric.pincus@gmail.com and follow him on Twitter @EricPincus.
---
All things Lakers, all the time.
Get all the Lakers news you need in Dan Woike's weekly newsletter.
You may occasionally receive promotional content from the Los Angeles Times.