Magic Johnson ends cease-fire, questions Lakers' leadership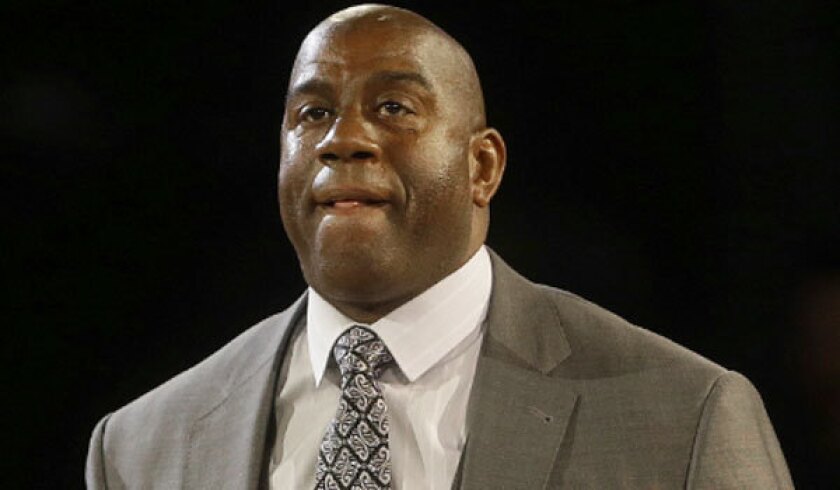 In late January, Hall of Fame point guard Magic Johnson declared a cease-fire on the Lakers, deciding to halt his public criticism of the team.
Johnson has been critical of owner/executive Jim Buss, and the decision to hire Mike D'Antoni to coach the team over Phil Jackson.
On Wednesday, Johnson couldn't hold his tongue.
I love Jim & Jeanie Buss, but we need Phil Jackson to be the face of our great organization, the Los Angeles Lakers.— Earvin Magic Johnson (@MagicJohnson) March 12, 2014
Despite Jackson's engagement to Lakers owner/executive Jeanie Buss, it appears very unlikely that the team's championship coach will join the team's front office.
Jackson is said to be in serious talks to join the New York Knicks, in a high-level management position.
In signing Phil Jackson Owner Jim Dolan & Steve Mills are saying to the Knicks fans, they're ready to win now!— Earvin Magic Johnson (@MagicJohnson) March 12, 2014
With news that Kobe Bryant is officially out for the season, Johnson shared his concern for the Lakers' leadership.
Kobe Bryant is the face of the Lakers' team. Who is the face of the Lakers' organization?— Earvin Magic Johnson (@MagicJohnson) March 12, 2014
Johnson was a part owner with the Lakers but sold his shares in 2010. He's now one of the ownership partners of the Dodgers.
Bryant played just six games this season, starting late while recovering from an Achilles tear, followed by a knee fracture.
The Lakers are just 22-42 on the season, tied with the Sacramento Kings and Utah Jazz for last place in the Western Conference.
ALSO:
Kobe Bryant will be out for the rest of the season
Could injury drop Kansas center Joel Embiid to Lakers' draft range?
Watch Kobe Bryant's latest commercial featuring the 'Kobe light bulb'
Email Eric Pincus at eric.pincus@gmail.com and follow him on Twitter @EricPincus.
---
All things Lakers, all the time.
Get all the Lakers news you need in Dan Woike's weekly newsletter.
You may occasionally receive promotional content from the Los Angeles Times.